Student-curated art exhibition on campus celebrates farmworkers, exposes their struggles
August 11, 2023

Photo Credit: Courtesy Hannah Baldrige
Brianna Montserrat Miranda helms 'Essential,' on display in the Fine Arts Gallery through Sept. 2 
While essential workers were acknowledged in the COVID-19 pandemic, a new student-curated exhibition at San Francisco State University celebrates farmworkers and builds awareness of their continuing inhumane working conditions. 
"Essential" opens on Saturday, Aug. 12, with a reception from noon to 4 p.m., in the Fine Arts Gallery. It is open Tuesdays – Fridays from noon to 4 p.m. through Saturday, Sept. 2. Admission is free. 
As guest curator, San Francisco State student Brianna Montserrat Miranda has crafted a mix of contemporary art and poetry exploring relationships between labor, injustice, family and community. The nine artists include SF State alumnus Juan R. Fuentes, contributing a woodblock print titled "Mayan Warrior." Historic works from the SF State Labor Archives and Resource Center will also be on display. 
Miranda hopes that "Essential" makes people more mindful of the labor involved before produce makes it to the grocery store. 
"I want our voices, our struggle and our experiences to be heard and respected," she said. 
Miranda, an Art History major and Museum Studies minor, has deep family roots in agricultural work.  
"I'm a first-generation Mexican American woman, born to parents who immigrated to the U.S. at a young age," she said. "Both sets of my grandparents have at one point or another worked in farm labor, as well as my parents. In fact, my grandparents are still actively working — my grandpa in the fields and my grandma at a sorting factory.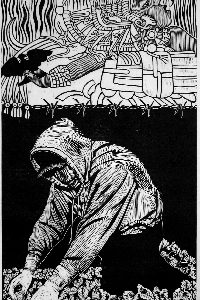 "Mayan Warrior" by Juan R. Fuentes (2011)
"I also worked for a short while at a sorting factory, as have some of my relatives who are around my age," Miranda added. "I'm from the Central Valley, where about 25% of the country's food is produced — but most importantly, I'm from a small farming, low-income community that is often under-represented and overlooked." 
Each semester, students in Lecturer Faculty Kevin B. Chen's "Exhibition Design" class create a proposal for an original exhibition, but this is the first time that the Fine Arts Gallery has selected one for its shows of professional, non-student artists.  
"We have been so impressed with Brianna's artistic sagacity and commitment to sharing lived experiences with our community at SF State, shedding light on the hard labor necessary to provide food on all of our tables," Chen said. "Collaborating with her has been a highlight of the year!"
Sharon E. Bliss, the Fine Arts Gallery director, says she is excited for visitors to experience what came from Miranda's vision: "Watching her bring 'Essential' to fruition — from planning meetings through studio visits with artists and working with essayist Marcial González and graphic designer Madeline Ko — has been an amazing journey, and now we're just getting started with sharing it with a public audience." 
Major support for "Essential" is provided by the Zellerbach Family Foundation and the Andy Warhol Foundation for the Visual Arts. 
"Receiving the opportunity to curate 'Essential' has definitely been the most pivotal moment I've had at SF State," Miranda said. "I'm still a little shocked but most really grateful for the opportunity. I know how important this exhibition is for me, my family and the Latino/a/x community who have experienced the effects of the agriculture business in the U.S." 
Learn more about SF State's School of Art. 
Tags