SF State alumni, faculty find camaraderie in Writers Guild of America strike
June 22, 2023

Photo Credit: From left: Lecturer Marion Dayre takes a selfie with her former SF State students Armando Jimenez and Barbara Burgues
'Better Call Saul' executive story editor Marion Dayre is an SF State lecturer, and she brought two of her former students to the picket lines 
 
For many San Francisco State University graduates with Hollywood dreams, moving to Los Angeles is a move for opportunity. While the Writers Guild of America (WGA) strike has brought production to a halt industrywide since May, two former San Francisco State students have placed themselves on the picket lines alongside one of their faculty mentors.  
"It's history in the making, so why wouldn't you want to be there and try to make a change?" said Barbara Burgues, a Venezuela native who attended SF State in 2021 and now lives in Los Angeles with goals of producing, writing and directing. 
Her former SF State classmate Armando Jimenez picketed with her. Jimenez (B.A., '22) is an aspiring screenwriter and director who moved to Southern California in the spring. 
"It's natural for me to join the picket line. I get to fight for my future," he said. "Especially since I'm hoping to get a job somewhere in that field; I hope to be able to afford the roof over my head." 
Burgues and Jimenez were invited to the picket line by Marion Dayre, a lecturer in Broadcast and Electronic Communication Arts and executive story editor on the Emmy Award-winning "Better Call Saul." (Streaming soon: She is the head writer on Marvel's "Echo" and co-showrunner on Amazon Prime's "Wytches.")  
Dayre structures her "Television and Video Program Design" class to simulate the full preproduction process of developing a series for streaming. Writing is a major element, but students also learn to build a pitch and other tricks of the trade. As a rising star on the front lines, Dayre tells her students what conversations are like in the writers' rooms and network executive suites, with self-care in mind. 
"If students are asking if they're capable, I hope they would be able to find that assurance going through the process of the class," Dayre said. "What I try to pass along is the importance of self-care as a writer. Knowing that we're in a community with our anxieties, we don't have to harbor them alone and navigate them alone. I try to come and be real."
But then comes the question of existential doom: Is it a good time to move to Los Angeles to break into the industry? 
"It's always risky and it's always full of rewards. And I think now's as good a time as any," Dayre said. "I moved to LA during the last strike [in 2007 – 2008]. And everything worked out."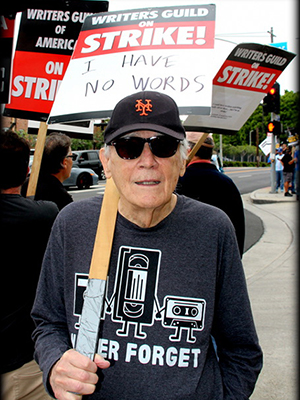 Alumnus David Pollock marches on the picket line. This year's WGA strike is the fifth that he has participated in.
Shrinking seasons, shrinking compensation 
WGA members are striking to seek increases and equity in pay, improvements in work conditions and job security, measures to prevent harassment and discrimination, and the regulation of material generated with artificial intelligence. The guild is bargaining with the Alliance of Motion Picture and Television Producers. 
"When I was watching television in the 1950s, there were 39 episodes a season. The same shows were on year after year, and they were all advertiser-driven," said David Pollock (B.A., '61), a retired Emmy Award-winning writer from classic programs such as "Frasier," "The Mary Tyler Moore Show," "The Carol Burnett Show" and "M*A*S*H*." 
"Over the decades, incrementally, the number of episodes shrunk as the business expanded," added Pollock, now retired but still a frequent WGA picketer. "We're just burning up content faster and faster with shorter attention spans." 
'Another pause for the greater good' 
Dayre says the camaraderie that it takes to write a quality script begins in the writers room and continues on the picket line, where she is a captain. 
"We had a slowdown during COVID, and now it comes time to take another pause for the greater good," said Dayre, who has taught at SF State since 2021 and been a WGA member since 2014. "You're never guaranteed the next job or the next spot, but you are guaranteed the ability to learn from brilliant writers and to help them when you can." 
Jimenez says picketing has been a fun way to effect change and learn about the business side of entertainment. As an extra motion of solidarity, one day he brought two cases of water for the protestors. 
"I'm not a WGA member and, fortunately, you don't have to be a WGA member to join the picket line. Nobody minds at all," said Jimenez, who interns in project development for Dayre. "They have such a great community of people. I don't usually see something so tight-knit where an entire huge group of people go, 'Oh, we're going to go on strike. We're all going to do this.' Plus, spending time with someone like Marion, it gives me comfort for the future." 
Burgues only spent one semester at SF State, but it's changed her life. She credits the University for sparking her creativity, and Dayre is a vital inspiration. 
"She's just so understanding of how hard it can be to get into this industry, and it's very easy talking to her," Burgues said. "If it weren't for her, I don't think I would have had the courage to tell my parents, like, 'Hey I'm going to be a writer and leave everything behind and just be a struggling international student.' And I do not regret it at all." 
Learn more about the SF State Broadcast and Electronic Commuinication Arts Department. 
Tags