As co-curator, Felicia Angeja Viator emphasizes women's contributions to hip-hop 
When a San Francisco State University professor was invited to co-curate an exhibition commemorating the 50th anniversary of hip-hop, she knew women must be at the center. Their presence is unmistakable when entering "Hip Hop America: The Mixtape Exhibit" at the Grammy Museum in Los Angeles. Saweetie's famously blinged-out fingernails are among the first things that visitors encounter. 
San Francisco State Associate Professor of History Felicia Angeja Viator, the co-curator, placed an emphasis on women's contributions throughout the exhibit, rather than compartmentalizing women as hip-hop history often does.
"We wanted to weave women throughout every single story," she said. "As a visitor, you come in and you see women everywhere, and that is a true representation of the history. But it's also a way to normalize the idea that women were there — and contributed and innovated and were significant. It gives people a sense of where we are now, with women dominating hip-hop." 
"Hip Hop America" opened Oct. 7 and is on display through Sept. 4, 2024. In addition to Viator, the SF State faculty is also represented by Africana Studies Lecturer Dave "Davey D" Cook, as a member of the exhibition advisory committee. 
Among the artifacts procured by Viator include the personal mixtape collection of late SF State alumna Stephanie "DJ Stef" Ornales, a champion of female DJs regarded as a legend in the Bay Area hip-hop community and beyond. In large part, the content on the 60 cassettes in the exhibition is not available on streaming services, showcasing a way that audiences discovered rap music in the pre-internet era. 
"For me, it's the crown jewel of the exhibit because it represents what's so important about hip-hop in terms of the DIY [Do-It-Yourself] culture of it," said Viator, who also was one of the first female DJs in the Bay Area and wrote a book exploring the societal impact of the gangsta rap subgenre. "DJs and underground MCs would share tapes. I wanted to show how important that is for moving the music around."  
Every semester in Viator's "History of Popular Culture" class at SF State, her unit on hip-hop always ignites a lively discussion with a coalescence of varying musical tastes and historical perspectives. 
"When I teach this history, I try to honor the fact that this music is so dynamic and changes so much," Viator says, "and, as I do in general when I teach history, to give students a sense that history matters."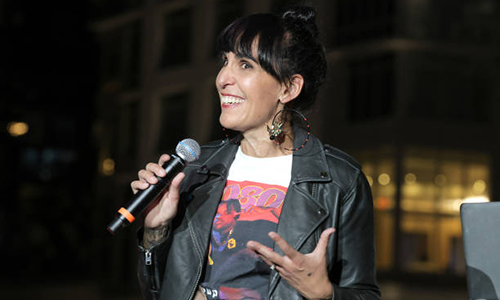 Associate Professor of History Felicia Angela Viator speaks at the opening gala for "Hip Hop America: The Mixtape Exhibit."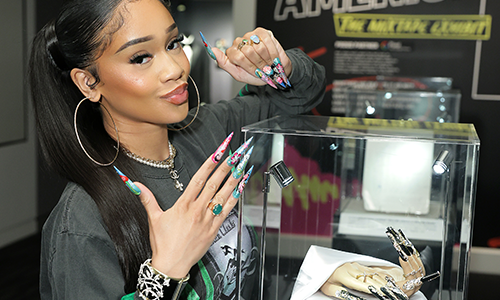 Saweetie shows off her nails — the 10 on her fingers and the 10 on display.