Students gain hands-on experience in state-of-the-art studios in new Marcus Hall  
With the quarantine of 2020 long in the rear-view mirror, students at San Francisco State University are back to developing skills and making friends the old-fashioned way — in the flesh. Better yet, a new energy has emerged in George and Judy Marcus Hall for the Liberal and Creative Arts, the new building where students use state-of-the-art studios and labs to operate a radio station, produce television programs and much more. 
KSFS radio  
KSFS is the online student-run station based in the Broadcast and Electronic Communication Arts (BECA) Department, representing the best of college radio with programming as diverse as San Francisco State itself. Students have the freedom to play and say pretty much whatever they like, leading to avant-garde playlists from all music genres (one DJ is still dedicated to spinning vinyl) and talk shows and podcasts on a range of topics.  
Samantha Ferro, Jennifer Gee and Alexandra Lopez host "Crave Radio", airing Wednesdays at 10:30 a.m. this semester. Each brings her own perspective and passion to her segment: Ferro focuses on the culture of her home country of Italy, Gee explores soul searching and Lopez discusses the San Francisco 49ers. 
"The BECA program has provided me with hands-on experience that you just can't get outside of college. You can do radio, podcasting, video or script writing," Gee said. "I get to learn with different people and see how they work and also learn about myself and how I work. You also go out of your comfort zone and grow as a person." 
The three hosts only met last fall but already are completing each other's sentences as if they've been lifelong besties.  
"Without SF State we could not do this," Lopez and Ferro said in unison.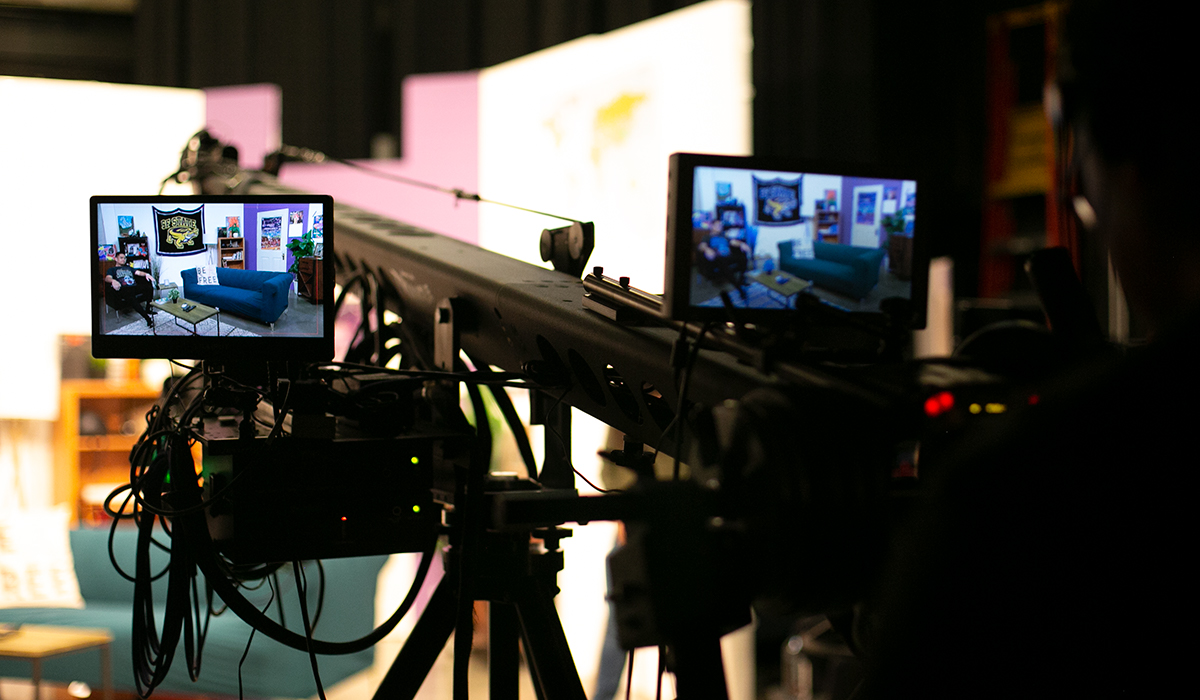 'Under SF' 
Things can get zany in Marcus Hall when "Under SF" is filming at Studio One. The weekly variety show, produced by two BECA classes, brings in artists, musicians and social justice advocates, even sending in the clowns of the Finelli Circus. 
The hosts, producers, directors, writers and crew members — all students — operate in a professional television environment, preparing them for careers in the television industry. 
"It's a really good experience learning how to work with a crew in a studio … having fun together while also being able to make mistakes and learning from our mistakes," student Luna Cardenas said. "When it was my turn to direct, [we] came together with the production group. … We just worked together a lot. We all cared about each other and our work." 
Watch "Under SF" on the BECA Media YouTube channel. 
'State of Events' 
Every Tuesday, BECA student journalists present a full-length television news program, "State of Events." Broadcast from a set with a street-level view of Holloway Avenue, the show covers news from the SF State campus to the greater Bay Area. 
Watch "State of Events" on the BECA Media YouTube channel. 
BECAfest 
BECAfest is the annual showcase and celebration of the work produced by BECA students. Emulating Hollywood's top award shows, the event features award-winning work in video, audio, writing and radio, among other categories. This year's event takes place Friday, May 19, at 7 p.m. in Studio One. 
Film Finals 
At SF State, the media arts are on display beyond BECA and Marcus Hall. In the Fine Arts building, students in the School of Cinema — recognized as one of the nation's top film schools — enjoy a soundstage, editing rooms and recording facilities developed with guidance from industry legends including Francis Ford Coppola.  
A Gator tradition for more than half a century, Film Finals is the juried showcase of the year's best student films — and the city's premier student cinema showcase. It returns to the Roxie Theater, at 16th and Valencia streets in San Francisco, on Tuesday, May 16, at 6 p.m.  
Related screenings of SF State Cinema student films include the Queer Film Finals, scheduled for the Roxie Theater on Monday, May 15, at 6:30 p.m., and the Animation Finals on Thursday, May 25, at 6 p.m. in the August Coppola Theatre on campus. 
Visit the SF State calendar for a full list of events. 
Learn more about the SF State BECA Department and School of Cinema.