University Dance Theatre: a student showcase and career stepping stone
March 27, 2023

Photo Credit: Claire Rice
Annual concert, March 30 – April 2, pairs student dancers with renowned choreographers to perform rigorous, expressive works 
San Francisco State University not only provides stages for performers to discover their artistic identity and develop their skills, but also public showcases that lead to opportunities in the Bay Area's dance scene. The long-running University Dance Theatre concert, taking place this year from March 30 to April 2 in the Little Theatre, is a case study. Taught by Associate Professor Ray Tadio and Lecturer ArVejon Jones, the course pairs 19 student dancers with renowned choreographers to perform new, rigorous and expressive works.  
Jones attended San Francisco State alongside his twin brother Dar Vejon Jones, and the faculty noticed their talents right away. They participated in University Dance Theatre together and have gone on to successful careers in dance. Dar Vejon Jones (B.A., '12) is a sought-after choreographer and a Master of Fine Arts candidate at City University of New York, Hunter College. 
ArVejon Jones (B.A., '13) performs with Janice Garrett + Dancers, coaches for the African-American Shakespeare Co. and performs every holiday season in "The Velveteen Rabbit" for ODC/Dance. It was University Dance Theatre that introduced ODC/Dance and ArVejon Jones. With choreographers from ODC/Dance serving as guest artists for the event, he landed an apprenticeship at the company. 
"Through that networking opportunity and being in rehearsals with them at their institution and at school, it propelled me to go into the professional world. It was a catalyst," he said. "It made everything happen a lot quicker."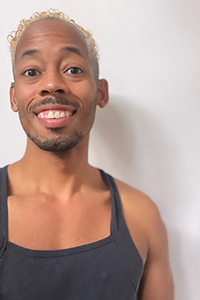 Dance Lecturer ArVejon Jones
As a student, he would spend 12 hours a day dancing, beginning with an 8 a.m. Pilates class at SF State and ending with evening classes off campus at Alonzo King LINES Ballet, with other Dance courses on campus in between.  
"I definitely remember my first time being in rehearsal as a student, and I was overwhelmed," he said. "Now I look at it and I really see what everybody was trying to tell me." 
'SFSU has made me into the artist that I am today' 
Johan Casal, double majoring in Dance and Cinema, is one of the latest successes. He is performing in two pieces at University Dance Theatre: Tadio's Keith Haring tribute "Roxy" and guest choreographer Marlayna Locklear's new contemporary/jazz work. Casal is also directing a short film based on the "Roxy" performance.  
He says this year's event marks a true comeback from the COVID-19 pandemic, full of fresh ways to present dance as an in-person and on-screen experience. 
"There's been such a great sense of collaboration and a new feeling," Casal said, "and a new energy that comes out of iust being so stationary for the past two to three years." 
Casal has parlayed his SF State projects into a fast-rising career. He was hired as the lead dancer for Netflix's "The Queen's Ball: A Bridgerton Experience" in San Francisco last year and has launched his own film company, Kuya Johan Productions. He credits faculty and peers for helping establish connections, in both film and Filipino folk dance. 
"SFSU has made me into the artist that I am today," he said. "Now I am ready to step beyond the campus."  
Purchase tickets to University Dance Theatre. 
Learn more about the SF State School of Theatre and Dance. 
Tags