University to honor 12 outstanding graduates at May 26 Commencement
May 10, 2023

Photo Credit: Strategic Marketing and Communications
The students, chosen to represent SF State's academic colleges, will be recognized at a May 26 graduation ceremony
A dozen outstanding graduates will be honored during San Francisco State University's 122nd Commencement ceremony, to be held at Oracle Park Friday, May 26. They will represent their more than 7,900 graduating peers in the Class of 2023.
As part of a longstanding tradition, each of the University's six academic colleges selects an undergraduate and a graduate student to represent their classmates and wear their college's academic hood during the ceremony. More details about the ceremony are available on the Commencement website. Additionally, two of the hood recipients, one undergraduate and one graduate student, will deliver a Commencement address.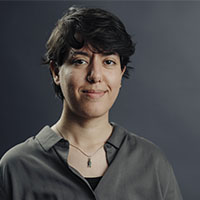 Hasti Jafari
MFA, Creative Writing
College of Liberal & Creative Arts
 
Since coming to SF State from Iran, playwright and theatre artist Hasti Jafari has been extraordinarily active in the Creative Writing Department — whether they are creating a series of zines on the Jina revolution in Iran (also known as the "Woman, Life, Freedom" movement), writing comedic plays and creative nonfiction, volunteering or teaching.
 
Jafari has taken a leadership role in multiple communities to create cross-cultural works and build dialogue. Activities include publishing an op-ed and participating in a campus teach-in on the women's movement in Iran, presenting a panel on social justice and pedagogy at the Association of Writers and Writing Programs conference, and volunteering in graduate student groups to develop inclusive teaching methods and writing practices. Jafari was also playwright-in-residence at the Ruth Asawa San Francisco School of the Arts.
 
Professor Michelle Carter, Jafari's thesis committee director, describes their genre-crossing ingenuity: "Students have often marveled, 'I've never seen anything like this.' Hasti's bold, original work defies description. Hasti has dazzled us with their inventiveness and offered brilliant, generous commentary to their peers. In diving ever deeper, Hasti creates new forms restlessly, inspiring us with their passionate questioning."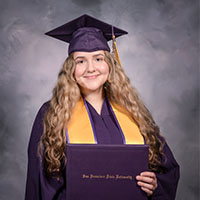 Nicole Bañuelos
B.A., Biology
College of Science & Engineering
 
Nicole Bañuelos overcame many challenges to complete her Biology degree with highest honors. While an undergraduate at SF State, she worked as a frontline health care worker during the peak of the COVID-19 pandemic and raised two children as a single mother.
 
Driven to make a difference in underprivileged communities, Bañuelos joined Associate Professor of Biology Blake Riggs' research lab to study the toxicological effects of parabens, small molecules commonly found in food and personal care products. Her studies modeling human breast, ovarian and fallopian tube cancers revealed some of the potential dangers of everyday exposure to parabens and how they can impact DNA, fertility, lifespan and more.
 
Her international presentations, delivered in both English and Spanish, have won awards. In 2022, she earned first place at the SF State Research Conference in the Biological and Agricultural Sciences category, and she won a presentation award at the Annual Research Conference for Minoritized Students. Her list of accolades includes being a Genentech Foundation Scholar for three years and a recipient of the Hispanic Foundation of Silicon Valley Latinos in Technology Scholarship.
 
Bañuelos is also dedicated to mentorship, particularly of young women interested in STEM fields. Beyond academia, she serves her community as a homeless outreach specialist, domestic violence advocate and peer counselor. She has received a United States Senate Certificate of Commendation, California State Legislature Certificate of Recognition and more for her service work.
Undergraduate Hood Recipients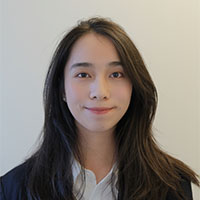 Michelle Fu
B.A., Accounting
Lam Family College of Business
A first-generation college student, Michelle Fu maintained a 3.94 GPA throughout all four years of college. With her classes, she already met the 150 credit hours required for a CPA license.
Fu is dedicated to serving her community. She volunteered more than 200 hours in the Volunteer Income Tax Assistance (VITA) Program, providing valuable assistance to individuals and families in need of help preparing their tax returns. In 2021, she became a site supervisor for VITA, coordinating the efforts of other volunteers and overseeing the successful operation of the VITA site.
During her time at SF State, she participated in student organizations and held various positions in the accounting honors society, Beta Alpha Psi (BAP) — Beta Chi Chapter. As the group's director of professional development, she planned and executed the second Virtual Meet the Firms event during spring 2021, which provided opportunities for students to virtually connect with potential employers.
Before graduation, Fu received an offer as an assurance associate for Ernst and Young, where she plans to continue learning and growing as a professional. Her long-term goal is to become an entrepreneur, using the knowledge and skills she gained from her education and professional experience to create a successful business.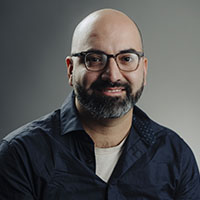 Alexiz Ortiz
B.S., Speech, Language and Hearing Sciences
Graduate College of Education
Alexiz Ortiz became interested in the world of audiology during his junior year of undergraduate studies. He found the science behind our hearing mechanism and balance fascinating. But it was also apparent that there was not a lot of diversity in the audiology workforce, sparking concerns in Ortiz about how the field is reaching out to underserved populations. He hopes to create universal resources for patients with diverse socioeconomic, racial and cultural backgrounds.
 
One of Ortiz's many contributions while at SF State was joining the Gray Matter Lab — which focuses on serving people who have language disorders like aphasia and come from historically marginalized communities — as a research assistant. He is also a part of the inaugural student group for research in the Speech, Language and Hearing Sciences (SLHS) Audiology Lab. He has served as president of the Student Academy of Audiology over the last year, organizing presentations for all SLHS students and providing mentoring for all students in the program's audiology courses.
 
Ortiz will continue his studies in the doctoral program of Audiology (AuD) at San José State University starting fall 2023.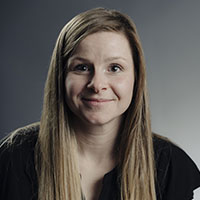 Cassandra Marie Osorio
B.S., Kinesiology
College of Health & Social Sciences
Cassandra "Cassy" Marie Osorio began her academic journey in 2009 at the University of Wisconsin, Green Bay. Unable to focus on school, she left in 2011 and joined the U.S. Navy, where she spent the next eight years of her life. During that time, she was able to try out different roles, including command career counselor, where she advised enlisted personnel on retention and promotion and helped them identify next steps and areas to work on. She was also an assistant command fitness leader, training and educating sailors to meet the Navy's minimum fitness standards.
She left the Navy in 2019 and decided to return to college to earn an undergraduate degree in Kinesiology. By then she was married with a young daughter. She transferred to SF State from City College of San Francisco in 2021 and maintained exceptional grades while also being a full-time caregiver to her now two children.
Osorio was an undergraduate teaching assistant for two courses and served as president of the Kinesiology Student Association. She is currently exploring careers in occupational therapy and fitness and wellness.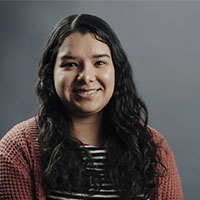 Emily Gómez Urbina
B.A., History/French
College of Liberal & Creative Arts
Emily Gómez Urbina, a perennial Dean's List honoree, is the first in her family to graduate from a four-year university and is proud of her Mexican heritage. She is passionate about bringing awareness to the deep-rooted Latinx involvement in the culture and politics of South San Francisco, the Peninsula city located 6 miles from SF State.
Urbina's internship with the Historical Society of South San Francisco was a defining experience in her SF State tenure, giving her the opportunity to research the history of the Latinx community of her second hometown. She dug through the society's collections, pored over old newspapers and conducted oral history interviews. As an aficionado of local history, she not only loved giving a voice to underrepresented people, but also discovering artifacts, especially vintage baseball uniforms.
Urbina is also an extraordinarily talented student of French. Her diligence and creativity have been an inspiration to all. Her coursework reveals original insights and sophisticated critical thinking. 
Her professors describe her as extremely conscientious, smart, thorough and kind. Her capstone project explored the Compromise of 1850 and the question of slavery in California's bid for statehood. After graduation, she wants to continue museum work, committing to present a non-Eurocentric view of history.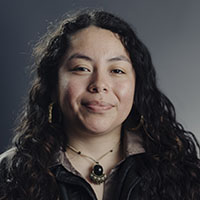 Gladys Maritza Aguilar Vital
B.A., Latina/Latino Studies and Race and Resistance Studies
College of Ethnic Studies
Gladys Maritza Aguilar Vital (they/them) is a first-generation student, activist and community member with a strong commitment to their communities.
Being raised by a farm worker father and a hard-working mother, education became an important tool. They are the first one in their family to graduate from high school and continue onto higher education. Vital draws from their experience as a working-class Xicana English-learner who had to care for their two younger siblings since they were 9 years old and graduated from a continuation high school. This experience has fundamentally informed their work. From building a Smithsonian-supported archive of Bracero labor in Napa Valley and uplifting the voices of farmers within their community to continuing to expand their work rooted in liberation as a student mentor in the College of Ethnic Studies, Vital is committed to creating spaces of healing, resistance, solidarity and transformation.
They are graduating with a B.A. in Latina/Latino Studies and Race and Resistance Studies and a minor in Africana Studies and Political Science with a pre-law certificate and plan to take their skills and passions for community, health care, housing and immigration to the legal field.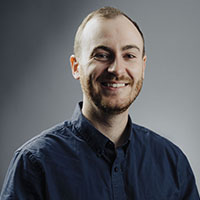 William Thomas Brogan
MBA
Lam Family College of Business
With an undergraduate degree in Biochemistry and Cell Biology, William Thomas Brogan moved home to the Bay Area and decided to pursue an MBA because he wanted to bridge his knowledge gap between science and business. He decided to pursue an MBA with an emphasis in sustainability.
At SF State, Brogan achieved excellence inside and outside of the classroom, spending much of his time serving the Center for Ethical and Sustainable Business, Net Impact (SF State Chapter) and the SF State Office of Sustainability.
In addition to his MBA, Brogan completed a Graduate Certificate in Sustainable Business. The program included a course specifically designed to develop innovative business strategies to address society's unmet emerging needs. For his final course project, he explored the social, economic and environmental advantages of a decentralized, locally owned electricity grid. He developed a business plan that would provide low-cost power to remote regions using solar and other renewable sources. The primary goal of his project was to equip local stakeholders with the necessary infrastructure and training for a clean energy transition — ultimately improving community health and economic development while fortifying national energy security.
He currently works in Hayes Valley as a retail lead for the sustainable outdoor brand Cotopaxi. He also volunteers for the American Youth Soccer Organization (AYSO) as a referee and coach alongside his dad.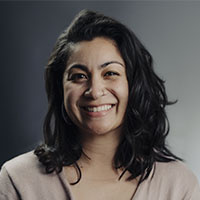 Cristina Cabiles
M.S., Clinical Mental Health Counseling
College of Health & Social Sciences 
Cristina Cabiles brings her lived experience to her training and her work. As a woman of color, she understands the needs of BIPOC communities and approaches them with cultural humility, compassion and exceptional advocacy. 
While at SF State she pursued a number of internships, which resulted in structural changes within the organizations. In her first-year internship she served as a behavioral health intern at the Daly City Youth Health Center, providing counseling and resources to students in a school setting. In her second year, she was a wellness counseling intern in the Jefferson Union High School District and provided clinical and employment counseling to students. She is a disability rights advocate and brings a social justice lens to all aspects of her work. 
She researched the lived experiences of people with disabilities during the pandemic and presented her findings at an international conference, as well as co-authored a manuscript, soon to be submitted for publication. Her culminating experience paper continued this focus as she explored the following topic: "Application of Family Systems Theory to Transition-Age Youth with Disabilities."
She's actively working to diversify the field of counseling by participating in the California Association for Licensed Professional Clinical Counselor Fellowship Mentorship Program, where she mentors other BIPOC students pursuing mental health counseling careers and counseling licensure.
A "boomerang Gator," Cabiles earned her undergraduate degree in Health Education from SF State in 2014.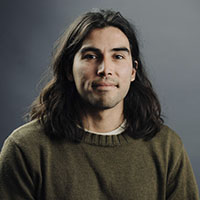 Raymond Leroy LeBeau
M.S., Geographic Information Science
College of Science & Engineering
Raymond Leroy LeBeau is a member of the Pit River Tribe in northeastern California with Cahuilla and Lakota family relations. He says his scientific interests really began when he was exposed to geographic information science as an undergraduate. As a Geographic Information Science master's student at SF State, he had a personal interest in researching meadow systems.
 
He joined the University's Geography department just as it was starting its Red Clover Valley project assessing innovative ways to restore and protect montane meadows in the Sierra Nevada. Beyond its scientific implications, the project could inform how to protect local communities from the impacts of climate change, such as earlier snowmelts. For his thesis, LeBeau led the effort to map a huge field site using high-resolution drone imaging and analyzed changes in cut meadow stream channels after meadow restoration activities.
 
As a graduate student, LeBeau has been supported by several scholarships including the Cobell Scholarship and American Indian College Fund (AICF) Scholarships. He has been working in a student position with the U.S. Geological Survey and hopes to pursue a doctoral degree in the future.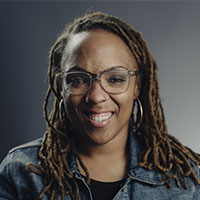 Edee Moore
M.A., Ethnic Studies
College of Ethnic Studies
Mutual support and care are at the core of Edee Moore's graduate-school experience in SF State's College of Ethnic Studies. As a community-engaged scholar, she has played an integral role in creating a feeling of "home" for her peers as well as faculty and staff.
Moore's thesis, "Third World Liberation Front or The College of Ethnic Studies: The Experience of Students of Color in the Face of a Global Pandemic," employs archival research to examine how SF State responded to student needs at the onset of the COVID-19 pandemic and how students responded by forming their own communities of support, mutual care and self-care. The thesis asks questions rooted in the relationships of care that she has committed to building with other master of arts students — these extend beyond her immediate cohort.
Even while working full time, Moore has convened meeting groups of Ethnic Studies graduate students in order to support and mentor one another, study together and write together. 
Moore plans to pursue a Ph.D. after completing her master's degree. Her dissertation will extend her M.A. research findings to examine how the spirit of the Third World Liberation Front of 1968 and 1969 lives on through the relationships of care and mutual support that people develop with one another in the College of Ethnic Studies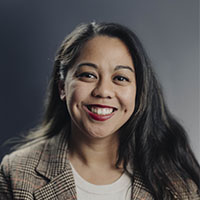 Gail Ann Rulloda
Doctorate in Educational Leadership
Graduate College of Education
Gail Ann Rulloda is a loving wife, the mother of two beautiful kids and a lifelong learner of the world. She has found joy in working, co-learning and co-creating with students in early intervention, K - 12 and higher education settings. She enacts social justice and equity in the institutions where she works, in her community and in her home. She is grounded in radical love and disability justice and seeks to resist perpetuating trauma and hurt through healing, learning and finding joy. 
A notable feature of Rulloda's work as a doctoral student, including her dissertation study, is that it was done as part of a unique partnership with San Lu, her life partner, fellow doctoral student and fellow community-engaged scholar. Rulloda's achievements are linked to San Lu's and provide evidence for the power of working together to practice authentic caring. Their relationship is a model for how we must work collectively to create long-lasting change in education.
Rulloda is a practitioner in the California community college system, with a life dedicated to supporting students who have been marginalized, specifically students who have been justice system-impacted and those with disabilities. Her dissertation focused on disrupting the dehumanization that justice system-impacted students experience in California community colleges. She has also contributed to the Ed.D. program by working as a graduate assistant supporting three classes. While a doctoral student, she worked on a major program evaluation focused on ethnic studies and helped develop a course for the College of Ethnic Studies that will be part of new requirements for undergraduates and will contribute to the new ethnic studies curriculum for California public schools. She and San Lu presented their developing research findings at the prestigious American Educational Research Association annual conference in 2022 and continue to present their findings at other important professional conferences across the country.
Tags