Student script wins national award from Broadcast Education Association
May 3, 2023

Photo Credit: Courtesy of the Broadcast and Electronic Communication Arts Department
Jae Hamilton wrote raucous speculative episode of U.K. teen sitcom 'Derry Girls' 
What started as a class assignment has turned into a national award for a San Francisco State University student who has since graduated. Jae Hamilton is a first-place winner in the Broadcast Education Association (BEA) Festival of Media Arts. Her speculative script for an episode of the U.K. teen sitcom "Derry Girls" brings a raucous yet thoughtful twist to a Catholic girls school in Northern Ireland in the 1990s. 
Hamilton (B.A./B.S., '22) is among 300 student winners, representing 82 colleges and universities nationwide. They were honored at an awards ceremony at the festival on April 17 in Las Vegas. BEA is a leading international academic media organization that drives insights, excellence in media production and career advancement for educators, students and professionals. 
Hamilton wrote the script last fall as an assignment in Broadcast and Electronic Communication Arts (BECA) 470: "Dramatic Writing for Television and Electronic Media." The plot takes the "Derry Girls" protagonists to a shop in town where one of the characters gets in a dispute with the owner for overcharging for candy. In the episode's secondary plotline, Hamilton takes the Derry girls as far from their comfort zone as she thought possible: to a museum exhibition of Robert Mapplethorpe photographs, showcasing his trademark provocative images of nude men. 
"It's hijinks, but the basis is taking care of your own and standing up for what you feel is injustice," Hamilton said. "I wrote it because it's funny, but it's also about self-acceptance. Even though they are very simple characters, they deal with lots of different emotions and themes." 
A double major in Visual Communication Design and Creative Writing, Hamilton entered San Francisco State as a transfer student after a career as a theatre props technician in Atlanta. She is pursuing a career in video game design, and her passion is writing plays.  
"Writing is my happy place. It always has been," Hamilton said.  
Hamilton is not the only member of the SF State community to be honored at the BEA festival. Her BECA 470 instructor from last fall, Associate Professor Marie Drennan, garnered Best of Competition in the Mini-Episodic/Webisode category of the faculty scriptwriting competition. 
Learn more about the SF State Broadcast and Electronic Communication Arts and Creative Writing departments and the SF State School of Design.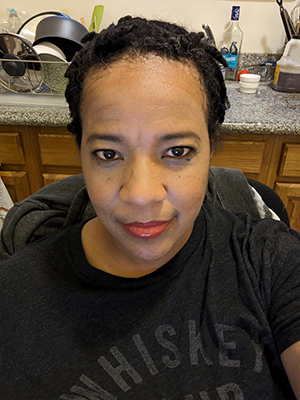 Tags