SF State and the Mission Cultural Center for Latino Arts: partners in culture and resistance
October 9, 2023

Photo Credit: Courtesy of the Mission Cultural Center for Latino Arts
Against the odds, two San Francisco institutions have long collaborated on a grassroots level 
"You're a stranger now in your home town / With strange faces on once familiar streets."  
These lines from San Francisco State University Professor Emeritus Alejandro Murguía's poem "Silicon City" evoke the feelings of many residents of San Francisco's Mission District, where gentrification has torn apart the community for decades. The Mission Cultural Center for Latino Arts remains a fixture despite the changes, and it wouldn't have happened without artists and activists like Murguía. 
"As a marginalized community and community of color, we're always going to be held to different standards," said Murguía, the center's inaugural director who later would earn two degrees from San Francisco State. "And so we always have to come out on top — sobre pasar, go above them — in our talent and our skill and our ability to organize our community so that we can survive." 
Established in 1977 as inequity and displacement had taken shape in the neighborhood, the Mission Cultural Center for Latino Arts (MCCLA) provides a full array of free, affordable classes and programming that cover Chicanos, Central and South America and the Caribbean. More than 10,000 people visit every month. Housed in a 37,500-square-foot building honored on the Historic Register of Historic Places, the MCCLA includes an art gallery and studios, a print shop, classrooms and a theatre. It also plays key roles in the annual Carnaval, offering music and dance courses to teach people to perform in the parade. 
"Coming out of the civil rights movement, people of color were finding their voice in this country. Activists were fighting for ethnic studies programs," said Martina Ayala, MCCLA executive director. "Thanks to those artists and community activists, we can look back at the Mission District and find multiple anchor institutions that were established by young students, many of them at SFSU, who had a long-lasting impact." 
Coinciding with student activism at SF State in the 1960s, organizers made a major push for the San Francisco government to establish community centers throughout the city. Murguía (B.A., '90; MFA, '92), fellow future SF State Latina/Latino Studies Professor Carlos Cordova (B.A., '74; M.A., '79) and other students were among those organizing in the Mission.  
"All these cultural celebrations we enjoy today are great, but the history behind them, they came at a cost. And they came at a cost that many college students paid," Ayala said. "And I can't thank them enough for their courage to fight for what they believed in."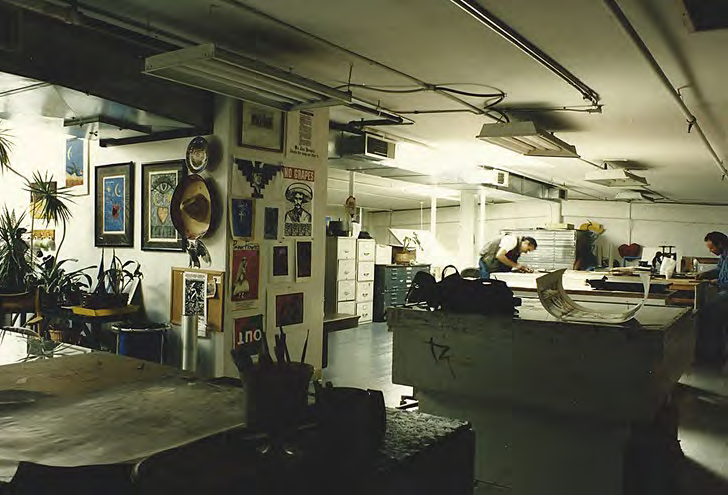 Over the years many SF State faculty have selected the MCCLA as the venue to feature their creative work. Professor Emeritus Carlos Barón (M.A., '88), once the MCCLA theatre and dance coordinator, premiered his play "Death and the Artist" there. Music Lecturer John Calloway (M.A., '03) has been performing at the center for decades. 
Murguía says it continues to serve community needs in multiple ways despite existential challenges to the Mission. Gentrification remains the most persistent in the once working-class neighborhood, which was at its peak majority Latina/Latino but continues to decline. 
"It's a real hotbed of community activism and culture and helps ground the Mission District community through all these phases of gentrification that it's gone through the past 47 years the cultural center has been around," he said. "Nationally, it's a huge magnet for artists from other parts of the country, and even Latin America, to show up in San Francisco and have a place immediately that grounds them in their art, that supports them in their art, that allows them a foundation." 
MCCLA and SF State faculty and students continue to share a symbiotic relationship, promoting similar grassroots and progressive values. The center frequently employs SF State students as interns, including several this year. SF State Dean of Students Miguel Ángel Hernández has been invited to join the center's board of directors.  
"Any cultural event that we create — whether it's a poetry reading, a gallery exhibit, a Carnaval, a music concert — it's all part of not just our resistance to the antagonism to our community, but an affirmation that we have been here longer than the Pilgrims," Murguía said. "And that's super important that we realize that. Every act of culture, whether it's a mural or a poetry reading, is in fact an act of resistance — doubly so, in our times, when not just our community is being attacked, but arts, reading, literature and books are under assault." 
MCCLA's city-owned building needs much maintenance, which will force it to move temporarily beginning July 1. Ayala says she and other MCCLA supporters are using their activism skills to ensure the city government provides written assurance that allows them to return to the city-owned building once retrofit and repairs are completed, honoring the rent of $1 per year.
"I always tell people that the Mission Cultural Center is the hospital of the soul," Ayala said. "And we all know that during the pandemic, without the arts we would not have been able to survive. When we're confined in a space, we need to find a spirit." 
Tags