A master's degree despite detours: one alum's inspiring story
April 25, 2023

Photo Credit: Paul Asper
Science communicator Yimy Antonio Villa (M.S., '21) tells today's students it's never too late to finish what you started
In 2020, science communicator Yimy Antonio Villa returned (virtually) to his alma mater, San Francisco State University, to speak to students about his career. His main message: you have to take advantage of every opportunity that comes your way. Not long afterward, he got a chance to practice what he'd preached. 
Villa had been offering advice via Zoom to students in San Francisco State's California Institute for Regenerative Medicine (CIRM) Bridges to Stem Cell Science program — a graduate program Villa himself had to first drop out of nearly a decade ago. After his talk, he got a message from the University's CIRM Bridges Director Lily Chen.
"Lily Chen reached out to me and said, 'You know that regret that you have [about not completing your master's degree]? It doesn't have to be a regret,'" Villa said.
Programs like the University's CIRM Bridges — which was recently renewed for another five years — and the new undergraduate program CIRM COMPASS (Creating Opportunities through Mentorship and Partnership Across Stem Cell Science) train students in stem cell biology and expose them to a variety of career paths. And Chen wasn't giving up on Villa.
At the height of the pandemic, he reenrolled in the University's Cell and Molecular Biology master's program with an emphasis in Stem Cell Biology, completing his graduate degree in 2021 — almost 10 years after he originally left the program.
The long delay for Villa resulted from family obligations. He came to SF State to get a master's degree as preparation for a Ph.D. and managed to complete one year of the program before deferring for a year because his mother was experiencing health problems. Although he tried to return, he left again when he had to help his mother — an undocumented immigrant from Mexico — as his family's primary breadwinner. He worked jobs outside of science, like as a receptionist for a pharmacy benefits management company, but always itched to return to the field he loved.
In 2016, SF State Biology Professor Carmen Domingo — at the time the University's CIRM Bridges director and now dean of the College of Science & Engineering — forwarded a job opportunity at a nonprofit organization called Americans for Cures. The group educates the public about stem cell research and its impact on medical therapies. Villa snagged the job and started down a new career path.
The experience offered him a new way to apply his training as a scientist and taught him the art of sharing science to non-expert audiences. He also worked closely with patients and advocates who gave him a new perspective on medical research.
"It really highlighted to me the importance as a scientist or as anyone that is trying to propose a therapy or market some kind of a treatment … what makes it more important is that personal connection," Villa said.
Around the time he returned to SF State in 2021, he was also working at CIRM as a marketing communications manager. After completing his master's, he started a new position as manager of executive communications at Stanford Medicine, where he focuses on social media content and strategy for executive leadership.
Through it all, his mother — who did not have educational opportunities herself growing up — remained his biggest supporter. Now he's a master's degree recipient and an integral part of a larger communications team  — and she's a legal U.S. resident planning on applying for citizenship later this year.
"Don't be afraid to do a career change or to explore something else that you may want to do," Villa said he now advises students. "Also understand that's perfectly normal."
Learn more about the University's CIRM Bridges to Stem Cell Science program.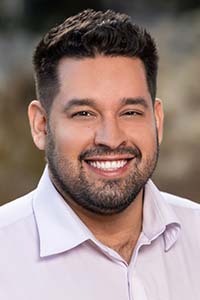 Tags