From 'kicking it' to crushing it: Alum earns Six Star Medal after running sixth world marathon
June 22, 2023

Photo Credit: After completing the Tokyo Marathon in March of 2023, alumnus Antar Johnson earned the the Six Star Medal.
Antar Johnson earned the coveted Six Star Medal after completing Tokyo marathon
As an undergraduate, Antar Johnson ('92, B.A.) majored in Economics at San Francisco State University, but he says his unofficial major was "kicking it." He's always been one for a party. It's a personality trait that's translated well professionally into networking, which he leveraged into a successful legal career. Surprisingly, this quality also helped him make great strides in long distance running — including completing his sixth world marathon, a requirement for the Six Star Medal.
The Six Star Medal has only existed since 2016. An invention of the Abbott World Marathon Majors, a series of marathons around the globe, it honors runners who complete marathon runs in Boston, New York, Tokyo, Berlin, London and Chicago. Worldwide, there are 12,251 Six Star finishers, with 2,746 registered in the United States. More than 1,400 of those runners are men, according to the organization. Johnson believes a tiny fraction of those male runners are Black, even though the organization does not track runners' ethnicity or race. "There's about 35 of us, and we know because we've gone to all of the different races," he said. "It's definitely an elite type of thing."
As a student at SF State, Johnson pledged the Kappa Alpha Psi fraternity, a national African American fraternity that's still active at the University today. When he started running, he made sure to connect with fellow fraternity brothers as well as alumni from SF State and Temple University, where he went to law school. Those personal connections kept him challenged; he started comparing running distances, times and training schedules.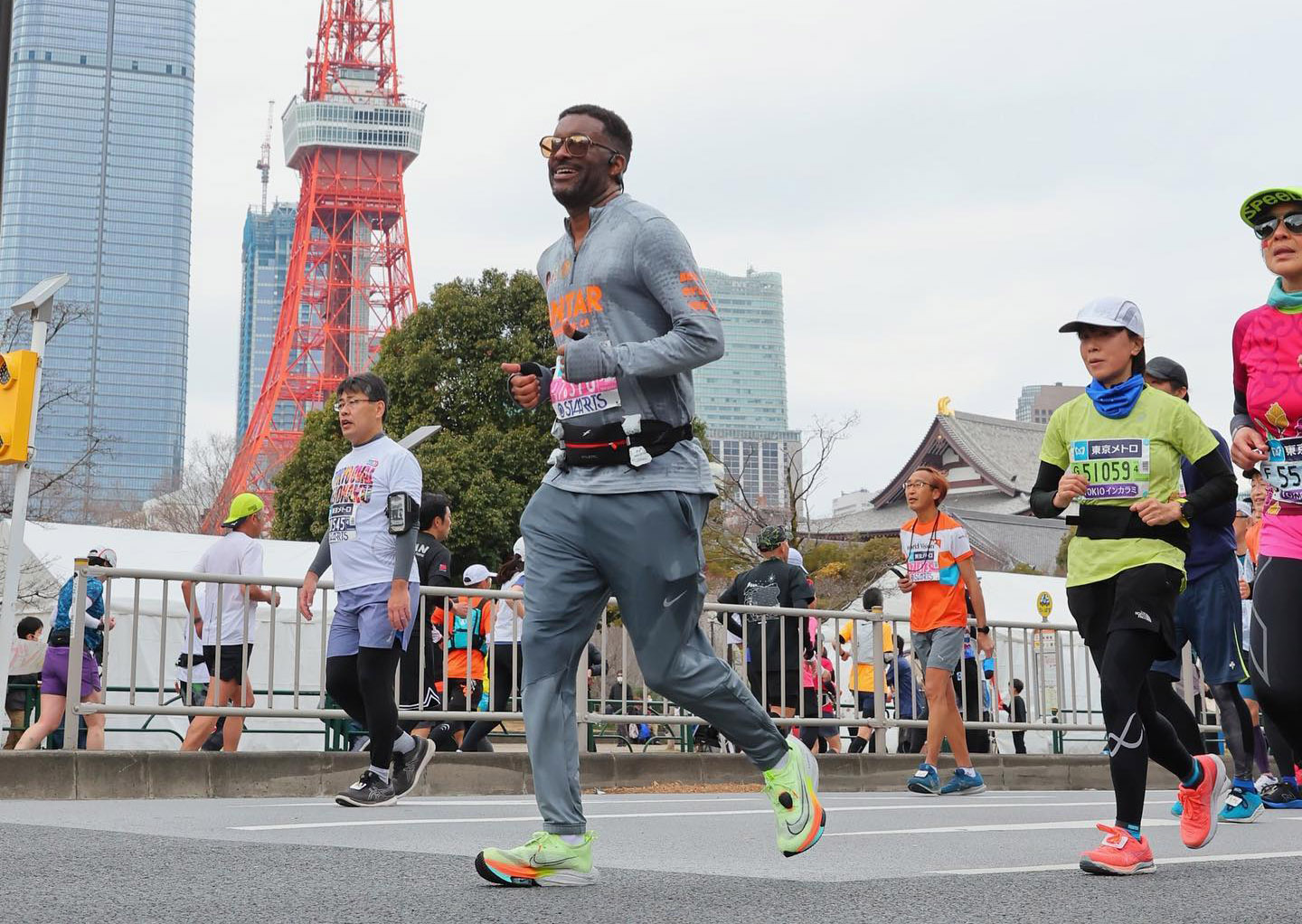 But his dedication to the sport didn't happen overnight. He remembers telling friends who'd invited him on their 6 a.m. runs, "Running is for horses." But at 47, Johnson gave it another shot at the prompting of his doctor.
Johnson is senior counsel for the Office of Lottery and Gaming in Washington, D.C., which means he works long hours sitting at a desk. After work he likes to enjoy D.C.'s nightlife, whether that's going out to dinner or having drinks and cigars with friends and colleagues. Given his family history of cardiac issues and diabetes, his doctor told him he needed to change his sedentary lifestyle.
Johnson tried a few different fitness programs like P90X and Insanity high-intensity workouts and running in obstacle courses races. Those all seemed like a fast track to an injury, he says. He realized what he enjoyed most from those workouts was running, so he started running 5Ks. When friends encouraged him to step it up and try half marathons, he was game. Then they upped the ante again.
"'So you're doing all these half marathons. When are you going to do a real marathon?'" Johnson remembers his fraternity brother and mentor telling him. Johnson accepted the challenge, running his first marathon before turning 48, a personal goal. After completing two more, his running friends, who also happened to be fraternity brothers, convinced him to join their quest for the Six Star Medal. Not one to turn down a challenge, he began his journey for six as well.
Completing even one world marathon is difficult. These six races, attract runners from around the world, so the barrier for entry is high. Racers either need to qualify with their running times, fundraise or win a lottery to gain entry. Johnson opted to fundraise. On his five-year journey, which he finally completed in March after running the Tokyo marathon, he raised $24,000 for various charities, including childhood cancer.
His journey for six was longer than he planned because of COVID, but he finally completed it with a personal best running time (four hours and 49 minutes), all before another milestone: his 55th birthday.
Reflecting on his life and most recent accomplishment, he says pledging a fraternity at SF State changed his life. "I was able to network through my fraternity and meet a lot of good people who are still in my life," he said. And it's those friends who kept him committed to his quest. "Iron sharpens iron. We all just keep each other on these goal-oriented missions."
To find out how you can get involved in a fraternity or sorority at SF State, visit the Student Activities & Events website.
Tags