Gilead Foundation awards SF State $3.5 million for future science building
March 16, 2023

Photo Credit: Strategic Marketing and Communications
The grant funding will provide labs with state-of-the-art equipment and boost student training opportunities
SAN FRANCISCO — March 16, 2023 — The Gilead Foundation, the philanthropic nonprofit organization from Bay Area biopharmaceutical company Gilead Sciences, Inc., awarded San Francisco State University $3.5 million in grant funding for the University's new Science and Engineering Innovation Center (SEIC) slated for completion in 2024. The grant moves the University closer to its Catalyze the Future campaign goal to raise $25 million in private funds for research equipment and student support related to the new building.
"We thank Gilead and share their conviction that their generosity will inspire other companies to follow their extraordinary example," said San Francisco State Dean of the College of Science & Engineering Carmen Domingo. "Gilead's generous investment in the building and our students' success is also a tremendous investment in the Bay Area's unparalleled STEM workforce. Their support allows the University and our exceptional faculty to further strengthen SF State's proud record of helping fuel a highly qualified and diverse regional workforce pipeline."
The funds will outfit SEIC's labs with state-of-the-art equipment and furnishings that will train students in essential skills required for biopharma, biotech and engineering careers. For example, SEIC houses a fluids and process control lab with a wind tunnel to evaluate wind turbines and vehicle aerodynamic efficiency as well as a biophysical and chemical analysis lab where students can conduct sophisticated experiments.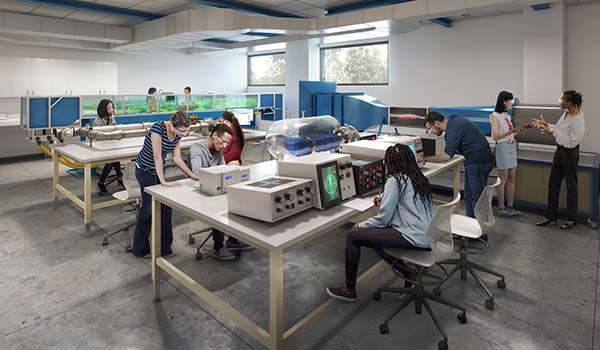 Rendering of fluids and process control lab.
"All students should have access to state-of-the-art equipment, a quality education and the opportunity to prosper as they enter the workforce," said Andrew Dickinson, Chief Financial Officer of Gilead, and member of the Gilead Foundation's Board of Directors. "Our relationship with San Francisco State University will help to expand the robust science and engineering education and research at the University for years to come and help it continue to provide students with the education they need to thrive. We hope that our grant will inspire other funders, particularly those in the biotech sector, to do the same."
Gilead Foundation is also committing to student success by investing in new summer and academic programs for STEM students. Their investment will also help finance fellowships for undergraduate and master's students in research labs.
The College of Science & Engineering (CoSE) has steadily grown and this new 125,000-square-foot science building will help sustain this expansion and support the University's role as leaders in fueling the workforce of the Bay Area. It will be prominently visible on 19th Avenue and is anticipated to benefit more than 7,000 CoSE students annually.
More information about the Catalyze the Future campaign can be found on SEIC's website.
###
About San Francisco State University
San Francisco State University is a public university serving students from the San Francisco Bay Area, across California and around the world, with nationally acclaimed programs that span a broad range of disciplines. More than 25,000 students enroll at the University each year, and its nearly 287,000 graduates have contributed to the economic, cultural and civic fabric of San Francisco and beyond. Through them — and more than 1,900 world-class faculty members — SF State proudly embraces its legacy of academic excellence, community engagement and commitment to social justice. For more information, visit sfsu.edu.
About Gilead Sciences
Gilead Sciences, Inc. is a biopharmaceutical company that has pursued and achieved breakthroughs in medicine for more than three decades, with the goal of creating a healthier world for all people. The company is committed to advancing innovative medicines to prevent and treat life-threatening diseases, including HIV, viral hepatitis, inflammation and cancer. Gilead operates in more than 35 countries worldwide, with headquarters in Foster City, California. For more information, visit gilead.com.
About Gilead Foundation
Gilead Foundation strives to achieve health prosperity for all through our three giving programs:  Giving Together, Community Donations and the Creating Possible Fund. Through our initiatives, the Foundation creates spheres of impact — in our company, in our neighborhoods and in society  by encouraging a culture of giving, engaging in our local communities and exploring innovative approaches to complex social issues.
The Gilead Foundation is a 501 (c)(3) nonprofit organization, endowed by Gilead Sciences, Inc.
For more information, visit gilead.com/purpose/gilead-foundation.
Tags