Gator Juan Gonzales reflects on 50+ years of Mission community newspaper
September 14, 2023
Photo Credit: (Pablo Unzueta El Tecolote/CatchLight Local)
Juan Gonzales was honored at El Tecolote's Golden Legacy Gala on Aug. 26 in San Francisco, which celebrated five decades of bilingual journalism in service of the Bay Area's Latinx community.
Founder of state's longest-running bilingual newspaper launched paper at SF State
From an early age, Juan Gonzales was always starting small businesses in and around his Stockton neighborhood. First, there were the Kool-Aid stands, then he picked fruit from his neighbors' trees and sold them up and down his street. In middle school, he developed a passion for writing and later journalism. As a young adult, he combined entrepreneurship and journalism into one dream: starting a newspaper. But it was a goal he didn't think he'd achieve until he reached his 40s.
But in 1970, six months after graduating from San Francisco State University's Journalism program, 23-year-old Gonzales achieved his dream early — he launched El Tecolote, a bilingual newspaper serving San Francisco's Mission District residents. How that paper came to be had a lot to do with what happened to Gonzales as an undergraduate student at San Francisco State. The paper, now in its 53rd year, is still going strong and is the state's longest-running bilingual newspaper — a legacy that was recently celebrated at a special fundraising gala where Gonzales was also recognized.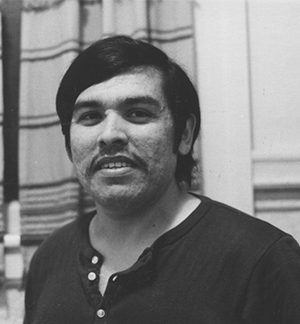 Juan Gonzales in the early days of El Tecolote. (Acción Latina/El Tecolote Archive)
When Gonzales transferred to SF State in the late 1960s, he was confronted with a world vastly different from the conservative farming town where he grew up. SF State was ground zero for nearly every social movement of the 1960s. There were civil rights activists, students tuning in, turning on and dropping out, anti-war protests and ethnic identity demonstrations. It was fertile ground for a journalism student.
"This was all a part of the SF State experience," Gonzales said. "A lot of the things discussed on campus, the forums, were relatively new to me. Going to State was a wake-up call for me to think more seriously about what I wanted to do in light of things that were being said."
In 1968, the SF State student strike erupted on campus, with students of color demanding an education that reflected their lived experience and histories. Gonzales was on the front lines, not with a picket sign but with a pen. He wrote about the strike for SF State's student newspaper, The Phoenix. "We really matured as journalists, and it provided a solid foundation in terms of doing work under extreme pressure, covering a major story," he said. He was supportive of the strike and even published an editorial stating as much, but he remained objective in his reporting.
While covering the strike, a student demonstrator asked if he'd ever consider writing about his own community. "[The striker told me] 'You know who could use your skills? Your community. There's a community in the Mission District and it's highly populated by Latinos and they could use your storytelling and use your skills to write about their culture, give them a voice,'" Gonzales recalled. This question stayed with him throughout college.
After graduation, a professor asked him to teach a journalism class in SF State's newly formed College of Ethnic Studies in the La Raza Studies Department. His class was called "La Raza Journalism," and he taught students to write journalistically. Right away he realized there was a problem: There was no place to publish his students' work. That's when the idea came to launch a bilingual community newspaper in the Mission District.
With the help of SF State students and Mission residents, he launched El Tecolote in August of 1970. Gonzales promised he'd commit to the paper for at least five years. "Publishing one edition is easy, but consistency is key," he said. "If you want to establish the paper as part of the neighborhood, people want to be able to see it every two weeks."
The first five years of El Tecolote came and went. Gonzales stayed on, splitting his time between the paper and SF State. (He later left SF State to join the faculty at City College of San Francisco where he currently teaches and has served as department chair of Journalism since 1985.)
One of the early student writers for El Tecolote was Edgar Sanchez (B.A., '74). He was a student in Gonzales' La Raza Studies course and credited El Tecolote for launching his journalism career, which has since spanned five decades, taking him to Palm Beach, Florida (Palm Beach Post), and later to Sacramento (The Sacramento Bee).
But when he started writing for El Tecolote he was pretty green. An immigrant from El Salvador, Sanchez he said he struggled with writing in English. "I didn't have the command of the language. My writing was horrible," he said. "But I continued to write and along the weeks became better."
Gonzales was a solid role model, Sanchez added, in part because he wrote for the major wire services — United Press International and the Associated Press. As an editor he was hands off, Sanchez said. "He gave us the freedom to pursue stories we wanted to do," he said.
Some of the stories the paper produced had a real impact on the community: Two of Gonzales' early investigative series resulted in real change. While in graduate school at Stanford University for journalism in the early 1970s, Gonzales and fellow student Mario Evangelista launched an investigation into the lack of Spanish-speaking emergency operators at Pacific Telephone and Telegraph. They found the Spanish-speaking community was not receiving quality service, often having calls disconnected and waiting more than four minutes for assistance. The story caught the attention of state regulators, and the California Public Utilities Commission (CPUC) held statewide hearings about the issue.
"The end result was [the CPUC] forced the utility to provide reports in terms of their implementation of full bilingual services," Gonzales said.
A few years later, a pregnant Spanish-speaking woman sought treatment for bleeding at San Francisco General Hospital. The hospital attendant couldn't understand what she was saying and sent her home. The woman lost her baby. El Tecolote launched an investigation into the bilingual services offered by the hospital. Their reporting revealed that few hospital workers were bilingual and hospital signage, prescription information and other printed materials were inadequate for non-English speakers. That story was the catalyst for the hospital to hire interpreters and more bilingual staff.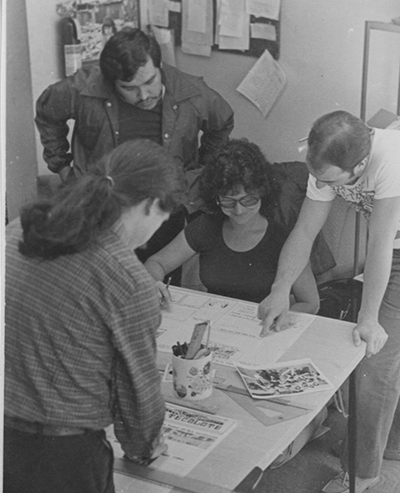 Founder of El Tecolote Juan Gonzales and the El Tecolote team assemble the newspaper. (Acción Latina/El Tecolote Archive)
For more than 50 years, El Tecolote has been the paper of record for the Mission District, documenting everything from gentrification and the housing shortage to conflicts between the police and the community. It's done this at a time when community newspapers are vanishing. Gonzales credits the paper's longevity to his and others' dedication and "to the army of volunteers," he noted
"The community is relying on [the] publication, and I think if you establish yourself as really providing good information and being relevant then the readership will stay with you, and hopefully even financially support you," he said. And it's helped that Gonzales doesn't compromise on quality. "We have to give our readers quality work — good writing, good photographs, good layout … They expect the best, and we should give the best."
Check out SF State's Journalism department and the Latina/Latino Studies program.
Tags