Alum designs FDA-authorized app to treat fibromyalgia symptoms
July 13, 2023

Photo Credit: Courtesy Swing Therapeutics
Nelson Mitchell developed his design mind as a graduate student at SF State 
Learning to design furniture at San Francisco State University can lead to more careers than one may expect. For Nelson Mitchell, his master's degree was the pathway to creating an innovative mobile app to treat fibromyalgia. 
Mitchell, a user-experience designer, is head of design and co-founder of Swing Therapeutics. Earlier this year the Federal Drug Administration (FDA) authorized its app, Stanza, to be marketed to treat symptoms of fibromyalgia, a chronic pain condition that affects 10 million Americans. It is the first fibromyalgia digital therapeutic approved by the FDA. Available only by prescription, Stanza employs a form of cognitive behavioral therapy called acceptance and commitment therapy. It has proven effective in extensive randomized controlled trials and real-world studies, with 73% of patients demonstrating improvement in symptoms. 
Stanza provides patients with a customized schedule of treatment, incorporating practices such as mindfulness and self-reflection throughout their daily routine. "It's the therapist in your pocket," Mitchell said.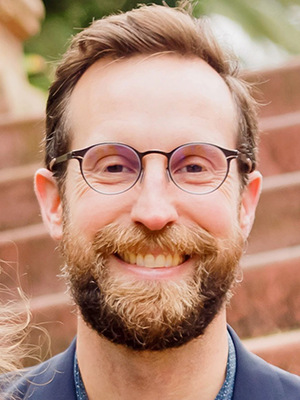 Mitchell (M.A., '10) entered San Francisco State as smartphones started to become a near necessity for daily life. Faculty and students already knew that enduring product design concepts would be key to success in the mobile software space. 
"I was designing chairs and lamps and stuff like that, but SF State's program was really great at teaching me the design process and how to think like a designer — how to come up with a hypothesis, test, iterate and refine the idea," Mitchell said. "I took that and applied it to software and interface design." 
School of Design faculty such as Ricardo Gomes, Shirl Buss, Hsiao-Yun Chu and Nancy Noble gave Mitchell the tools and the freedom to explore his interests in depth. 
"I felt like I had a new kernel, a new framework," he said. "SF State gave me the chance to build it — and really build it in a way that I understood it. It's like the difference between owning a bike and having someone else fix it versus being able to take it apart and put it back together." 
At his company, Mitchell is spreading the word about the Gator work ethic: "Nobody is going to work as hard for you as graduates from SF State," he told his team. "These are people that we need to create opportunities for." 
One of Swing Therapeutics' first in-house software engineers, Mantasha Khan, joined the company after completing her Computer Science degree from SF State. Khan (B.S., '21) has a passion for creating technology solutions for health. She notes that Lecturer Jose Ortiz-Costa's "Introduction to Database Systems" course provided her with an invaluable foundation of skills. 
"I've been meaning to reach out to [Ortiz-Costa], just throw it out there, [to say that] you have helped me so much,'" said Khan, who attended SF State as an international student from India. "Everything you have taught has been helping me every single day in my work, so I'm very grateful."  
Learn more about the SF State School of Design and Computer Science Department. 
Tags