Students across campus have been sharing their research at various student project showcases
As the academic year comes to a close, SF State's colleges are celebrating the scholarship, research and creative activities of the University community with multiple student project showcases. In April and early May, undergraduate and graduate students from across campus shared their work through research posters, presentations and performances. Students, staff, faculty and community members saw everything from student-built prototypes of engineering projects to the exploration of evolution through dance to presentations on the history of global fashion.
This year, the Colleges of Liberal & Creative Arts (LCA), Science & Engineering (CoSE), Ethnic Studies (CoES) and Health & Social Sciences (CHSS) all had research events. While the LCA and CoSE showcases have become annual campus traditions, CHSS' Research & Creative Works Showcase (held at the Seven Hills Conference Center Thursday, May 4) was the college's first. The College of Ethnic Studies Student Showcase, also on the newer side, was held Thursday, May 11, on the fifth floor of the Administration Building.
"When I found out about the CHSS Undergraduate Research & Creative Works Showcase I knew I had to participate. Research has been such a key component of my SF State experience," said Nathan Burns, who is graduating this semester with a degree in Sociology and a minor in LGBTQ Studies. "For my senior seminar last semester I created 'SURV(IO)LANCE,' a textual and visual zine where I incorporated academic research and my personal experience as a queer, trans, disabled person to discuss surveillance. For the CHSS Showcase I was able to print a few copies of the zine to share with people in attendance. It was so exciting to be able to not only share my research with other campus members, but get to see just how much incredible work is being done across campus that I otherwise might not have heard about."
Eduardo Hernandez, a senior Criminal Justice Studies major, also participated in the CHSS showcase. His work explores how the overlapping interests of the prison industrial complex, the U.S. military establishment and law enforcement lead to mass incarceration. He says that his project represents his solidarity with individuals who have been exploited in prisons.
"My research experience at SF State enabled my academic potential to be significantly developed by showcasing my research project for fellow peers, scholars and visitors. I am honored to have been recognized and have granted the privilege to participate in the CHHS Undergraduate Showcase with scholars at SF State. Presenting at the event, I experienced a great sense of joy and relief knowing nearly six months of research and preparation allowed me to represent SF State in its highest light possible: an incredible research facility in the SF Bay Area," he said.
In total, hundreds of students participated in these college showcases. The College of Science & Engineering — which has been holding showcases since 1999 — had approximately 230 posters presented by more than 400 students, with more than 80 judges from academia, industry, government and other fields participating.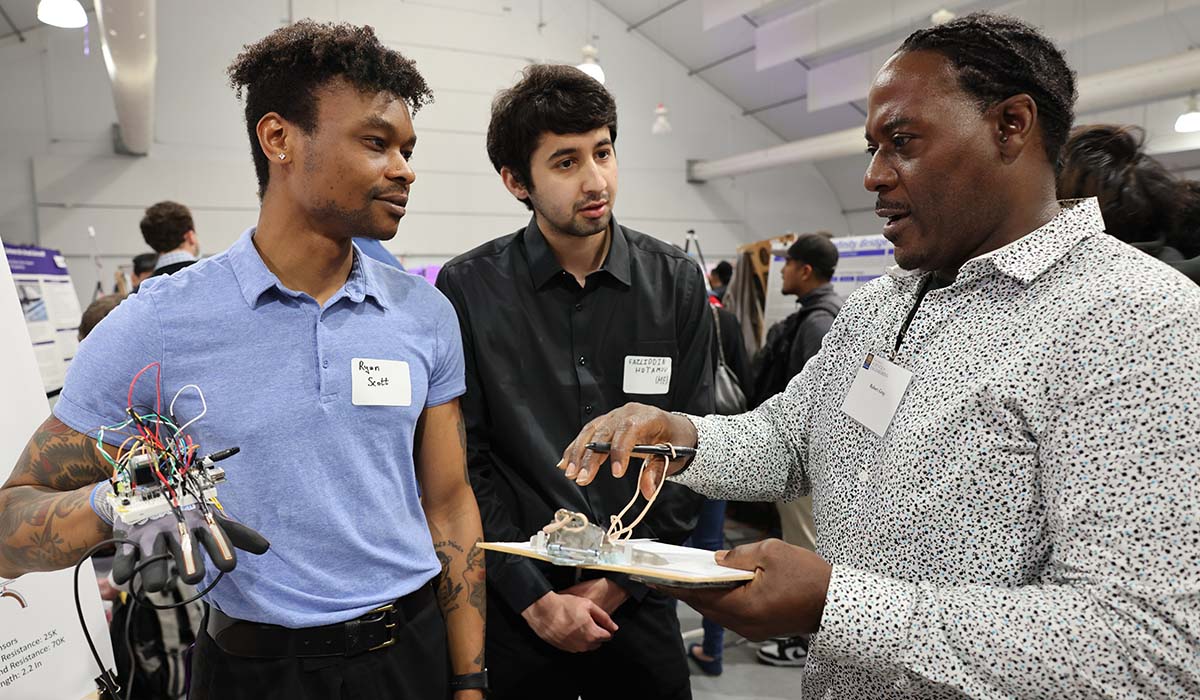 Students Ryan Scott and Fazliddin Hotamov demonstrate their gesture-controlled robot arm to a judge and alumnus Robert Gray (B.S., '98) at the CoSE showcase. Photo by Paul Asper
While the Lam College of Business doesn't have a project showcase, its students were able to showcase research in a different way: at the college's annual Innovative Pitch Competition in April. Students developed and pitched business projects to seasoned entrepreneurs, investors and faculty, and three teams shared $10,000 in cash prizes. Earlier this year, students from all colleges also participated in the campus-level San Francisco State University student research competition for a chance to participate in the CSU-wide student research competition.
"San Francisco State provides amazing opportunities for students and faculty to work together on research and creative projects. Participating in these collaborations — whether it is a course-based research project or an independent study builds career skills — creates community and contributes to improving life on campus, in the Bay Area and beyond." said Biology Professor Gretchen LeBuhn, who is Chair of the University Research, Scholarship and Creative Activities Council. She is also co-director of SF State Creates, an undergraduate research office launching this fall to facilitate these types of hands-on student opportunities.
Learn more about Research, Scholarship and Creative Activities at SF State.