A trip to Kenya shifts student perspectives on what an engineer is
October 12, 2023

A new international engineering summer program gives students research experience and broadens their minds
"When are you able to say you're actually an engineer? I think this is something I've been trying to figure out for almost a year now," said San Francisco State University Mechanical Engineering student Vasav Juthani.
Until recently, Juthani felt that he can't claim the title "engineer" until he's completed his Engineering degree. But an international research experience this summer made him question his beliefs.
"When we went to Kenya, the teachers there had no engineering degrees, and they proudly say, 'I'm an engineer,'" he said.
Juthani was one of two San Francisco State students (and one of seven students total) who travelled to Kenya for a six-week summer experience doing engineering education research. The program, designed by SF State and Purdue University Engineering faculty, takes students to the Tumaini Innovation Center in Eldoret, Kenya, to work on engineering projects and provide engineering education. The program is funded by the National Foundation of Sciences, and the summer 2023 cohort was the first to participate in the program, which is slated to run for three years.
"It's pretty unusual for Engineering students to study abroad," said SF State School of Engineering Assistant Professor Stephane Claussen, who is leading the project. It's usually hard to fit international experiences into the extremely structured programs typical of the engineering field, Claussen explains. "We're offering students experiences abroad, and they're engaging in research in this very rich way. But it's in partnership with community organizations, which is also pretty unique for Engineering students," she added.
The university engineers are partnering with Tumaini, a school reducing educational barriers faced by vulnerable youth in Eldoret. Tumaini educators teach and provide mentorship, youth vocational training and more so individuals can build successful and productive careers in their communities.
The visiting university students worked with this community to support ongoing engineering and educational projects at the school. Many of the university engineers were first-time researchers, but there's a limit to how much prior research experience could have prepared them for this experience. The Kenyan engineering environment was very different from what most of the students were used to.
Juthani, who loves working on cars, recalls talking to a Tumaini alum who works at a car body shop. Learning about Juthani's interests, the mechanic asked him how'd fix his car. Juthani eagerly listed ideas, and the alum pointed out that none of those ideas are feasible — none of the necessary parts are available, so they make everything from scratch.
"It was just very interesting to see how they operate with the resources they have on hand," said Juthani. "It kind of makes me want to explore the world more and do the same kind of opportunity elsewhere."
Within his very first week, Juthani watched a group of students build a system to transport water upstairs to a hair dressing and beauty therapy class. They had most of the idea down, Juthani said, but needed a little help executing. He tried to assist and quickly realized that he'd have to adapt his own communication style to connect with his new colleagues.
"Even with the language barrier, they're able to understand what I was explaining to them. It was a very surreal feeling to be there and have them understand what you're saying," Juthani said. "It really changed something in my head, and I was very excited for the rest of the experience."
These are the types of changes Claussen and her faculty collaborators hoped for. Engineers are not simply individuals doing math in a cubicle, she explains, and they have a responsibility to consider the social implications of their work.
"There's a lot of learning that goes on. How do we interact with people in a responsible way? And how do we make sure that they are willingly joining your research study and so on?" Claussen said.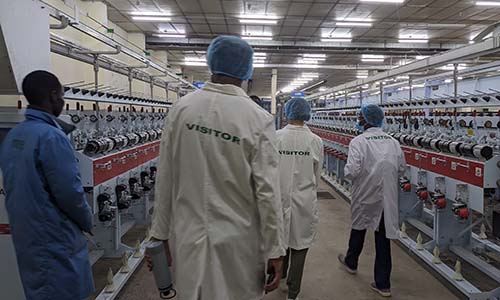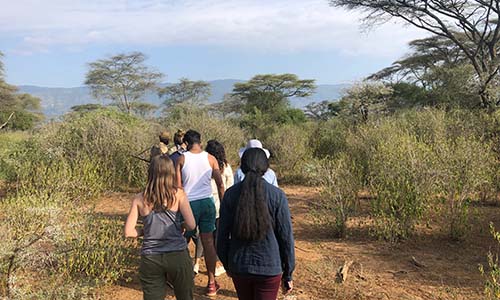 Students went on field trips while in Eldoret, Kenya
The faculty organizers wanted this research experience to be accessible for any student. The program pays for travel, lodging and basic meals, and students receive a stipend for their work. In addition to research, the program includes nature hikes, field trips to the local university and manufacturing plants, and more. The faculty also tried to make an inclusive application process, taking students' different backgrounds and experiences into consideration. They want any student to be eligible for this transformative opportunity.
"Before this experience, I feel like I hit an educational block where I just couldn't process stuff the same way. This experience helped push me out of my comfort zone and forced me to learn on my own and do research on how I can improve something," Juthani said. "I think that's the whole point of an engineer. [It's] figuring out how you can improve something."
Learn more about this year's application (currently open) and discover more  SF State's School of Engineering.
Tags