SF State alumna hired as Sausalito's first sustainability manager
May 4, 2023

Photo Credit: Paul Asper
Catie Thow Garcia (M.S., '22) credits her experiences at the University's EOS Center for her newly minted government position
The coastal city of Sausalito is no stranger to the impacts of climate change, particularly sea level rise. Now San Francisco State University alumna Catie Thow Garcia (M.S., '22) has been named Sausalito's first resiliency and sustainability manager to help mitigate the potential consequences of climate change.
In this new role, Thow Garcia will work on projects related to climate change, energy efficiency, shore habitat protection and sea level rise. The job will require her to work closely with government agencies, community groups, nonprofit organizations and local experts in energy and waste reduction, solar implementation and more.
"It's one of the reasons why I was really interested in working at the local level rather than at the state level …," Thow Garcia said of all the collaborations in her future. "I'm excited to see where it takes me, but I recognize that there's still a lot of learning to do on my part."
It's the type of integrative and collaborative work that originally brought the New England native to the Bay Area. She was drawn to SF State's Estuary and Ocean Science (EOS) Center's master's program in Interdisciplinary Marine and Estuary Sciences (IMES). As a graduate student, she also collaborated with San Francisco Bay National Estuarine Research Reserve (NERR) where she began working on coastal resilience. An environmental field scientist by training, she didn't want to just learn about marine biology but wanted to know how it intersected with botany, water-land interactions, social science and economics.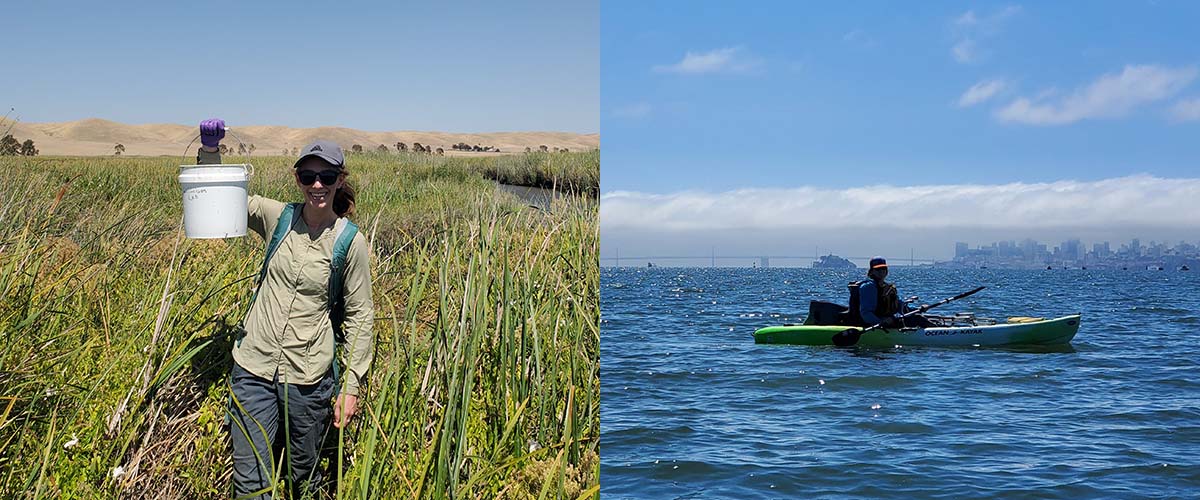 Catie doing field research as an EOS graduate student. Photos courtesy Catie Thow Garcia
"It's why I drove 3,000 miles across the United States to come study here," added Thow Garcia, who is originally from Rhode Island and was living in Colorado before moving to the Bay Area. After graduating, she was named a 2022 California Sea Grant State Fellow and worked with the California State Coastal Conservancy to support Bay restoration efforts. She plans to channel all of this training into her new position while expanding her knowledge in sustainability and resiliency.
Sausalito is in Marin County just like the EOS Center so Thow Garcia is familiar with the needs and environmental issues in the area. She also believes her experiences in sea level rise adaptations helped her get the position. She's particularly interested in nature-based adaptations incorporating live organisms, something she learned about as an undergraduate but first saw in practice at the EOS Center.
"For nature-based solutions, there's a scale we call green to gray. Gray being just the hardened sea wall and green being something purely green, like oysters [or] grass beds," Thow Garcia  explained. "To me nature-based solutions mean finding somewhere on that spectrum that's not purely gray." An example of this could be a horizontal levee that is wider than a traditional levee, allowing migration space for plants and animals as sea level rises.
Though she decided to stay local, Thow Garcia says she's aware of EOS Center alumni who work in local, county, state and federal government jobs throughout the United States.
"That spread of knowledge is really special and it all started with this little tiny marine science campus in Tiburon," said the alumna proudly.
Learn more about the University's Estuary & Ocean Science Center.
Tags