Helping hands: how undergrad research experiences open doors
May 31, 2023

Photo Credit: Paul Asper
Undergrad Lauren Gan's work on an exoskeleton glove won her a prestigious award and changed how she viewed her own potential
When undergraduate engineer Lauren Gan was at community college, she applied for a summer research internship at San Francisco State University. She never anticipated the opportunities that would arise from that summer.
Now Gan — who transferred to San Francisco State early 2023 from Skyline College — has won the Undergraduate Student Award at the 2023 Pacific Southwest section of the American Society of Engineering Educators (ASEE) for her work on an exoskeleton glove that helps people with limited mobility.
"It opens up doors for you. I'm saying that from first-hand experience," Gan said of her research and engineering conference experiences — both of which were firsts for her. They've allowed her to really apply fundamentals she's learned in courses and network with like-minded individuals.   
She first came to SF State as a community college student participating in the summer internship program S Smart in 2022. She was one of several students joining Assistant Professor of Mechanical Engineering David Quintero's lab to work on an exoskeleton glove project under the guidance of a graduate student already in the lab. Now an SF State Mechanical Engineering major, Gan is continuing to work in Quintero's lab doing independent research to optimize the group's latest iteration of the exo glove. Their device provides structural support for patients with hand weakness due to injuries or disabilities like paralysis from spinal cord injury or stroke.
Their robotic hand is comprised of a soft material (a golf glove) for comfort that's attached to a soft 3D-printed exoskeleton that moves using a motor. A cable-driven pulley system mimics tendons to assist with hand motion. The team hopes this design will be more comfortable than other rigid and clunky gloves and cheaper than devices made with pricier materials. Gan estimates that their glove can lift items that weigh less than 400 grams, like a bottle of water.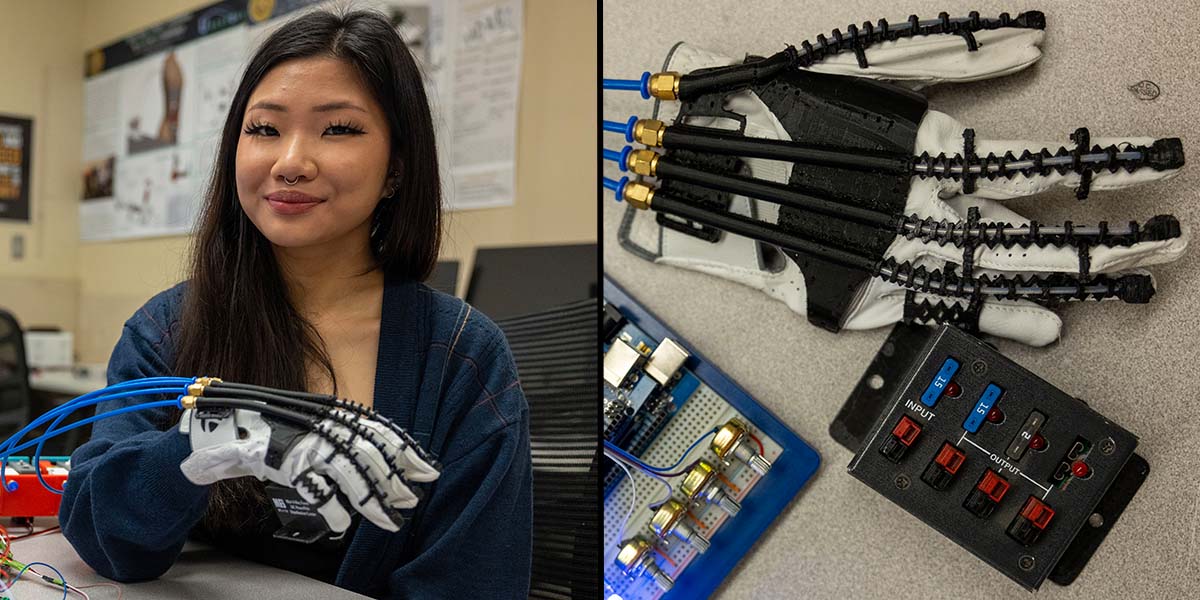 On the left, Mechanical Engineering student Lauren Gan wears her exoskeleton glove. On the right is a close-up image of her research project. 
At the ASEE conference — held on the University of Southern California campus in April — Gan not only presented a poster about her research but learned how she can combine mechanical engineering with an exciting field she wasn't familiar with: humanitarian engineering.
Humanitarian engineering focuses on engineering that helps people in equitable, sustainable ways. The conference ignited Gan's interest in applying that philosophy to her research, and she took the idea to Quintero, who is still her research adviser. He says they'll work on making that happen, perhaps through collaborations with actual patients, for her senior project.
"The support that you get from your professors — it's been a lot for me and it has helped me move forward even when I feel like I'm not doing enough," Gan said.
She is also collaborating with another SF State research team to integrate a computer interface into their device. Doing this would couple the glove with sensors that detect a patient's nerve signals to control the robotic arm.
Gan never expected to be this deep in research or win an award for her work. When she signed up for the summer research opportunity she admits she didn't know exactly what she wanted to do.
"At the time I was actually struggling a lot with what I wanted to do with school. Over the last fall semester [at community college] I was even debating just dropping out or taking a gap semester," she said. After enjoying her summer in Quintero's lab, she asked if she could continue volunteering on the lab's work during the school year. She also took a lighter school course load to focus on self-care and reassess her interests.
"I kind of got a better sense of what I wanted to do and got my life together a little bit more," she said, adding that these experiences contributed to her transfer to SF State.
She's now enrolled in the SF State Scholars program, an accelerated pathway for undergraduate School of Engineering students to earn their bachelor's and master's degree simultaneously. This summer, she's also going to be a student mentor for new community college summer interns. She hopes she can give budding engineers advice as they navigate their own academic paths.
"Maybe keep your doors open because I didn't expect myself to be going this route transferring to SF State, to be wanting to get my master's even … ," she explained. "Don't be afraid of asking questions. The opportunities are there. You have to reach out for it and not give up."
Learn more about the School of Engineering to discover student research opportunities and academics.
Tags