Campus arts scene revs up with live events
October 21, 2022

Photo Credit: Kindrid Parker
If you feel like smashing your laptop like SF State student Kenna Tanaka, you might want to take a pause and instead check him out in the play "Dealing Dreams." It is one of dozens of arts events taking place on campus this Fall.
After going mostly virtual during the pandemic, SF State's performing arts community is getting busy again in real life
The San Francisco State University campus feels like college again: Classrooms are full, there's a line for the salad bar in the student union and students are rehearsing anywhere they can find the space. As remote learning has given way to in-person instruction for the most part, so have the arts. Dozens of student performances and exhibitions are taking place in the flesh throughout the school year. Consider attending an event this Fall semester to support your peers and to get a dose of the arts in your diet.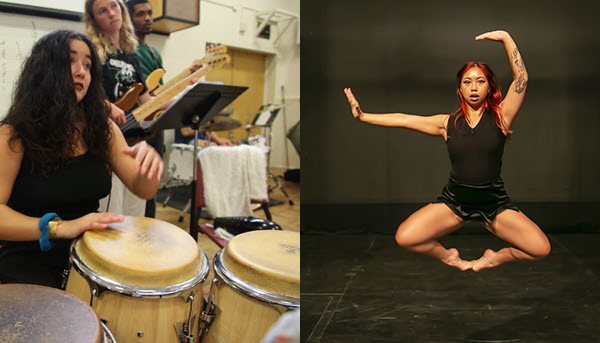 Members of the SF State Afro-Cuban Jazz Ensemble rehearse for their upcoming performances. Photo by Kindrid Parker.
Dance 
The annual "New Moves" concert promises to reveal students' most private thoughts and most profound convictions. Student dancers perform original work choreographed by students as a way to address the human condition. With this year's theme of "Paradox," the performance explores familial dynamics, political activism, gratitude to mentors, cultural mosaics and belonging. Performances run Oct. 20 – 23 in McKenna Theatre. 
"Movement is so pleasing. It can calm you. It can interest you. It intrigues you. It will take you through a variety of different emotions," said Dance major Onara de Silva, president of the San Francisco State Student Dance Alliance and a choreographer and performer in "New Moves." "It's almost like watching a movie, just in real time." 
Theatre 
"Dealing Dreams" is a modern-day story of newly minted college graduates coming face-to-face with the harsh realities of assimilating into adulthood. As with all SF State theatre productions, students comprise the entire cast and crew.  
"I encourage everyone to come and see the upcoming production in theatre, 'Dealing Dreams,' because it is going to be entertaining and full of laughs," said actor Kenna Tanaka, who plans to graduate in 2024. "It's a show that you definitely do not want to miss." Performances run Nov. 3 – 10 in The Lab in the Creative Arts building. 
Coming in December, students perform the Pulitzer Prize-winning play "Doubt: A Parable" in the first main-stage production of the year. Set in 1964, "Doubt" encapsulates the tension and uncertainty of the 1960s through the microcosm of a Catholic boys school. Performances run Dec. 1 – 9 in the Little Theatre.   
Music 
Music has been part of the SF State curriculum since its founding in 1899, when the course "The Pedagogy of Music" offered training in a variety of topics to aspiring teachers. The tradition continues to this day with frequent free performances presented by the SF State School of Music. Many of them take place at 1 p.m. Upcoming highlights include the SF State Orchestra and chamber music ensembles, the Afro-Cuban Jazz Ensemble, classical guitar students, the SF State Chamber Singers and University Chorus. Knuth Hall. 
The Depot is the place to be on school nights — Monday to Thursday, that is — for open mic comedy and music, student punk bands and guest artists. Lower conference level, Cesar Chavez Student Center. 
Art 
The Martin Wong Gallery spotlights a different student artist every week, both in IRL and on Instagram. Since the pandemic began, students have been encouraged to create an additional 1:8 scale miniature version of their exhibition to display on social media. Inside the gallery space, they often paint directly on the wall, as first-year student Sophia Sanchez did in her recent graffiti exhibition. Another recent exhibition captured an immediate response to the killing in Iran of Mahsa Jina Amini, in paintings by student Jasmine Mirzamani. The Martin Wong Gallery is located in room 286 of the Fine Arts building.  
The Associated Students Art Gallery hosts free exhibitions throughout the semester and often posts calls for student participation on its Instagram account. Its next show, "The Cave: An Odyssey of the Self," opens Oct. 26, featuring works centered on the highs and lows in students' personal journeys of identity, growth and transformation. "We love featuring artwork that focuses on themes of social justice and culture," Assistant Director Danny Oliveras said. The gallery is on the Terrace Level, Cesar Chavez Student Center. 
Just after Thanksgiving, the 35th annual Student Stillwell Show will debut, showcasing the best undergraduate student artists as judged by their peers. As always, the exhibition will also include student-selected highlights from SF State's collection of works by Leo D. Stillwell, a watercolor artist who died at the young age of 22 in 1947. The exhibition runs Nov. 29 – Dec. 8 in the Fine Arts Gallery.