Associate professor lands prestigious grant for work on sustainable engineering
August 4, 2023

Example of buildings incorporating green infrastructure
NSF Early CAREER awardee Jenna Wong explores how nature can be incorporated into building design
As a Bay Area native, San Francisco State University Associate Professor of Civil Engineering Jenna Wong understands the importance of sustainability and structural engineering from personal experience. She was on hand for the 1989 Loma Prieta earthquake and recalls being fascinated afterward by how downtown buildings were designed to withstand the formidable power of nature.
This year, the National Science Foundation (NSF) named Wong an Early CAREER grant recipient to study the resilience of green infrastructure. Her proposal focuses on the practice of incorporating nature, like a vertical greenery and green roof structure, into a building's design. Wong's five-year grant of $510,000 will help inform green infrastructure guidelines and equip San Francisco State students with skills for an environmentally conscious workforce.
"This is going to prepare students, the next generation of engineers, by teaching them what sustainable structural resilience is," Wong said, adding that climate change is a reality that engineers must tackle.
While Californians are familiar with sustainability, engineers focus on a parallel track called structural resilience. It's how they design structures to endure natural hazards and continue to serve their communities after an event. Engineers plan for the worst-case scenarios — considering factors such as the maximum weight a structure can tolerate — but that's difficult to do when loads are variable for items such as plants and trees. Despite their many benefits, green infrastructures are dynamic living environments that can be unpredictable.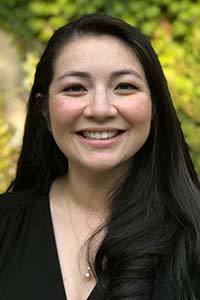 "If we consider climate change and influences from the environment, this dynamic weight is going to vary over time," Wong said. "There are also conditions where we may exceed [the weight] if we don't have proper maintenance. For example, we have windborne storms with significant rain and puddling on roof surfaces."
Wong is concerned about the lack of guidelines for sustainable structures. Her team will use computational modeling to estimate how green infrastructures impact a structure's properties and earthquake response. This information will inform guidelines for these sustainable structures and help Wong's group develop a strategy for green infrastructure that improves earthquake response.
Wong's project broadens educational discussions about new and more sustainable materials. This is important, she explains, because engineering classes traditionally focus on materials like concrete and wood although in reality students are going to encounter sustainable materials like timbercrete (timber waste + concrete) and hempcrete (hemp + concrete).
In addition to developing new curricula, Wong will make educational YouTube videos on these topics in collaboration with a variety of industry and academic professionals. The videos will cover green infrastructure, sustainability and possible career paths.
"Children nowadays are experiencing [education] via YouTube channels and other platforms," she explained. "I'm hoping to bring it to a higher level. Not only for high schoolers, but for our college students and even for the broader community so they can have a fun yet informative experience that exposes them to a lot of different topics."
Wong's latest award supports her ongoing mentorship efforts across the School of Engineering. In recent years, she's been leading the NSF Hispanic-serving intuitions-funded Engineering Success Center, which provides students with academic, advising and professional development support.
"I want to motivate my students, especially knowing that they may not necessarily have the same support system as others," Wong said. "I want to find ways within the classroom to build that community and create easily accessible resources for them to bring out their inherent resilience."
Tags