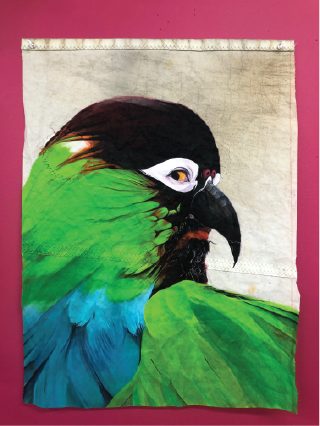 "Self-Portrait as Black-hooded Aratinga" by Yaron Michael Hakim.
Have You Seen Me?
Fine Arts Gallery, Fine Arts Building Room 2398, San Francisco State University 
Feb. 25 through March 29, 2023 | Tuesdays through Fridays, noon to 4 p.m. | Opening reception 1 to 3 p.m. Saturday, Feb. 25
Have You Seen Me? emphasizes the return of the gaze in contemporary self-portraiture created by diverse artists across a wide range of media. The exhibition features work by Marcel Pardo Ariza, Jamil Hellu, Yaron Michael Hakim, and Erica Deeman. Marcel Pardo Ariza is a trans visual artist and curator who explores the relationship of representation, kinship and queerness through constructed photographs, color sets and installations. Jamil Hellu's work focuses on themes of identity representation and cultural heritage, addressing intersections among race, gender and sexuality while amplifying queer histories and challenging the social construct of masculinity. Yaron Michael Hakim has adopted the formal approach of naturalist illustration to depict imagined anthropomorphic self-portraits. Through these paintings, he examines his South American heritage and the exoticization that has been projected onto him and that he has, in turn, projected onto himself. Erica Deeman's work reflects on diasporic and transnational movements, Black permanence and the nuances of hybridity within cultural identity. British-born Deeman's family roots are in the Caribbean. Have You Seen Me? is organized by Sharon E. Bliss and Kevin B. Chen. Major support comes from the Andy Warhol Foundation for the Visual Arts.
Ever-seeking to broaden the canon of contemporary art and future art histories, SF State's Fine Arts Gallery centers on the presentation of artists of diverse backgrounds and lived experiences. The exhibition program at the SF State Fine Arts Gallery positions emerging and mid-career artists from the Bay Area in conversation with national and international artists to consider global issues.⁠ Have You Seen Me? focuses on contributions of Latinx Americans, Arab Americans and Black and mixed-race Americans, with personal histories that include transnational adoption and the centering of transgender and Queer/BIPOC community, in defiant acts of seeing and being seen. The exhibition catalog features contributions from SF State Professor Dr. Santhi Kavuri-Bauer and a collaborative essay from UC Berkeley Professor Dr. Laura E. Pérez and Maya Elisa Pérez Strohmeier.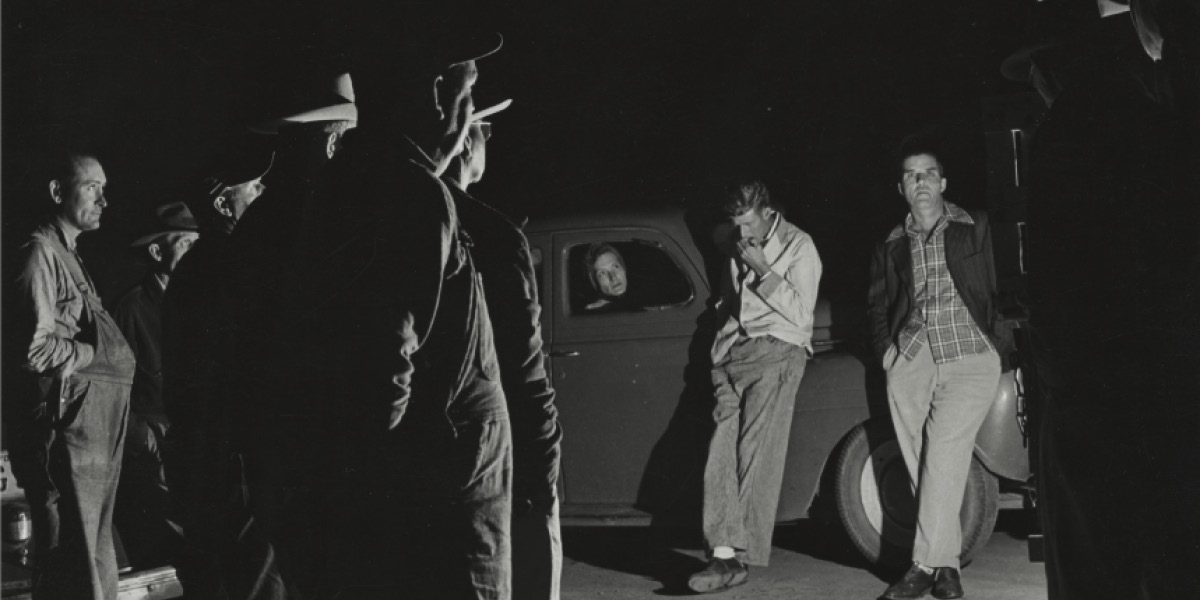 A Labor Archives and Research Center Exhibition
Special Collections Gallery, J. Paul Leonard Library, San Francisco State University 
Fall 2022-Spring 2023 | Open Monday – Thursday 1 to 5 p.m.
Hansel Mieth and Otto Hagel created a compelling body of work documenting the critical social transformations of the 20th century in the United States from a working-class perspective. They emigrated to the United States around 1930 just as the Great Depression began and became itinerant farm laborers. Working in the fields profoundly shaped their worldview and they came to feel the purpose of their photographic work was "to contribute to an understanding of the inequities of the world." The exhibition highlights their images of the economic hardships of the depression, the transformations to the Bay Area brought by World War II, communities and individuals standing up for justice, and longshore workers facing the impact of mechanization. The work of Mieth and Hagel is relatively unknown today and our aim with the current exhibition is to celebrate and bring wider attention to their significant contributions to the canon of documentary photography. 
This exhibition was generously funded by the Friends of the J. Paul Leonard Library.