Class of 2022 Commencement set for May 27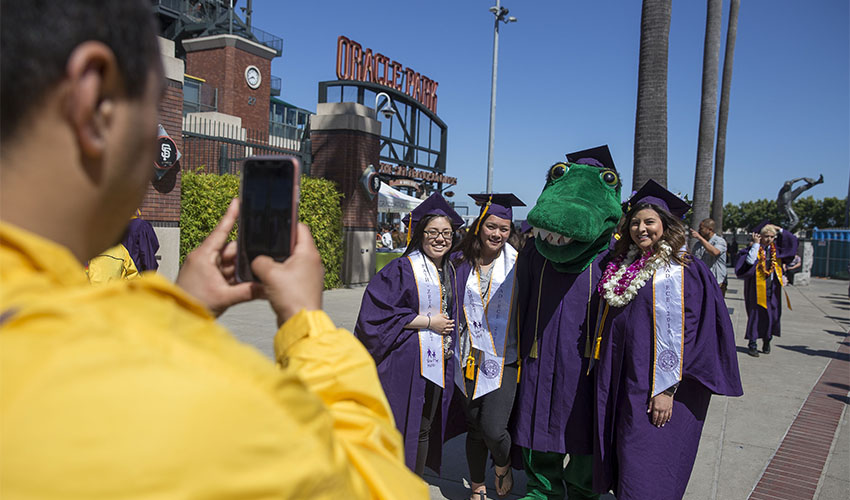 SF State returns to Oracle Park for the first time since 2019
San Francisco State University's 121st Commencement will be Friday, May 27, 2022, at Oracle Park in San Francisco. This is the sixth year the downtown ballpark will host the annual celebration following a two-year hiatus caused by the COVID-19 pandemic. More than 30,000 graduates, family members and friends are expected to attend.
For the past two years, San Francisco State's spring Commencement ceremonies have been held virtually. During the 2021 virtual Commencement ceremony, thousands tuned into YouTube to watch 8,400 students receive their undergraduate, graduate and doctoral degrees. Because the classes of 2020 and 2021 were promised an in-person Commencement when it was safe to gather together again, they have been invited to a live ceremony to be held Saturday, Jan. 8, at Chase Center.
"I'm overjoyed to finally attend my first Commencement ceremony at Oracle Park," said SF State President Lynn Mahoney. "The Class of 2022 has persevered through unimaginable challenges and disruptions, yet they emerged ready to meet new challenges. I'm grateful for the chance to celebrate their accomplishments alongside their family and friends. I wish them well as they prepare for their next adventure."
More information about the May 27 ceremony will be shared throughout the year as it becomes available. Keep checking commencement.sfsu.edu/commencement-2022-may-27-2022 for updates.