VA grant funds documentaries, curriculum about veterans interred locally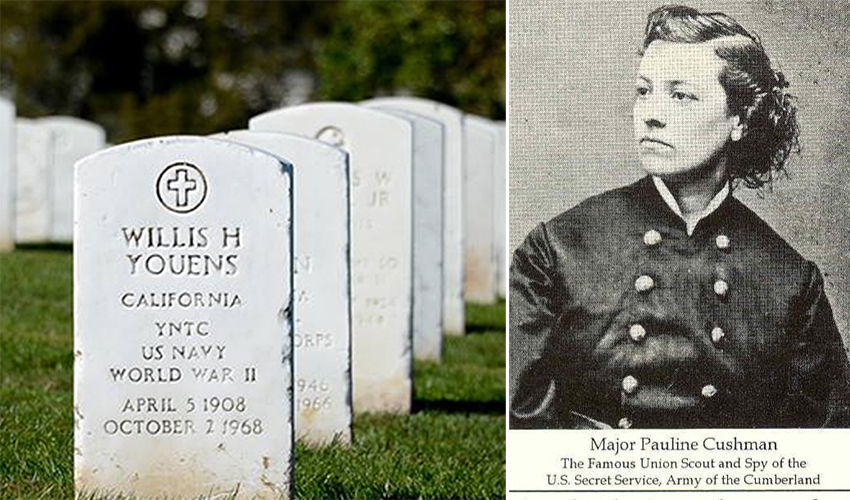 SF State departments collaborate to tell stories of local veterans using film and curriculum
Pauline Cushman-Fryer, a theatre performer, put her acting skills to the test during the Civil War. She worked as a spy for Union forces, but was caught smuggling plans and was to be executed, according to Carolina Gratianne, associate director of the Veteran Documentary Corps at San Francisco State University. Luckily, Cushman-Fryer was freed after Union soldiers captured the town where she was being held. President Abraham Lincoln later honored her with the title of major.
Later in Fryer's life, she moved to San Francisco and was buried in the San Francisco National Cemetery, Gratianne said. Fryer is just one of the veterans SF State researchers are featuring in a series of short educational documentaries after receiving a $309,148 contract from the U.S. Department of Veterans Affairs' National Cemetery Administration. The funding will support research and share local history through the diversity of American veterans' experiences.
Through the University's Veteran Documentary Corps, students will produce 12 short films, an interactive website, social media marketing and elementary- and middle-school curriculum — all focused on veterans interred at San Francisco and Golden Gate National Cemeteries.
"We want to empower communities of young learners to see themselves as agents of their own history, researching, writing and sharing their local history through the lens of veterans," says Interim Under Secretary for Memorial Affairs Ronald E. Walters. "The award of this contract signifies the VA National Cemetery Administration's dedication and commitment to providing enhanced memorialization of veterans interred in our VA national cemeteries."
SF State will work with an elementary school teacher to help place the films and instructional materials in third-, fourth- and fifth-grade and middle-school classrooms in the Bay Area.
Kanopy, a streaming video service for educational institutions and public libraries, will distribute the films. They will also be available online at SF State's Digital Information Video Archive.
Veteran Documentary Corps Executive Director and SF State Professor of Cinema Daniel Bernardi will lead the project. Chair of the Department of History and Professor Trevor Getz will steward the historical work. Chair of the Department of Communication Studies and Professor Christina Sabee will work with school teachers and manage the assessment aspects of the project. Graduate School of Education Dean Judith Munter is working with schools to develop the curriculum.
"It is vital for our future generations to understand the sacrifices American soldiers have made to preserve our freedom," says Bernardi, a Navy Reserves officer and Iraq War veteran. "The National Cemetery Administration's commitment to education will make a significant impact, while also providing students with invaluable practical experience in curriculum development, filmmaking and research."
Students in Cinema, Communication Studies, History and Education will create the films and educational materials.
National Cemetery Administration
The National Cemetery Administration awarded three separate contracts to SF State, Black Hills State University and the University of Central Florida as the first of many planned initiatives to engage educators, students and researchers and the general public through its Veterans Legacy Program.
The National Cemetery Administration honors veterans and their families with final resting places in national shrines and with lasting tributes that commemorate their service and sacrifice to our nation. It aims to be the model of excellence for burial and memorials for American veterans and their families.
The U.S. Department of Veterans Affairs operates 135 national cemeteries and 33 soldiers' lots and monument sites in 40 states and Puerto Rico. More than 4 million Americans, including veterans of every war and conflict, are buried in the national cemeteries.