U.S. Deputy Secretary of Education meets with undocumented SF State students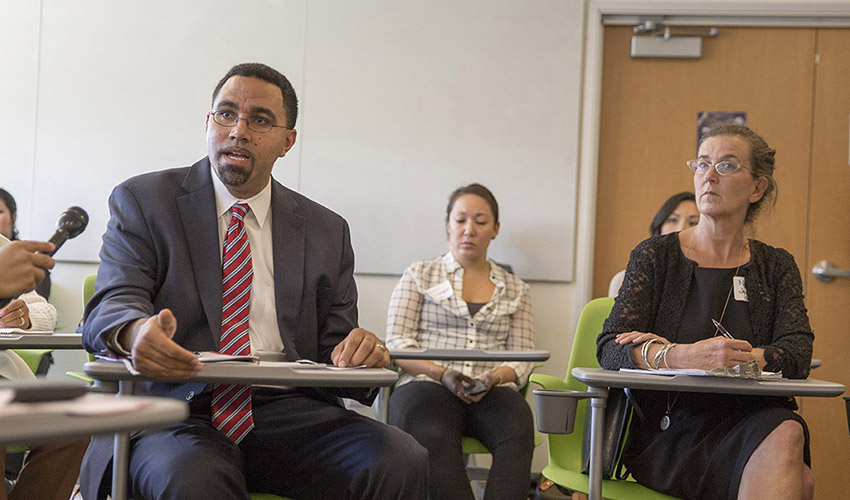 John King, U.S. deputy secretary of education, visited San Francisco State University yesterday to announce a new federal resource guide created to help high schools, colleges and universities support undocumented students and to meet with several undocumented students enrolled at the University.
Following welcoming remarks from Vice President of Student Affairs and Enrollment Management Luoluo Hong, King held a roundtable discussion with SF State students to learn their stories and the challenges they have faced as undocumented immigrants pursuing a college education.
Later, King praised the work of SF State and the state of California in addressing the obstacles that undocumented students face, and said the new guidebook will help other states follow their lead.
SF State currently enrolls 644 undocumented students, a 600 percent increase since 2009. Hong said the new resource will be a crucial tool as colleges and universities continue to look for ways to support the specific needs of these students. The University also plans to hire a DREAM (Development, Relief, and Education for Alien Minors) Coordinator, Hong announced.
More information about support and resources available to undocumented students at SF State can be found at http://www.sfsu.edu/~finaid/ab540. For more information about the U.S. Department of Education resource guide, visit http://www.ed.gov/news/press-releases/education-department-releases-resource-guide-supporting-undocumented-students-high-school-and-college.