University to honor graduates from 2020 to 2022, salute honorees at May Commencement ceremonies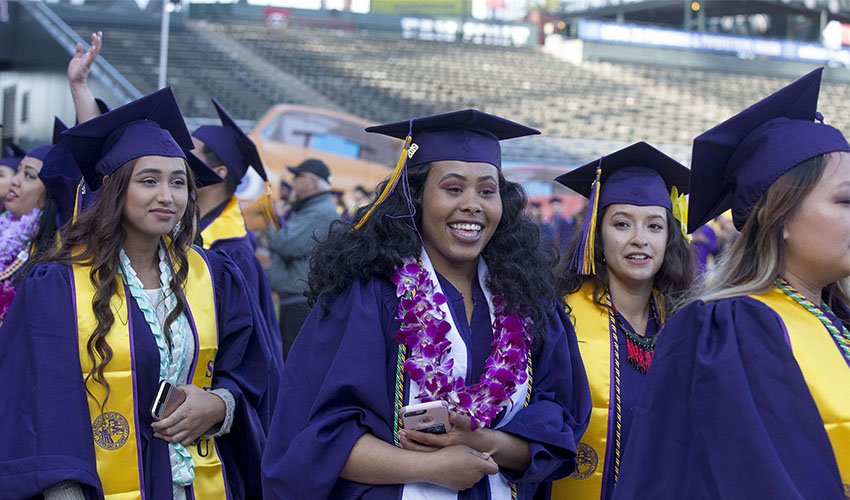 Lt. Governor Eleni Kounalakis and San Francisco Board Supervisor Myrna Melgar to deliver Commencement addresses to graduates
San Francisco State University will be hosting two Commencement ceremonies this year at Oracle Park. A Thursday, May 26, ceremony will be the University's first in-person Commencement in more than two years and will honor graduates from the classes of 2020 and 2021.
The University's 121st Commencement ceremony is Friday, May 27, and will celebrate the accomplishments of more than 7,400 graduates from the class of 2022. This will be San Francisco State President Lynn Mahoney's first in-person Commencement since joining the University in July of 2019. She'll be joined by City and County of San Francisco's Board Supervisor for District 7 Myrna Melgar, who will deliver the Commencement address on May 26, and California Lt. Gov. Eleni Kounalakis, who will be the speaker May 27. Honorary doctoral degrees will be awarded to social justice activist Fania E. Davis (May 26) and actor BD Wong (May 27).
"I am so excited and grateful for an opportunity to come together and celebrate our 2020, 2021 and 2022 graduates at in-person Commencement ceremonies. Our University, like our city and our state, remained among the safest in the nation during the challenges of the past two years," said Mahoney. "It is with great joy that we return to one another. I am pleased that Supervisor Melgar and Lt. Gov. Eleni Kounalakis will be able to join us to celebrate these graduates who endured and overcame more obstacles than they could have anticipated to reach this important milestone."
The graduate procession for both ceremonies begins at 5:30 p.m., with Commencement starting at 6:30 p.m. Live updates and photos will be posted to the University's Twitter, Instagram and Facebook accounts. More details are available at commencement.sfsu.edu.
Commencement Speakers
Myrna Melgar
May 26, 2022
Myrna Melgar is a San Francisco City and County Board of Supervisors member representing District 7, which includes 40 distinct neighborhoods along the western edge of the city, including Parkmerced, Inner Sunset and West Portal. Melgar is an urban planner and economic development and housing policy expert who has served in city government in several capacities for nearly two decades. She's served as director of homeownership programs at the San Francisco Mayor's Office of Housing (2000 – 2011), president of the City Planning Commission (2016 – 2020) and vice president of the Building Inspection Commission (2012 – 2016).
Melgar and her family immigrated to San Francisco from El Salvador in the 1980s, fleeing civil war. San Francisco provided her family with economic opportunity. She attended SF State and graduated with a B.A. in Liberal Arts from Excelsior College. She holds a master's degree in Urban Planning, with a concentration in Housing Development, from Columbia University.
Eleni Kounalakis
May 27, 2022
A California native and daughter of an immigrant farmworker, Eleni Kounalakis is the state's 50th lieutenant governor — the first woman elected to the position. She is also the state's representative for International Affairs and Trade.
From 2010 to 2013, Kounalakis served as President Barack Obama's ambassador to Hungary. She was the first Greek American woman — and at age 43 one of America's youngest — to serve as U.S. ambassador. Her highly acclaimed memoir "Madam Ambassador, Three Years of Diplomacy, Dinner Parties and Democracy in Budapest" (The New Press, 2015) chronicles the onset of Hungary's democratic backsliding.
Prior to her public service, Kounalakis was president of one of California's most respected housing development firms, AKT Development, where she worked for 18 years. She built master-planned communities and delivered quality housing to the Sacramento region's working families, making her as one of the capital's most prominent businesswomen. She holds a B.A. from Dartmouth College and an MBA from University of California, Berkeley Haas School of Business.
Honorary Degree Recipients
Fania E. Davis
May 26, 2022
A tragedy in Fania E. Davis' early years shaped the direction of her life for years to come — two close childhood friends were murdered in the 1963 Birmingham, Alabama, Sunday School bombing. Later, while young graduate students at UC San Diego, she and her husband were targets of police terror, solely because of their work in solidarity with the Black Panthers. These incidents and others propelled Davis toward a lifetime of activism and cemented her commitment to uplifting the Black community. She spent the next several decades fighting for civil rights, Black liberation, the rights of women, prisoners, peace, economic justice and ending racial violence and apartheid. 
She formalized her activism by pursuing a law degree from University of California, Berkeley in 1979. Davis then practiced as a civil rights trial lawyer for the next 27 years. But in 2003, the Oakland resident turned to a more spiritual path focused on healing. She earned a Ph.D. in Indigenous Knowledge from the California Institute of Integral Studies. Apprenticing with African Indigenous healers catalyzed her search for a healing justice, ultimately leading her to serve as founding director of Restorative Justice for Oakland Youth and as co-founding board member of the National Association of Community and Restorative Justice. Among her publications is "Little Book of Race and Restorative Justice: Black Lives, Justice, and U.S. Social Transformation."  
BD Wong
May 27, 2022
Born and raised in San Francisco, BD Wong is the only actor ever to have received all five major New York Theater awards for a single role. His performance in "M. Butterfly," his Broadway debut, earned him the Drama Desk Award, the Outer Critics Circle Award, the Theater World Award, the Clarence Derwent Award and the Tony Award.
On television, he played FBI forensic psychiatrist George Huang on "Law & Order: Special Victim's Unit" for 11 seasons and prison chaplain Father Ray Mukada on HBO's "Oz" for six. His feature film appearances include "Birdbox," "Focus," "Mulan," "Seven Years in Tibet," "Father of the Bride" I and II, four out of six movies from the "Jurassic Park" series and the upcoming Netflix thriller "Heart of Stone," among other films.
He's also found time for important endeavors outside acting. He received community service recognitions from the Asian American Legal Defense and Education Fund, Asian AIDS Project, GLAAD, National Gay and Lesbian Task Force, Association of Asian-Pacific American Artists, East/West Players, Second Generation, Organization of Chinese Americans and the Asian and Pacific Islander Coalition on HIV/AIDS.