University to honor 12 outstanding graduates at in-person Commencement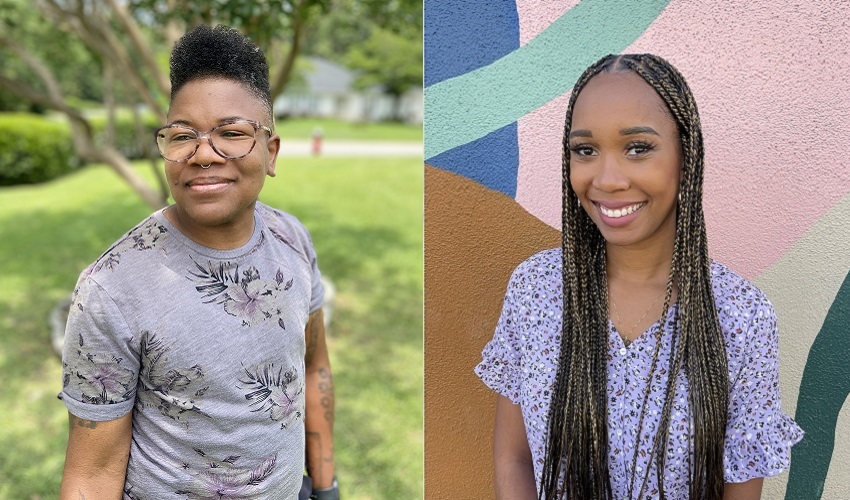 The students, chosen to represent SF State's academic colleges, will be recognized at a May 27 graduation ceremony
A dozen outstanding graduates will be honored during San Francisco State University's 121st Commencement ceremony, to be held at Oracle Park Friday, May 27. They will represent their more than 7,400 graduating peers in the Class of 2022.
As part of a longstanding tradition, each of the University's six academic colleges selects an undergraduate and a graduate student to represent their classmates and wear their college's academic hood during the ceremony. More details about the ceremony are available on the Commencement website.
Graduate Student Speaker
Lillian Giles, College of Liberal & Creative Arts
Completing a Master of Fine Arts in Creative Writing, Lillian Giles approaches both craft and daily life with love and grace. On paper, her award-winning essays utilize an insistent, immovable and polyphonic voice to speak brilliantly and optimistically with heart to the past, present and future of Black folx. Peer to peer, Giles speaks with a special mix of poise, curiosity, gratitude and compassion. 
In 2020, literary magazine The Rumpus published Giles' essay "Dear Daughters," which originated in a San Francisco State class. She won the 2021 San Francisco Foundation/Nomadic Press Literary Award in fiction and was a finalist for SF State's Audre Lorde Creative Writing Award.
In 2021, Giles led a public conversation with critically acclaimed author Kiese Laymon ("Heavy") for SF State's inaugural Marcus Guest Speaker in Creative Writing event, attended by over 200 people. Giles is finishing a novel based on her great-grandmother's life as a midwife and defender of the 1940s Black queer and genderqueer community.
Undergraduate Student Speaker
Kenly Doyle, Graduate College of Education
Kenly Doyle is earning a degree in Speech, Language and Hearing Sciences to achieve one of her many goals: increasing culturally informed speech therapy treatments.
Doyle became interested in speech pathology when she learned that Black and non-English speaking families are less likely to receive speech and language services compared to white and English-speaking families. This ignited her passion to make speech therapies more accessible and personalized to people of diverse socioeconomic, racial and cultural backgrounds. She enrolled at SF State to pursue this passion.
One of her many accomplishments while at SF State was when she became a research assistant in the Gray Matter Lab, which focuses on serving people who have language disorders like aphasia and come from historically marginalized communities. There she helped establish the lab's Conversation Club for Black adults with aphasia led by Black student clinicians. This club offers participants a safe space to connect over shared experiences and practice their communication skills.  
Doyle will continue her studies in speech pathology as a San Diego State University graduate student starting Fall 2022. After practicing as a clinician, she wants to get her doctoral degree to increase quality care for BIPOC (Black, Indigenous and people of color) communities.
Graduate Hood Recipients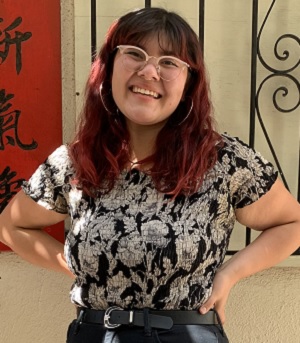 Amalia Laventure

, College of Ethnic Studie

s
Amalia Laventure's academic and professional experiences underscore the importance of ethnic studies, helping underserved groups and community engagement. 
Laventure is currently a writer with El Tecolote, a bilingual newspaper in San Francisco's Mission District. In this role, they write articles that help Spanish-speaking people understand important news that impact their lives. As the number of Spanish speakers continues to grow in California and nationwide, Laventure's work provides these communities with better access to information that matters to them. Laventure is also an organizer with Causa Justa/Just Cause, a multiracial, grassroots organization building community leadership to achieve justice for low-income San Francisco and Oakland residents. Their graduate thesis explores the impact of a viral TikTok trend centered on multiracial users proving their racial backgrounds with archival photographs of their parents. 
Laventure is the first College of Ethnic Studies student to complete the SF State Scholars Program, which provides undergraduate students an accelerated pathway to a graduate degree. They earned a B.A. in Latina/Latino Studies in Spring 2021 and received an M.A. in Ethnic Studies this past fall.
Patricia Phillips

,

Graduate College of Education
When Patricia Phillips stepped into parenthood, it inspired a new goal in life: to earn an M.A. in Early Childhood Education. She's gladly making that a reality as she graduates this semester with that degree. In addition, Phillips has already earned her Child Development Site Supervisor Permit.   
Leading up to these important milestones, Phillips worked at three of the Bay Area's leading early childhood institutions. She also presented at multiple roundtable series led by the Innovative Teacher Project, an organization that provides professional development opportunities for educators. Phillips is also currently volunteering as a teaching assistant for the SF State Graduate College of Education. 
Phillips strongly believes that giving children access to early quality education is a critical responsibility for those who work with children. As she continues her career in this field, she wants to always bring that perspective every step of the way.
Laura Suddes
,
College of Science & Engineering
Laura Suddes considers the carbon cycle one of Earth's most enigmatic puzzles and a key in solving the problem of climate change caused by human activity. Her passion for the topic began at SF State when she was introduced to the global carbon cycle as an undergraduate. When she returned to SF State for graduate school, she began working with Professor of Chemistry Tomoko Komada to study the composition of dissolved organic matter in the interstitial waters of ocean sediments. Suddes' background in biology, hydrology and chemistry helped her discover novel findings about how the ocean sequesters carbon within its interior. She is also proud to have gone on not one but two research cruises — a rare opportunity for a graduate student. The expeditions allowed her to spend nearly a month at sea personally collecting sediment samples for her research. 
Originally from Central Florida, Suddes moved to San Francisco in 2012. In addition to being a graduate student, she has been working night shifts as a nursing assistant at UC San Francisco Medical Center to support herself through college.
After graduation, she plans to continue educating others, particularly policy makers, about the complexity of the carbon cycle and ocean issues.
Azisa Todd, College of Health & Social Sciences

Born and raised in Oakland, Azisa "Zi" Todd says she has the Oakland public education system to thank for grounding her in the principles of academic and community organizing. Upon graduating from high school, Azisa went to University of California, Los Angeles, where she served as a member (later director) of BlaQue, UCLA's Black LGBTQ+ organization. Azisa developed and facilitated mandated anti-racism/Blackness workshops at UCLA, organized cross-campus conferences and spoke across the state. After graduating with a B.A. in Gender Studies, she decided to jump back into academia — and back to the Bay Area — to pursue a Master of Public Health at SF State.   
As a graduate student, Azisa was instrumental in supporting the redesign of a cross-college minor in Feminist Health Studies. She also serves as an education and training coordinator within San Mateo County, leading LGBTQ+ awareness trainings for health systems and local organizations. 
Azisa's public health interests are in LGBTQ+ health and wellness, the intersectionality of Black and LGBTQ+ experiences, and community health education and training. She hopes to earn a Doctor of Public Health and share what she's learned with college-level students.
Bixia Ye

, Lam Family College of Busines

s
In the 12 years Bixia Ye has lived in the United States she's already obtained two degrees and embarked on a promising career. She received her MBA degree from the Lam Family College of Business in the fall of 2021, a CPA license in 2017 and a bachelor's degree in Economics from UC Berkeley in 2015 then landed a job with a prominent public agency. 
After receiving her undergraduate degree, she began working for the California Public Utilities Commission (CPUC) as an auditor with the utility audit, finance and compliance branch. She moved up the ranks with CPUC quickly and now serves as a regulatory analyst, keeping abreast of trends and issues pertaining to public utilities regulations and developing recommendations on public regulatory issues. The mission of her division is to obtain the lowest possible rate for service consistent with reliable and safe service levels and the state's environmental goals. 
While in business school, Ye juggled schoolwork with motherhood — she has two young children. She would complete course assignments late at night after her children went to sleep or early in the morning before starting work. Despite Ye's limited time, her instructors called her effort "outstanding." She was an active participant in her classes and was highly collaborative when presenting case studies with her teammates
Undergraduate Hood Recipients
Gabriel Klein

, College of Liberal & Creative Art

s
Throughout his SF State career, Gabriel Klein has demonstrated a commitment to global service, exemplifying his desire to contribute to human rights, human security and environmental sustainability long-term.  
Klein is an International Relations major and Global Peace, Human Rights and Justice Studies minor. He has worked on building schools for children in Cambodia with Angkor4Kids, served an internship on climate change through the Green Education Initiative and has a passion for Afghan and Ukrainian refugee resettlement.  
Klein has contributed ideas to improve student outreach and engagement in the Department of International Relations, such as proposing collaborations with nonprofits that work with K – 12 global education. 
His role as teaching assistant in the new course "Children and Youth in International Relations" serves as recognition from faculty of his leadership skills and stewardship. In that course, he developed and implemented visual educational tools, allowing a diverse array of students to voice their authentic childhood experiences. In addition, Klein's term as managing editor of SF State's International Relations Journal coincided with the largest issue in the last decade.
Brianna Mejia-Carreno

, College of Ethnic Studies
Brianna Mejia-Carreno is a first-generation college student raised in San Francisco by her mother, a housekeeper and labor organizer. Inspired by her commitment to serving the community, Mejia-Carreno followed in her mother's footsteps by getting involved at age 11 with the labor organization UNITE-HERE.   
Fast forward many years, Mejia-Carreno continued to help the community in many other ways while attending SF State. She volunteered at the student-run clinic Clínica Martín-Baró in the city's Mission District, was a student leader for the SF State Metro College Success Program and mentored high school students through College Track, a nonprofit that supports underserved students' path to college.   
Mejia-Carreno also helped develop a health equity curriculum at the University of California, San Francisco and has served as a program coordinator with MuluMentor, a mentorship program that helps underrepresented people get into medical school. She also volunteered for the campaign against the recall of District Attorney Chesa Boudin and has organized efforts demanding justice for the families of people who've been killed by police.  
A double-major, Mejia-Carreno is earning a degree in Health Education and Race and Resistance Studies. She's currently a San Francisco Department of Public Health intern applying what she's learned at SF State.
Selena Giselle Perez

, Lam Family College of Busines

s
Selena Giselle Perez is the daughter of a single mother who migrated from Mexico to escape poverty and seek a better life for her family. Perez and her four siblings spent their childhood moving from city to city as their mother sought financial and job security.  
Higher education seemed out of reach,but at 17 Perez took steps toward earning a college degree. After attending community college, the first-generation college student transferred to SF State in 2020. She made the Dean's List four consecutive semesters, all while working low-wage jobs in retail and the service industry. While on the clock, she witnessed the mistreatment and exploitation of her coworkers — many of whom spoke little or no English and had little knowledge of labor laws. Those experiences led her to pursue a degree in Labor and Employment Studies. 
Perez now advocates for workers at her job at Service Employees International Union, providing administrative and logistical support for landmark nationwide labor campaigns like "Fight for 15," which lobbied for a $15 hourly wage and the right of fast-food workers to organize.
Committed to furthering social, racial and economic justice, she has volunteered for Oakland Rising, an organization committed to mobilizing voters, and Reimagine Richmond, which improves public safety and equity. She plans to apply to law school to study and practice labor law and hopes to one day run for public office.
Tenzin Dechen Santapau

, College of Science & Engineering
Tenzin Dechen Santapau's interest in research began in community college when a professor (and SF State alumna) earnestly advocated for diversity in STEM. The experience not only inspired but also empowered Santapau. A Tibetan refugee from South India, she came from a marginalized, underrepresented community with deep cultural and political trauma.  
After transferring to SF State in spring 2020, Santapau found that the friendly and welcoming atmosphere encouraged her to believe that individuals like her could excel in the mainstream scientific community. Her career as a researcher started when she was chosen to be an National Science Foundation Research Experience for Undergraduates fellow at SF State. Working with Assistant Professor of Geography and Environment Sara Baguskas, Santapau studied the variability of stream temperature in Willow Creek, a critical habitat for endangered juvenile salmonids. The experience led her to her current position as a conservation hydrology intern for Trout Unlimited. She has traveled to watersheds throughout coastal California, and her work helps conservation efforts in the recovery of salmon population and restoration of their habitat. 
After graduating with a double major in Environmental Science and Geography, she plans to continue studying and working on fish, watershed and water quality issues in the Bay Area.
Davina A. Wizzard

, College of Health & Social Science

s
Late in her senior year of high school in Valencia, California, Davina A. Wizzard had a nerve-wracking experience: She learned that her brother had been pulled over by police for a "routine stop." The fear of what those stops could result in set her back to the summer of 2016. The horrifying stories she'd read online — about Black motorists and pedestrians killed by police during "routine stops" — had stayed with her. 
For Wizzard, the experience was an awakening that shaped her college career at SF State. She sought out a job with the University's Division of Equity and Community Inclusion, ultimately creating and coordinating programs on inclusion, diversity and the upliftment of marginalized communities. Those activities didn't detract from Wizzard's academics, however, and she graduated in three years with majors in Criminal Justice Studies and Creative Writing and a minor in Africana Studies, Summa Cum Laude. 
Wizzard has begun applying to law schools so that she can continue her work for justice and inclusion in the nation's courts.