Twelve outstanding graduates to be recognized during 2020 Virtual Commencement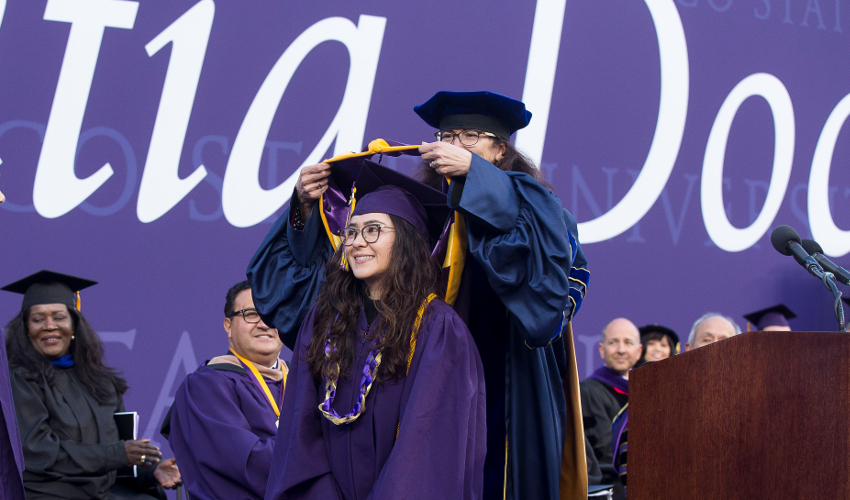 Honorees' aspirations include careers in health care, policy, education and more
Twelve outstanding graduates will be honored during San Francisco State University's 119th Commencement ceremony — the first to be held virtually, due to the COVID-19 pandemic — on Thursday, June 18, representing their more than 7,700 peers in the Class of 2020.
The honor is part of a longstanding tradition in which each of the University's six academic colleges selects two students, one undergraduate and one graduate, for the honor of representing their classmates during the ceremony by wearing their college's academic hood. More details about the ceremony are available on the Commencement website.
Graduate hoods
Daniel Hong Chin, College of Health & Social Sciences
Daniel Hong Chin enlisted in the Air Force in 2003, then after 11 years in the military set out on a new path through higher education. Chin entered San Francisco State with an interest in physical therapy but ultimately realized he was more interested in influencing policies that could help improve peoples' exercise habits on a broader scale. That led him to pursue research on fitness, informed by his time in the military. "I saw the impact of physical activity and how important it is to physical, mental, spiritual and emotional health," said Chin, who is receiving an M.S. in Kinesiology.
For his thesis, Chin studied the link between how veterans see their military identity and their exercise and eating habits. Next he plans to pursue a career in physical therapy or research, focusing on increasing physical activity levels in underserved populations to reduce health disparities and chronic disease risk.
Rebecca Cruz, Graduate College of Education
With more than a decade of experience as a teacher for public schools, Rebecca Cruz took her career to the next level by graduating this semester from the Joint Doctoral Program in Special Education — a collaboration between SF State and the University of California, Berkeley. But this isn't the first time Cruz has made her mark on SF State's campus: She received her master's degree in Education from the University in 2015 and is an adjunct professor in the Department of Special Education. 
When Cruz is not teaching, she spends her time learning more about educational policies, how they are enacted in local communities and how they impact students' educational experience. Her deep interest in these topics led her to write her dissertation on Brown v. Board of Education and how it resulted in exclusionary school discipline and disproportionality in special education. 
Jessica Lee Dailey, College of Liberal & Creative Arts
Jessica Lee Dailey received her M.A. in Anthropology last summer. Her thesis, "Choosing Resistance: Social Power and Alternative Birth Care in Sonoma County, California," explores alternative forms of prenatal and birth care and the values of practitioners and their clients who embraced alternative medicine and opposed aspects of traditional medicine. In 2018, Dailey received the University's Jay P. Young Excellence Award for her fieldwork. In November 2018 she presented a paper based on her thesis research at the annual American Anthropological Association conference, representing SF State on a panel about reproductive decision-making.
Dailey was one of five students accepted into a Ph.D. program in Medical Anthropology at the University of Notre Dame, where she began studying in the fall of 2019. For her dissertation, she is researching the complicated ways social contexts mediate access to, experiences with and health outcomes around maternity and birth care.  
Sarah Gowing, College of Ethnic Studies
When COVID-19 made its way to the United States, the nation saw an alarming increase in discriminatory incidents targeting Asian Americans. As a way to quantify these acts of racism, Sarah Gowing, along with SF State Asian American Studies Professor and Chair Russell Jeung, tracked the staggering increase in articles about discrimination related to the pandemic. The research led to partnerships with California civil rights groups, was cited in national Senate and House resolutions denouncing anti-Asian hate and led to the creation of the Stop AAPI Hate reporting center. 
Gowing has worked with and for communities of color in other ways as well. She recently completed an internship with Multiracial Americans of Southern California (MASC), an organization that advocates for legislation that supports data collection and dissemination on mixed-race people in California public institutions. Her thesis explored these topics, particularly in the context of higher education.
Aditi Grossman, Lam Family College of Business
Born in Mumbai, India, Aditi Grossman came to the U.S. for college. She will graduate with an M.A. in Economics after earning a B.S. in Business Administration at SF State. During her studies, Grossman taught undergraduate math courses as well as serving as a teaching assistant in the economics and mathematics departments. She was also a research scholar at the Health Equity Institute and a member of the Mathematics Education Research Group for Equity. 
Grossman's interest in addressing inequalities in communities fueled her research endeavors. She co-authored a publication with Associate Professor of Economics Venoo Kakar that explored changes in the Bay Area economy and is currently assisting Economics Professor and Chair Anoshua Chaudhuri with research on H-1B workers. After graduation, Grossman plans to pursue a doctorate degree in Economics. In her free time, she is active with local groups such as SF Hillel, Girls Who Code and the San Francisco SPCA. 
Caitlin Waddle, College of Science & Engineering
When Caitlin Waddle graduated with an undergraduate Mathematics degree, she had a difficult time imagining herself as a mathematician, instead deciding to pursue a career as a teacher. Having returned to research and studying the heady disciplines of algebraic geometry and graph theory as a master's student at SF State, she's now on her way to a Ph.D. program in math at the University of Michigan.
As an SF State master's student, Waddle was chosen to participate in several prestigious programs, including the Mathematical Sciences Research Institutes Graduate Summer School on Geometric Group Theory and the Women in Mathematics program at the Institute for Advanced Study in Princeton, New Jersey. She also was recently awarded a prestigious Anniversary Award from the ARCS Foundation and was an integral member of the Mathematistas, a campus student group that promotes gender equity in mathematics. 
Waddle plans to pursue a career in academia after her Ph.D. and sees mentorship as a crucial part of her mission.
Undergraduate Hoods
Melanie Carniglia, College of Science & Engineering
After having her daughter during her first semester of community college, Melanie Carniglia had a challenging postpartum experience that was overlooked by medical professionals. That experience informed her mission to improve postpartum mental health support.
As a Psychology student at SF State, Carniglia conducted research on loneliness and relationships, winning third place in the College of Science & Engineering's Student Research Showcase, and served as a teaching assistant. Carniglia balanced all of this with being a single parent, a feat she says was made more manageable by supportive professors.  
Over the next year she'll continue her work as a researcher and volunteer doula as she prepares to apply to graduate programs. She plans to pursue an LMFT, specializing in fertility, pregnancy and postpartum counseling, and hopes to advocate for integrative approaches between health care professionals to ensure that women receive the best care possible — and that no one slips through the cracks. "I really think it's important to have all of your practitioners working together," she explained.
Lara Crotwell, Graduate College of Education
Lara Crotwell began her journey toward a B.A. in Speech Language and Hearing Sciences with a life-changing class in American Sign Language at a community college. She'll take that journey one step further this fall, pursuing an M.S in Speech Language and Hearing Sciences at SF State and deepening her understanding of the autism spectrum and voice disorders. 
Crotwell's faculty instructors say she distinguished herself as an undergraduate by boldly stepping up to help her peers. She was also an active participant in the Interprofessional Education for Inclusive Schools. Within these Graduate College of Education initiatives, which focus on the exchange of ideas and information across disciplines, she represented the student organization Student Academy of Audiology.  
Crotwell also took the lead as her department's graduation chair when COVID-19 unexpectedly changed plans for Commencement. In this role, she led two graduating cohorts of students to make sure they were recognized for their accomplishments despite the disruptions caused by the pandemic. 
Randella Louise Jones, College of Liberal & Creative Arts
An accomplished violinist and pianist, Randella Louise Jones was a Dean's List honoree, a recipient of the John Handy Scholarship for Jazz Studies and a Benjamin A. Gilman International Scholarship recipient.  
While studying abroad in Jamaica, Jones taught violin with the country's National Youth Orchestra and conducted research into the folk music traditions of the African diaspora. She co-directs Son Umbé, a youth Afro-Mexican Son Jarocho ensemble at the Oakland Public Conservatory of Music. She plans to earn a teaching credential at SF State and become an elementary school music teacher. She also aspires to complete graduate work in the field of ethnomusicology. 
Ana Milena Olson, Lam Family College of Business
A native of Brazil, Ana Milena Olson moved to the United States five years ago with the dream of earning a college degree. She's a first-generation college student whose love of problem-solving led her to SF State's Accounting program. She will receive her B.S. in Accounting and has plans for a career as a tax associate at a CPA firm.  
While at SF State, she served as the vice president and director of professional development for Alpha Psi, an international honor society for accounting and financial information students. As an officer, she organized the event "Meet the Firms" in fall 2018 and later represented the organization at a competition at the annual meeting in Washington, D.C.  
She will graduate summa cum laude and plans to pursue an M.S. in Accounting at SF State. She also plans to intern at the multinational professional services firm Ernst & Young this summer. In the meantime, she joined SF State's Volunteer Income Tax Assistance program as a tax preparer. 
Anne Marie Tran, College of Health & Social Sciences
Anne Marie Tran traces her passion for health policy back to her work as a 17-year-old at a nonprofit supporting people with special needs. The experience gave her a glimpse at how the bigger picture of policy decisions shape public health. "I saw the difference that I could make on a larger scale and a broader sense, more institutionally and systemically," she explained. 
After transferring to SF State, Tran received the College of Health & Social Sciences' Professor Morris R. Lewenstein Scholarship and the prestigious Willie Brown Jr. Fellowship. She also served as a teaching assistant in an urban studies data analysis course and earlier this year began an internship with the National Park Service. 
Tran will graduate with a B.A. in Urban Studies and Planning and in the fall will begin her master's in Public Health at the University of California, Berkeley, focusing on Environmental Health Sciences. "I want to work towards being a part of the next generation of public health leaders," she said.
Jasmin Vargas, College of Ethnic Studies
Jasmin Vargas reflects what the College of Ethnic Studies stands for: advocacy for progressive change and community empowerment. One of the many ways she has lived up to these values was by representing the University last year in the selective Mexico Cultural Immersion and Volunteer Program. The five-week, government-sponsored program allows college students to live and volunteer in Mexico to strengthen the ties between the country and the Mexican diaspora in the U.S. 
In addition to the work she's done abroad, Vargas has served as a data analyst and conducted research for Roadmap to Peace, a nonprofit organization that provides social services to at-risk Latinx youth in San Francisco. Vargas also volunteered with UNITE HERE Local 2, a hotel and restaurant workers union for various Bay Area counties. As a double major in Latina/Latino Studies and Criminal Justice Studies, she looks beyond graduation to use her degree to continue helping her communities.