Teaching English to Speakers of Other Languages program recognized by State Department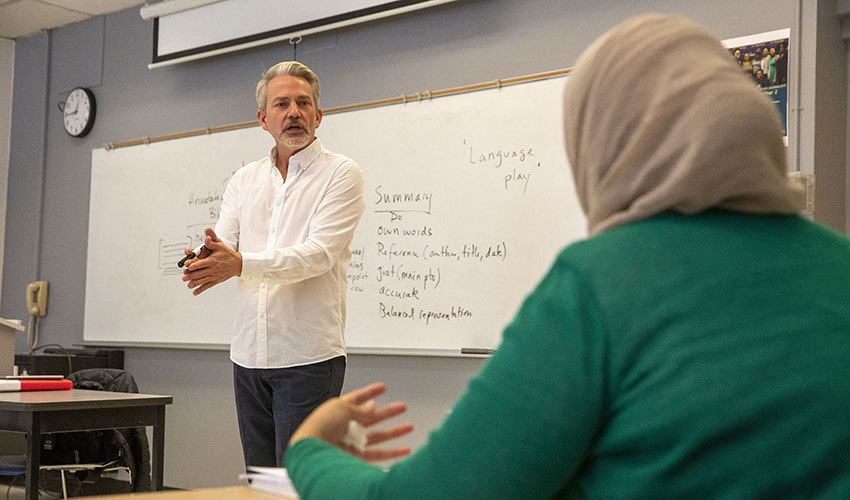 SF State named one of the top five feeder schools for prestigious government fellowship
San Francisco State University's Teaching English to Speakers of Other Languages (TESOL) program, one of the first of its kind in the nation, is also one of the top programs producing U.S. State Department English Language Fellows (ELF). The ELF program turns 50 this year and as part of the milestone they're recognizing five universities for continually producing fellows, colleges that will be given an award at a Nov. 5 birthday celebration in Washington, D.C.
Nearly every year since 1969, San Francisco State's TESOL graduates have applied and been accepted into the ELF program. Once in, graduates are sent on 10-month assignments around the globe to countries in need of language specialists. Program fellows work on high-level language projects, such as developing a curriculum for a region or holding professional development workshops for teachers.
Teaching English abroad is ultimately about diplomacy, says SF State Associate Professor of English Language and Literature David Olsher. "The State Department sponsors this program because it builds powerful connections and goodwill around the world," he said. "[The State Department] recognized that our most experienced graduate students are ready to come in and help advise on curriculum design and train teachers."
SF State TESOL graduates stand out for two reasons, says TESOL program coordinator Priya Abeywickrama. From day one they're learning the nuts and bolts of teaching, such as creating lesson plans and articulating a teaching philosophy. Students in the program also gain practical experience in a variety of settings, such as teaching immigrant literacy or academic English, which makes them highly adaptable.
It also helps that SF State's program was formed by a number of leading scholars. "If you look at the history of SF State's program, it really traces the development of the field," Olsher said. "Some of the most influential scholars have been on the faculty. H. Douglas Brown, a former faculty member, has written some of the most widely used textbooks in the field. They're used internationally."
Heidi Fridriksson, a 2011 SF State TESOL graduate, says her experience in and out of the classroom primed her for her 10-month stint in Phnom Penh, Cambodia. While abroad, she held workshops and professional development trainings for students who planned to teach English language education.
Her confidence in her own professional skills solidified overseas, she says. "Being in another country where you don't know anyone or speak the language and you're thrown all these disparate requests for workshops — I grew confident in the resources I had as an ELF and as a TESOL graduate," she added. "If they wanted a workshop on how to teach English pronunciation or how to create lesson plans, I could reach back to my training and provide that."
Now an instructional designer for Academic Technology at SF State, Fridriksson helps faculty determine what type of technology will best meet their teaching goals and facilitates faculty development workshops. In her current position, she says she often draws on what she learned as an ELF.
"I'll be asked how to engage large groups of students and keep their interest," she said. In Cambodia, she was tasked with just that. She trained 80 language teachers who were all enthusiastic and often talked at the same time during group work. Also, they were in the same building as an elementary school, which got quite noisy during recess, she says.
"Finding strategies to make learning effective in that environment made me realize it's possible to do that in any environment," she said.