Study finds city's anti-homelessness laws perpetuate poverty, inequality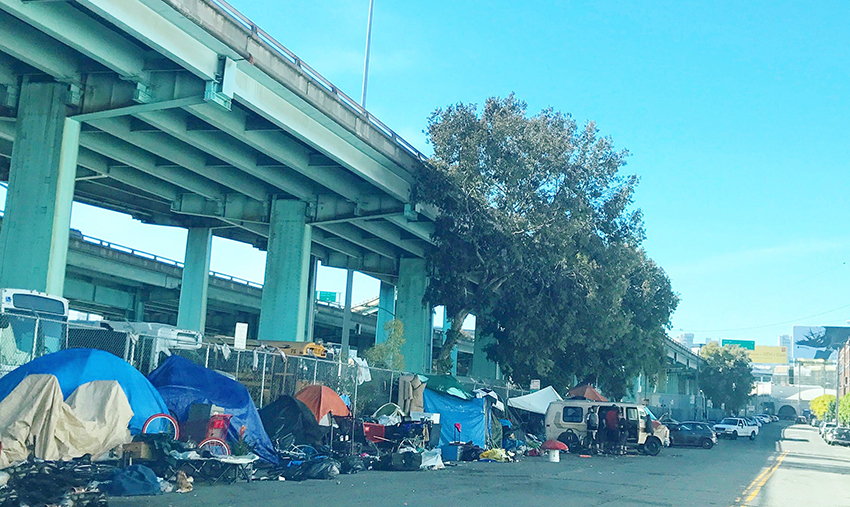 SF State Assistant Professor Dilara Yarbrough and colleagues examined the effectiveness of anti-homelessness legislation
Homelessness has been an issue in San Francisco for decades, with more than 6,000 homeless people counted in the city last year. But research by a San Francisco State University assistant professor suggests that some laws attempting to address the issue do more harm than good.
The study — co-authored by San Francisco State Assistant Professor of Criminal Justice Studies Dilara Yarbrough in collaboration with colleagues from University of California, Berkeley and the San Francisco Coalition on Homelessness — shows that anti-homelessness legislation can perpetuate poverty and inequality.
In response to the growth of homelessness in the U.S. during the 1980s, various cities across the nation created new policies that restricted behaviors associated with homelessness such as panhandling, sleeping in parks and sitting on sidewalks.
Though these laws continue to spread, not much is known about how they are implemented and impact homeless people, raising a key question: Do the laws actually reduce homelessness? To find an answer, the researchers turned their gaze to San Francisco — a city that has more anti-homelessness laws than any other in California.
In the study, published in the journal Social Problems, Yarbrough and her co-authors argue that these laws contribute to a larger issue they call "pervasive penality." Because of anti-homelessness laws, homeless individuals have continual interactions with law enforcement that are designed to punish even if they don't lead to arrest. This creates a never-ending cycle of homelessness, inflicting material and psychological harm while deepening racial, gender and health inequalities among the urban poor. 
"Before we decided to do this study, volunteers and staff at the San Francisco Coalition on Homelessness knew that many homeless people were receiving citations for sitting, sleeping and other unavoidable life-sustaining activities," said Yarbrough. "We wanted to systematically study the prevalence and effects of the enforcement of laws that target homeless people in public spaces."
To better understand these laws, the researchers surveyed 351 homeless people across the city and interviewed 43 unhoused individuals. Through public record requests to the city of San Francisco, they also collected and analyzed policy protocols, citations and sanitation sweeps.
Their research finds that these measures fail to effectively address the homelessness issue. For example, the report shows that anti-homelessness laws don't reduce urban disorder but instead create a churn in which homeless people circulate between neighborhoods and police jurisdictions rather than leaving public spaces. The study also suggests that the mechanisms for enforcing these laws, which include move-along orders, citations and confiscation of property, limit homeless people's access to services, housing and jobs while damaging their health, safety and well-being.
"When people are forced to move from a familiar public space to an unfamiliar one, they become more vulnerable to violence," said Yarbrough. "This was especially true for women and transgender participants, who reported threats to their safety after being asked to move to new locations." Participants also reported loss or destruction of medications, identity documents and mementos. Others accrued unpaid anti-homeless citations, resulting in insurmountable debt, ruined credit and interference with applications for housing and jobs.
Yarbrough believes this study presents a unique opportunity to move away from a police response to homelessness and focus on ending housing deprivation instead. "Our study demonstrates that policing homelessness actually creates barriers to escaping poverty," said Yarbrough. "I hope that officials in San Francisco and beyond will support an evidence-based approach to tackling this issue."
Yarbrough'sco-authors for the study are Chris Herring, doctoral candidate of Sociology at UC Berkeley, and Lisa Marie Alatorre, who was a community organizer for the San Francisco Coalition on Homelessness and is currently a lecturer for the Crime and Justice Studies department at University of Massachusetts, Dartmouth.