Students' app for first responders wins top prize at University pitch competition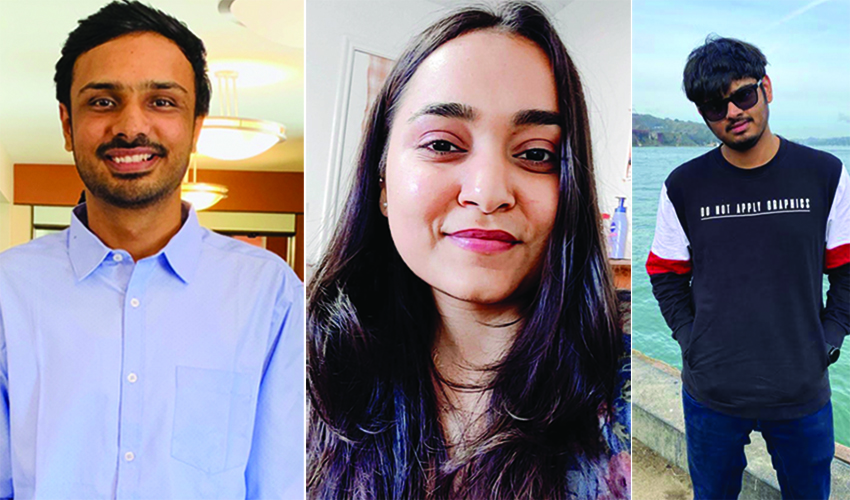 Winners at the annual Entrepreneurship Symposium and Pitch Competition created tools for English language learners and students searching for housing
First responders might have a new partner on the way thanks to a team of forward-thinking San Francisco State University students. The students recently took home first prize at the Lam Family College of Business' third annual Entrepreneurship Symposium and Pitch Competition with Simba Police, a voice-activated mobile assistant designed to help first responders in emergency situations.
The team behind the winning product — Computer Science graduate students Kunal Shah and Jugal Bhatt and Business Analytics graduate student Shraddha Upadhyay — received a $6,000 prize for the innovative idea. Four other teams entered the competition, and two of them also scored cash prizes. The competition was judged by five Bay Area business leaders, some of whom are San Francisco State alums.
All three members of the winning team are from India and say they were drawn to SF State by its hackathons and other opportunities to develop and test their business ideas. They're also part of the Lam Family College of Business's Innovation and Entrepreneurship and Fellows program, which prepared them for the competition. The feedback they received from faculty about their business model and forecasting was key to their final pitch, Upadhyay says.
Their product is simple. Imagine a voice-activated assistant like Siri or Alexa that follows spoken commands. But instead of playing favorite songs or looking up the latest weather report, Simba could run background checks, scan license plates, retrieve driver details and call for backup if needed. "It doesn't require a human on the other end of the line," Shah said. "We wanted to cut cost and time, and we hope it can save lives."
The team first developed Simba Police for the Tech to Protect Challenge hackathon at SF State in November 2019. That event was one of 10 regional contests designed to spark innovation around public safety by developing products that improve emergency communications. At the competition, Shah, Bhatt and Upadhyay heard directly from emergency workers about their biggest on-the-job challenges. The team applied their experience working with AI, specifically machine learning and dialog-flow, to create a mobile voice-assistant that would cut down the amount of time workers spent on the phone. They came in third place and were asked to compete in the national competition in May.
Over the next several months, they developed a prototype for the May competition — and for the marketplace. They placed in the top 25, which was a letdown, Shah acknowledges. "It was difficult for us to move on," he said. But winning the Lam Family College of Business' pitch competition in early June has restored their confidence.
So far, Simba Police has been tested by seven police officers in India. Their feedback will be incorporated into a beta version, which will be available to small groups for testing this summer. In the meantime, the team's looking for investors, Shah adds.
They're also responding to new opportunities. Recent incidents of police brutality inspired the team to develop two sister applications. The two apps would allow the public to report acts of officer malfeasance directly to police headquarters, Shah said. The other program is a voice assistant that can connect to social media platforms and livestream citizen interactions with law enforcement.
The team that took second place in the Lam Family College of Business pitch competition — Marketing students Luke Del Aguila and Bryan Parji-Zborowski, Management student Kimberly Flores and Computer Science graduate student Soheil Ansari — developed Koob, an e-reader application for English as Second Language students. The goal of their product is to offer students real-time definitions as they read materials for class.
Third place went to Management and Information Systems student Muath Alkathiri and Statistics student Victor Ngoon and their creation VAEA, a housing solution for international students that connects landlords in the Bay Area to renters seeking affordable, convenient housing.