Student-run hackathon creates community for coders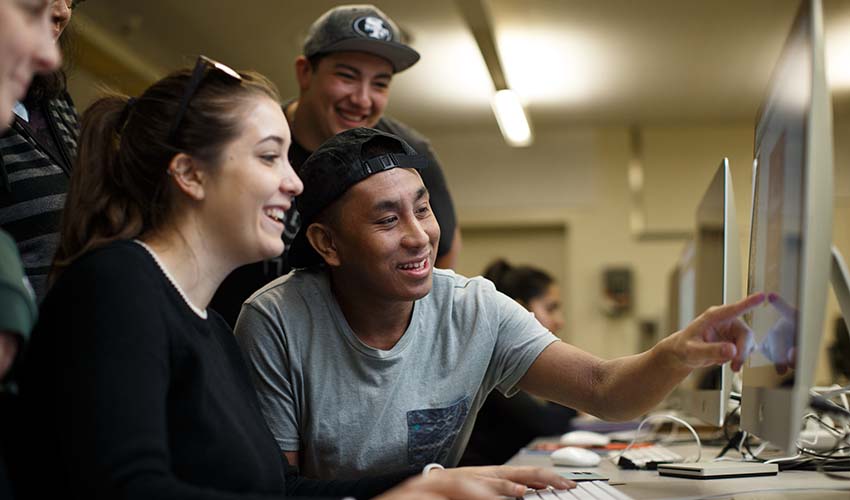 Held March 11 – 13 this year, SF Hacks aims to make computer science more inclusive
Given that "hacks" are high-tech work-arounds for solving problems, it's apropos that the annual SF Hacks hackathon hasn't let a pandemic get in its way. The sixth annual event, held virtually March 11 – 13 due to ongoing COVID-19 protocols, garnered nearly 500 RSVPs from around the world plus a Discord community of 1,000 participants that is still growing.
"Once again SF Hacks has outdone themselves and organized an event that attracted participants from 26 countries," said San Francisco State University Professor and Chair of Computer Science Arno Puder, a judge at this year's event. "I could not be prouder of what they were able to accomplish and I hope that next year we can host the event in-person again on our campus."
Each year, SF Hacks is organized by a group of San Francisco State students who invite local and global participants to come together to design and present coding projects, attend workshops and find a sense of camaraderie. This year's event was slated to be San Francisco State's first hybrid hackathon before evolving COVID-19 protocols shifted plans. Undeterred, the student organizers pivoted to an entirely virtual event on Zoom and Discord, similar to last year's hackathon. They also decided to forego a single theme for the event, instead implementing four tracks: inclusivity, mental health, sustainability and machine learning.
"We decided to just do tracks because we wanted to go more of the inclusive route this year," explained SF Hacks President Nya Avelina Bautista, a third-year Computer Science major. "We wanted to represent more of a diverse community and bring in those people that feel underrepresented within the industry."
Among this year's submissions was an app through which people can anonymously vent or rant and get responses from other people. Another app — one of this year's winning projects —scanned people's faces to calculate how much mental stress they are experiencing.
One of SF Hacks' goals for this year's event was making novice coders feel welcome. They wanted to encourage anyone interested in coding — regardless of major — to join future events.
"Most people don't know what hackathons are, and we want to shine a light about how cool hackathons are," says Arianna Yuan, a second-year Computer Science major and SF Hacks' sponsorship corporation officer. She admits she used to think hackathons were intense before she started participating in them herself.
Bautista recalls hearing about SF Hacks as a first-year student at a time when she still had not found her community within the computer science field. She credits the group with helping her grow as an individual, leader and professional. It also helped foster and maintain a sense of community — something that was especially important during the pandemic.
Students who are thinking about getting involved in future hackathons should heed Bautista's advice: Don't be afraid. "It's definitely something where it takes some time to learn about, but in the long run is beneficial," she said. "And obviously we'll be here with open arms."
Learn more about SF Hacks and SF State's Computer Science department.