Student engineers improve local manufacturers' energy efficiency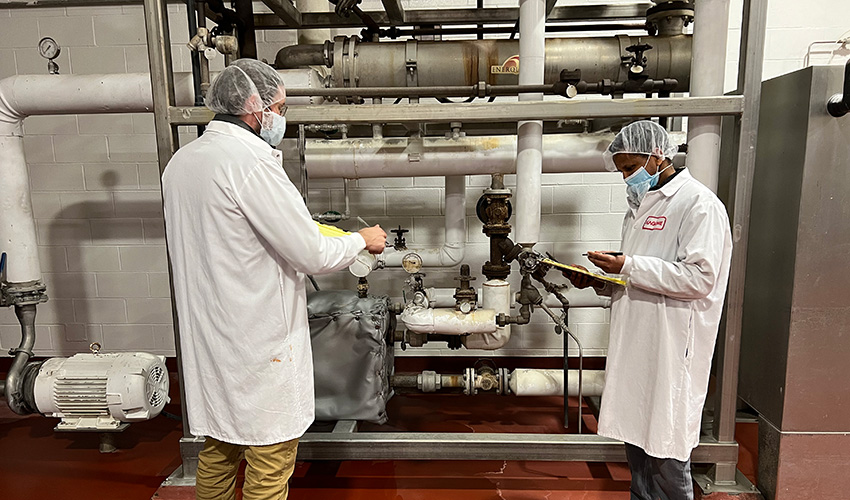 SF State's Industrial Assessment Center has been providing local manufacturers with comprehensive energy audits for nearly 30 years
The milk you had this morning or the glass of wine you enjoyed last night might seem like simple everyday goods, but the energy required to produce them can be costly — both financially and environmentally. More than ever, businesses are under pressure to make creating such commonplace products more sustainable. If they're in Northern California, fortunately, they can get help from a perhaps surprising source: San Francisco State University engineering students.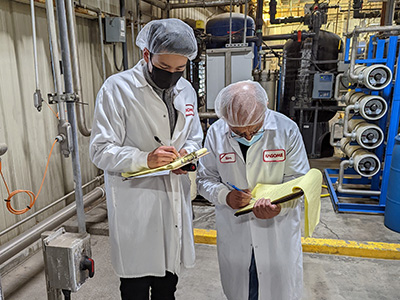 Graduate student Vincent Huynh and Director Ahmad Ganji
Since 1992, San Francisco State's Industrial Assessment Center (IAC) has been helping Central and Northern California manufacturers tackle these issues. The program provides small and medium-sized manufacturers free assessments of energy use, waste generation and water consumption. These assessments are largely conducted by SF State engineering students under the supervision of expert faculty, making it an excellent training ground for energy engineers.
"It's great to know that not only is IAC kind of the gold standard to me, but it has that educational value as well," said Aaron Stainthorp, sustainability manager at Jackson Family Wines. He's gone to IAC for six different audits over the years and says the reports he gets from SF State students are often far more comprehensive than a paid audit.
Funded by the U.S. Department of Energy (DOE), SF State's program is one of only two IAC programs in California and one of 32 in the United States. Nationwide, IACs provide assessments to manufacturers and water/wastewater treatment facilities that have an annual energy bill between $100,000 and $3.5 million. Most clients are located within 150 radial miles of San Francisco, though the team has traveled to Humboldt and Fresno Counties and has gone as far as Arizona.
The University's IAC assessed four of Jackson Family Wines' locations, but Stainthorp noted that the impact extended beyond any one winery. Advice for one location could often be implemented across multiple sites. IAC also helped the company develop their own rudimentary tools so they can track their own energy systems over time, giving them a self-sufficient pathway for continual improvement.
Each audit is performed by a team of undergraduate and graduate students who have undergone extensive training. After collecting and analyzing energy and water information from the plant, the students perform an on-site inspection, take measurements and collect energy and water related information. Two to three months after the visit, the team provides manufacturers with a detailed assessment report which includes recommendations for improvement. (Stainthorp's most recent assessment was about 130 pages.)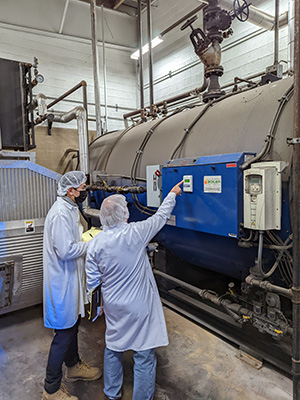 Graduate student Vincent Huynh and Director Ahmad Ganji
"Historically, about 60% of the projects that we recommend are implemented," said IAC Director and SF State Professor of Mechanical Engineering Ahmad Ganji. He started the center nearly 30 years ago and has seen over 150 students perform more than 575 assessments, resulting in approximately $91 million in recommended cost savings.
"By the time they graduate, students are full-fledged energy engineers that basically need very, very little training," Ganji explained. Many students get job offers before they even graduate.
Shelby Saji (M.S., '19) worked with IAC for nearly two years during graduate school and is now an energy and sustainability engineer at ICF International. Although IAC was her first professional experience, she feels like her training perfectly prepared her for her current position working on another DOE project. Her biggest takeaway was how to communicate assessments with clients and stakeholders, a key skill she continues to use to this day.
"This is definitely a platform where you can learn so many other skills than just engineering," she said. "It's not just about that. It's about so much more."
Current master's student Joe Murphy came to IAC with more than 20 years of professional experience as a mechanical engineer and high school science teacher. Even with years of engineering experience, Murphy has learned a lot.
"One thing that's been [especially valuable] is just the variety of industries that we visit," he said.
Given SF State's proximity to wine country, the University's IAC has assessed a lot of wineries. But IAC students have also worked with Blue Diamond Almonds, Crystal Creamery, tortilla manufacturers, wastewater treatment facilities for the City of San Francisco, metal fabrication facilities and more.
"All of the staples that we all buy every day and all of the things that we need to do to make our economy more resilient — I think this energy efficiency piece, it is so key," Stainthorp said. "It's often behind the scenes, but it impacts all of us, just probably in ways we don't see."
Visit IAC's website for more information about student training opportunities and how to request an audit.