SF State women's relay wins NCAA Division II 4x400 championship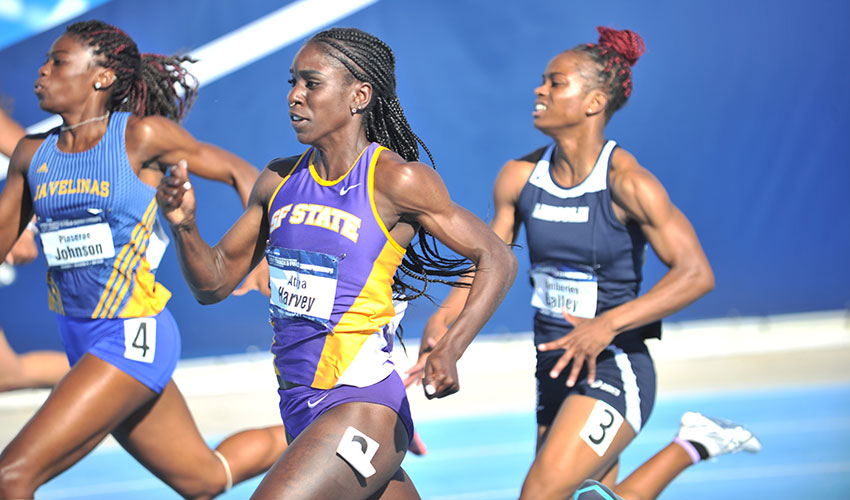 Gators place 16th overall at Outdoor Track and Field meet — highest ever for SF State
On the final day of the 2017 NCAA Division II Outdoor Track and Field Championships, San Francisco State University finished with two individual All-Americans and as National Champions in the 4x400. At the championships' conclusion, the SF State track and field team finished 16th overall with 18 points, both program records.
In the final event of the meet, the 4x400 relay, SF State went out with a bang. The quartet of Atiya Harvey, Vanessa Koontz, Kennedy Hardemion and Timarya Baynard ran a time of 3:37.80, the second-fastest time in program history. The quartet become SF State's first individual champions since 2013, when Naveed Bagheri was a national champion in wrestling.
Unlike the preliminaries, the final was not a photo finish in the 4x400 relay. Baynard took the baton and was in a near tie with Kendra Clark from Johnson C. Smith University but pulled away with a blistering-fast leg of 53.09 seconds.
The historic day began when decorated thrower Alex Jones competed in the shot put. Jones finished ninth in the first heat. Her opening throw of 13.54 meters started her off in eighth place. She moved to seventh with her second and best throw of the afternoon, a mark of 13.62 meters. Unfortunately, Jones faulted in her third and final throw and fell to ninth in the heat. Following the second heat, she finished 20th in the nation to wrap up her senior campaign.
The Gators returned to the track in the 400 meter finals. Baynard, the only freshman in the heat, finished sixth with a time of 54.18 to earn All-American honors, just seven hundredths of a second off her school-record time. Baynard becomes the first individual All-American in track and field since Tiana Wills earned All-American honors in the high jump at the 2014 Indoor Championships.
An hour later, Harvey joined Baynard on the podium, giving SF State multiple All-Americans for the first time in five years. Harvey took fourth in the 200 meter dash with a time of 23.75, just two-tenths of a second shy of her school record time set at the CCAA Championships.
West Texas A&M was the overall team champion with 64 points. Chico State tied for seventh with 25 points and was the top finisher from the CCAA. Humboldt State finished 11th with 23 points. The Gators cracked the top 25 with 18 points, taking 16th.