SF State and UCSF receive $14.8 million to continue tackling discrimination in science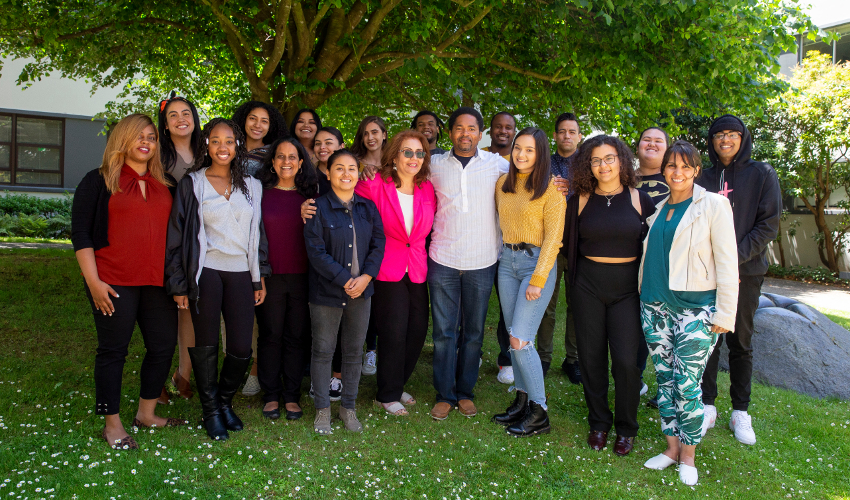 The SF BUILD program aims to change the institution, not the student
San Francisco State University and the University of California, San Francisco received a grant of $14.8 million from the National Institutes of Health (NIH) today to continue a program aimed at enhancing diversity in the biomedical sciences for an additional five years.
The initiative, SF BUILD (Building Infrastructure Leading to Diversity), was created in 2014 as one of 10 NIH-funded BUILD programs across the country. Each tests a different approach for enhancing the diversity of biomedical science. SF BUILD stands out for its aim to pivot away from attempts to fix any perceived "deficits" of underrepresented students — the skills or training that they supposedly lack — and instead change the university environment to be more welcoming.
"We're focusing on the ways we can make a change institutionally and the ways we can work with our faculty to change the lens of what can help our students from underrepresented groups succeed in science," explained SF BUILD Assistant Director Audrey Parangan-Smith.
To achieve that, SF BUILD organizes and supports programs that reach every level of the University. Through one, faculty and staff train university instructors on how to avoid language that's been shown to impact the performance of students from underrepresented groups. Through another, professors meet to discuss research on teaching so they can better serve their students. SF BUILD also supports a two-year student research training program and other mentorship programs as well as teams of researchers studying health disparities.
Collectively, the goal of these programs and others is to build on San Francisco State's history of activism and create a community of students and faculty empowered to enact change, says SF BUILD Director and SF State Professor of Biology Leticia Márquez-Magaña. "We're a catalyst — that's the grassroots approach," she explained. "That's what 50 years of history at SF State has taught us."
There's a pressing need to make health professions and research reflect the demographics of the population as a whole. To address disparities in health between different groups, researchers need to recruit diverse study participants — something the discipline has struggled with due in part to a lack of diversity in researchers and practitioners. "You have to have diversity in participants," said Tung Nguyen, a professor of medicine at UCSF and a new leader of SF BUILD. "Otherwise, the lessons you learn are not useful."
Additionally, the NIH is funded by U.S. taxpayers — and programs like SF BUILD play a role in ensuring that all taxpayers see the health benefits of that funding, including those from groups that the field has historically ignored.
SF State and UCSF collaborate on the initiative, taking advantage of the respective strengths of each institution. The partnership gives SF State students greater access to UCSF's vibrant research environment and facilities while giving UCSF professors the chance to recruit students from SF State's diverse student body.
"As the two major educational institutions within San Francisco, our collaboration is particularly powerful for improving both educational opportunities and research related to health for all communities in San Francisco," said Kirsten Bibbins-Domingo, SF BUILD's principal investigator at UCSF and the vice dean for population health and health equity at UCSF's School of Medicine.
The next five years of SF BUILD will bring an increased effort to institutionalize programs — finding ways to ensure they'll live on after the five-year funding period — and will also see a shift in focus toward deeper issues that impact student performance. "From the data we've collected, it's clear that the chronic racism students experience in STEM is bad for their emotional and mental health and causes underperformance in the classroom," said Márquez-Magaña. The project's new framework focuses on building awareness and acceptance of these issues in the campus community and prompting action to address them.
Already, the program's leaders say, they've seen a shift in how faculty members talk about the challenges faced by their students. They've also worked to spread their findings nationally through research papers, books and workshops. Over the next five years, they'll continue seeking new ways to measure the program's impact and inform other institutions of their findings, ensuring that the systems they've created to catalyze change can be replicated elsewhere.
"We want to disrupt current practices in science to create the space for new ones that are inclusive of all students," Márquez-Magaña explained. "We're all sparks, and we expect the agents of change in SF BUILD to go out there and start a fire."