SF State study examines the role of race in Airbnb rates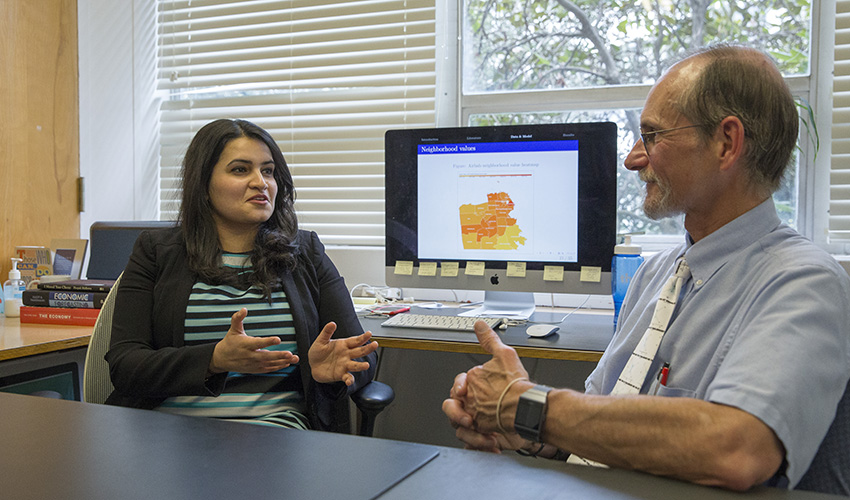 Latino and Asian Airbnb hosts in San Francisco priced similar rentals 10 percent lower than Caucasian hosts
Peer-to-peer ecommerce sites like Etsy and Airbnb have evolved over time to become personalized marketplaces, as sellers and buyers frequently use photos and biographical information to build trust with customers. However, some researchers believe this practice has opened the door to discrimination.
SF State Assistant Professor of Economics Venoo Kakar, Economics Lecturer Joel Voelz and other graduate students in Kakar's econometric theory class were curious about online rentals in San Francisco after reading a 2014 study on Airbnb hosts in New York City. The NYC study found that, on average, African American hosts priced their rentals 12 percent lower than Caucasians with similar listings. The authors attributed this finding to discrimination. Kakar and her students conducted a similar study to see if profile information, such as race, sexual orientation and gender, had any impact on the price of San Francisco Airbnb listings.
According to the resulting study (which appeared in the Journal of Housing Economics late last year), on average Latino and Asian hosts in San Francisco priced their rentals 8 to 10 percent lower than their Caucasian counterparts with similar listings. An average San Francisco Airbnb rent is $203.87 per day and the average occupancy rate is 69 percent, which translates into a yearly revenue gap of around $4,100 for minority hosts. This could indicate that minority hosts were pricing their rentals lower because of perceived discrimination, the authors said. However, they also offered other possible explanations.
"It could be that minorities want to attract a bigger pool of renters by keeping their prices lower," Kakar said. "It's possible that hosts want to keep their occupancy rates up in order to maximize their profits; however we did not find a difference in occupancy rates between similarly priced listings. Lastly, some hosts may price their rentals to attract a certain kind of renter for some type of social reason."
To create the sample for their study, which totaled 800 rentals, Kakar and her students only included listings that had photos of hosts. Based on the host image and biographical information, they placed hosts into different categories: 74 percent of the group was white, 14 percent was Asian and six percent was Hispanic. Their comparison took into account the rental's size, location and customer reviews. The only discernable difference for potential renters, other than price, was the host's race.
Identifying discrimination in a scenario where the seller is the victim is challenging, says Voelz, who co-authored the paper as a graduate student. Discrimination is more apparent when a host refuses to accept a potential renter.
"That's where you will see lawsuits. If a renter looks at a site and decides to pass up a rental because there is a minority host, that's invisible," he said. "To find out why there's a price difference, you'd have to talk to the minority hosts and ask them why they price 10 percent lower."
Airbnb doesn't control how much hosts charge renters; putting up a profile photo is also voluntary. The company does have a non-discrimination policy that everyone must agree to in order to participate in the marketplace. "It's a good faith effort to address the issue," Kakar said.
Eliminating profile information altogether could curb possible discrimination, but that goes against the growing trend in ecommerce, Voelz says.
"The plus side of this was that buyers began to develop a personal relationship with sellers," he said. "Online sellers are now introducing all of the elements that you have in the brick-and-mortar store, which is that you see who is buying and who is selling. If there is a prejudicial streak, you can have discrimination."
Citation: Kakar, Venoo; Voelz, Joel; Wu, Julia; Franco, Julisa. "The Visible Host: Does Race Guide Airbnb Rental Rates in San Francisco?" Journal of Housing Economics, 2017. DOI: 10.1016/j.jhe.2017.08.001.