SF State students fly to Cape Town to learn, help and offer hope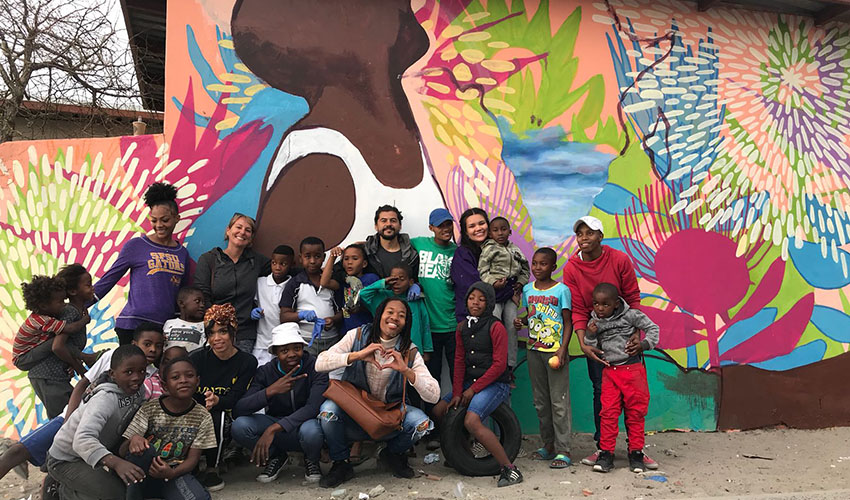 Future educators bring home stories and leave behind a cherished mural
Vrygrond Township in Cape Town, South Africa isn't exactly a tourist trap. The economically challenged community lacks basic services such as fresh water and sewage treatment and has been plagued by gang violence. Yet each summer, you'll find students from San Francisco State University there. They aren't searching for typical school break fun in the sun. They're looking for opportunities to learn and help. And they've found them.
Every June for the past five years, a dozen students and staff from San Francisco State's Department of Child & Adolescent Development (CAD), Early Childhood Special Education and EDvance programs have boarded a plane, some for the first time, and flown to South Africa as part of CAD's honors program. Led by Lygia Stebbing, director of EDvance (an early childhood teacher preparation program in SF State's Marian Wright Edelman Institute), the group spends eight weeks partnering with early childhood educators in Vrygrond. They learn Afrocentric curriculum practices and share methods for reinforcing good behavior with local teachers.
"In communities that have been marginalized, positive-behavior support methods make a lot of sense because they're empowering," said Stebbing. "Reinforcing positive behavior and students' strengths focuses on the bright spots, and the teachers really understand the importance of that."
This year, one of the brightest spots of the program was a community mural that the students, teachers and community members completed in honor of Mandela Day, an international celebration of South African leader Nelson Mandela. Mexican muralist Libre Gutierrez volunteered to join the SF State contingent this year to lead people of all ages in painting the vibrant mural, which depicts native people, plants and wildlife.
"On Mandela Day, you do 67 minutes of service for the 67 years Nelson Mandela spent fighting for social justice," said Stebbing. But the SF State students spent much more than 67 minutes, sacrificing planned weekend trips to help finish the mural by working sunup to sundown. The mural became a beloved place of healing and unity, Stebbing said.
The trip follows a semester in which the SF State students learn about African history, political systems and economy as well as the race and class divisions in Cape Town. "Vrygrond is an incredibly culturally diverse place with many different languages spoken and very different cultures," said Stebbing. "For many of our students, this is the first time they've been out of the state or on an airplane. It's a big eye opener."
The students bring home songs they've learned in various African languages as well as dances and stories, which they share with the preschool children they work with here in San Francisco. But the partnerships the students form with teachers and community members last far beyond the eight-week trip.
"Working with the children of Vrygrond was a highlight of my trip in South Africa, but building relationships with the teachers and friendships with people my age in the township gave me the most perspective," said Sylvia Gin, who graduated in May from the Metro CAD program with a bachelor's degree in Health Education. "I was able to learn about opportunities the preschool students would have in their future."
Brijhe Pointer, a student in the master's program for early childhood education, said she could not have imagined that doing something as seemingly simple as painting a mural could affect a community in such a positive way. "This was so much more than just a painting. It was a way of bonding with the community," she said. "I have never felt such an abundance of love and gratitude like the community of Vrygrond radiated out."