SF State student honored with CalHOPE Courage Award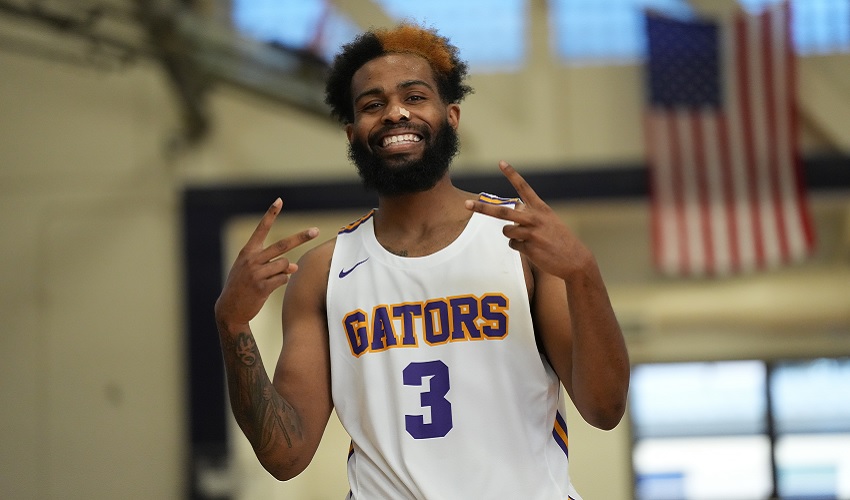 The award, given to junior basketball player Breyon Zebaniah Jackson, honors student-athletes who've overcome personal hardships
San Francisco State University junior Breyon Zebaniah Jackson is one of two California student-athletes to receive CalHOPE Courage Awards in March. The award honors student-athletes who have overcome the stress, anxiety and mental trauma associated with personal hardships, injury or life circumstances, particularly during the COVID-19 pandemic. Jackson, a forward for San Francisco State's men's basketball team, shared the honor with Julia Shwayder, a member of Occidental College's women's lacrosse team.
Jackson has overcome huge challenges to become a key member of the SF State squad. Growing up in eastern Maryland, near Washington, D.C., he lost three childhood friends to gun violence. His father passed away his freshman year of college, and an injury his sophomore year, while playing for CSU Long Beach, forced him off the court for a time. He transferred to a school closer to home, West Virginia University, but COVID quarantines and financial difficulties cost him his spot on the basketball squad.
But Jackson didn't give up. He had family in the Bay Area as well as CSU credits from his time at CSU Long Beach. So he took his next shot at college at SF State.
It paid off: The International Relations major is thriving both in class and on the court (where he's been shooting 48.1 percent from the field and 76.7 percent from the free-throw line).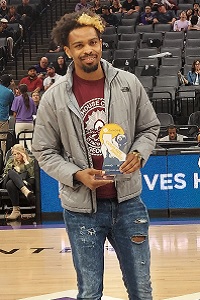 Jackson with his CalHope Courage Award.
"Having that marathon mentality is what got me through," said Jackson, who was presented with his CalHOPE Courage Award April 5 at Golden 1 Center in Sacramento. "And I hope that same energy inspires the next person to do whatever it is to change their mindset and environment and make it conducive to having the lifestyle and mental mindset to make them happy. Everyone deserves the pursuit of happiness."
Achieving that happiness can be hard though — particularly without help. That's why Jackson, though a private person, says he's willing to discuss his struggles publicly. He hopes his example can inspire others to seek out mental health services and other support.
"As a man of faith I really just want to be used for the glory of God," he said. "Even if that means being vulnerable under a microscope I'm willing to do that if it results in an increase in awareness and activity in black and brown communities. One of my favorite poets, Airmiess Asghedom [a.k.a. Nipsey Hussle], always said, 'I've been through every emotion, I've been through every emotion trying to pursue what I'm doing. The only difference between me and anyone else is I just didn't quit.' That stuck with me, and I've been living by it ever since."
The CalHOPE Courage Award is presented by the College Sports Information Directors of America (CoSIDA), in association with the Associated Press (AP) and CalHOPE, a crisis counseling and support resource for communities impacted by public health emergencies or natural disasters, operated by the California Department of Health Care Services (DHCS).
From homeless to hopeful: SFSU forward's mission goes far beyond basketball. https://t.co/lO2B05ZlkWpic.twitter.com/3ku1EM8YMU

— San Francisco Chronicle (@sfchronicle) April 11, 2022