SF State smoothes the path to graduation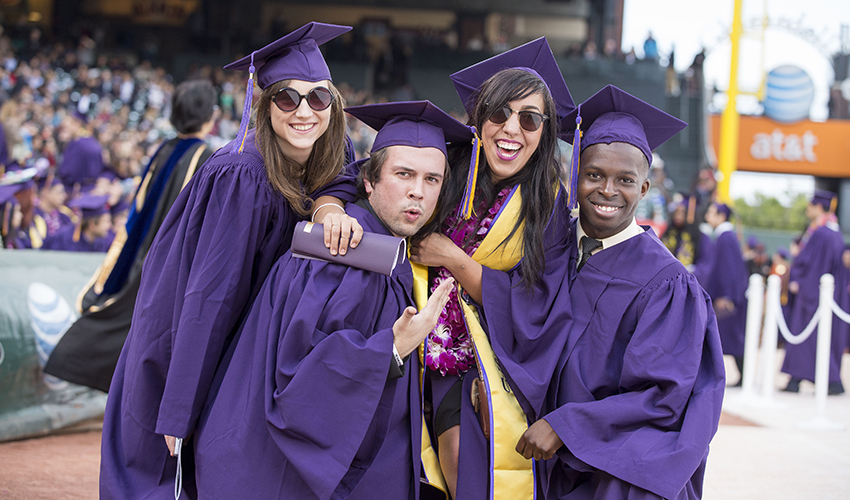 Teagle Foundation mini-grants lead to innovations, more course choices  
Earning a bachelor's degree in four years requires hard work and persistence. It also requires something that's not always under your control: getting into all the classes needed for your degree. So when a 2013 survey of San Francisco State University students revealed that they consider enrolling in required courses their biggest obstacle to a timely graduation, the University took action. The result: the distribution of $280,000 in departmental "mini-grants" supporting course redesign. The project has streamlined different pathways for more than 6,500 students to meet requirements for their majors.
Led by Provost and Vice President for Academic Affairs Jennifer Summit, the project was funded by the Teagle Foundation, which promotes teaching and learning in the arts and sciences. One-third of all departments at San Francisco State and more than 40 faculty members participated, using the grants to fund faculty-led initiatives through student focus groups, alumni surveys and course development and support. The project also funded work retreats and other networking opportunities that strengthened faculty relationships and cross-campus cooperation.
"By establishing faculty communities of practice within and across the disciplines, we could identify meaningful curricular changes that would help students graduate faster," Summit said. "We also saw how new approaches to curriculum design can reduce costs, strengthen student engagement and retention and sharpen the University's culture of teaching and learning."
According to a Teagle Foundation report, the changes impacted 6,748 students, giving them more flexibility by merging courses and degrees that were previously separate. For example, a Department of English Language and Literature course on Shakespeare now incorporates the linguistics and history of Elizabethan literature, not just the study of canonical plays and poetry, making it easier for English majors to fulfill multiple concentrations within the department instead of just one.
The Department of Earth & Climate Sciences previously offered two bachelor's degrees which had no shared courses in common. Now it offers a single B.S. degree in earth sciences, giving students a choice of one of three areas of emphasis, a change that provides more course options that fulfill graduation requirements.
Associate Professor of Communication Studies Mindi Golden says her department made similar reforms, creating new courses that better fit students' academic needs.
"Our students are starting to recognize how much choice they now have within the major," said Golden, who helped lead her department's grant project. "Personally, I have initiated two new one-unit classes that meet over an intensive two-day period. Students have been incredibly positive about how much they learned in a short, intensive period and how engaged they felt during the extended class meetings."
Moving forward, Summit says SF State will continue to build on these mini-grant innovations in collaboration with the California State University's (CSU) Graduation Initiative 2025, which aims to increase graduation rates for all CSU students.
"Finding new ways to help students graduate more quickly is a priority at all CSU campuses," she said. "I'm immensely pleased that the mini-grant initiative has allowed us to take a big step toward that goal."