SF State researchers bring science to summer camp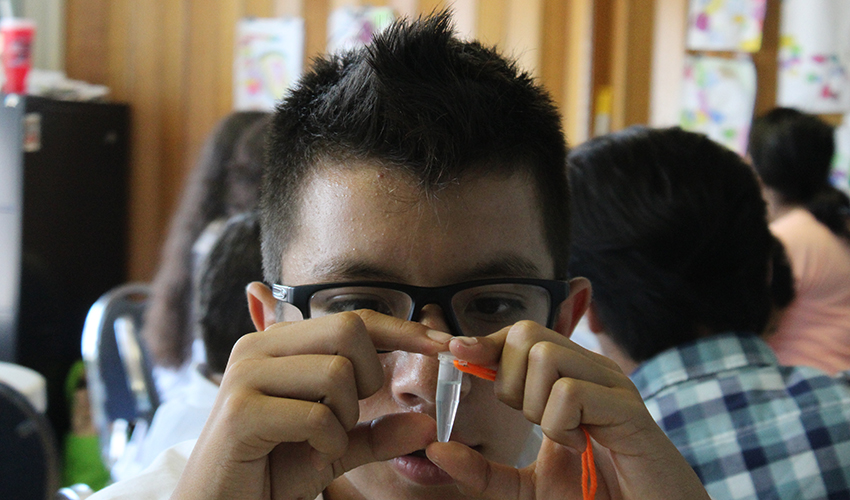 Researchers teach children to use household items to extract DNA
An 8-year-old girl dressed in a white, oversized lab coat proudly smiled as an SF State researcher tied a vial around her neck as if she had just won a gold medal. Inside the vial was a unique treasure: her own DNA, the result of a summer science activity at the Latina Center in Richmond.
She was one of 45 children who swished Gatorade inside their mouths and collected their own cheek cells to extract the DNA. SF State researchers with the University's Health Equity Research (HER) Lab brought other household items such as meat tenderizers and ethanol to open up the cells and extract the DNA. For some of these kids, this was their first time learning about DNA. The event was made possible through a collaboration between the lab and the Richmond community center.
SF State post-baccalaureate researcher Edgar Josué Velázquez, who has worked closely with the Latina Center on a separate park prescription project, said education is a major concern for the community. "By exposing these kids to science, maybe one of them will discover they like it and pursue it," he said. "Hopefully, we can enable a full representation in the biomedical field by increasing the number of minority students who want to use science to improve community health."
Cathy Samayoa, an SF State alum and post-doctoral fellow in the HER Lab, said working with the kids is quite personal and literally hits close to home. She lives blocks from the Latina Center, and some of her family members have used the organization's services. "Science outreach is important for kids, especially in neighborhoods made up of people who are underrepresented in the sciences. I came from one of those communities, and we didn't really see scientists that looked like us," she said. "In order for people to see what they're capable of doing they have to be represented."
This one-day event grew out of an ongoing research partnership between the Latina Center and the HER Lab, among other organizations, according to Velazquez. Together they're studying the benefits of a park prescription program by evaluating the impact of two monthly nature walks on the health of community members. Velazquez said he tests participants for the stress hormone cortisol. The park program will start again in August; in the meantime, the center approached Velazquez about the science activity with children, something he hopes to do more of in the future.