SF State professor helps bring classical music to 'the playa'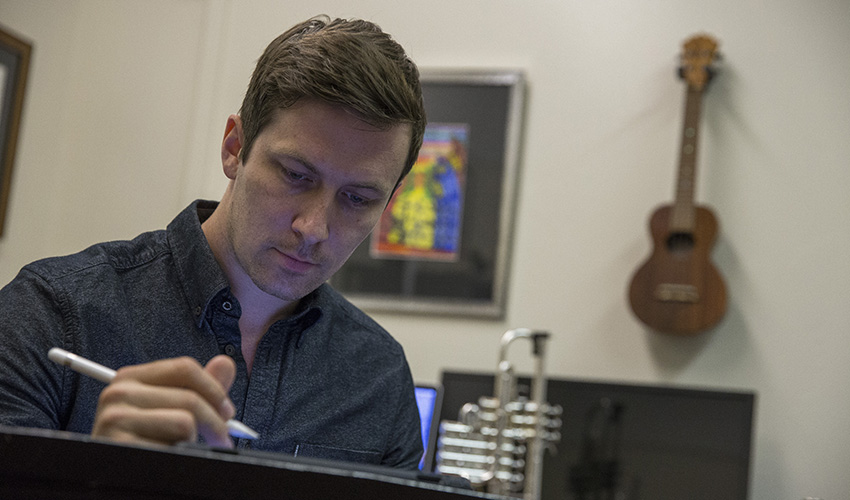 The Playa Players Collective will perform Igor Stravinsky's "Rite of Spring" at Burning Man
Classical music may not be the first thing one expects to hear emanating from the hot, dusty Black Rock Desert during Burning Man 2017. But SF State Assistant Professor of Music Brad Hogarth, 35 musicians, several dancers, sound engineers and light artists are planning to change that on Aug. 30.
This year, as thousands of "burners" descend upon the playa, they'll be greeted by a sunset performance of Igor Stravinsky's "The Rite of Spring" by the Playa Players Collective — a group of at least 75 artists, including fire-breathers and a contortionist. The Tree of Ténéré, a climbable, three-story tree with 25,000 LED leaves, will serve as the backdrop for the performance. Sound, movement and a person's biorhythms control the tree's lights, so it will be an integral part of the show. 
Radical Ritual is this year's theme at Burning Man. "Being classically trained musicians, the first thing that comes to mind is Stravinsky's 'The Rite of Spring' because the ballet depicts a pagan ritualistic sacrifice, so it seemed appropriate to bring it to the playa," Hogarth said. "When Stravinsky's 'Rite of Spring' premiered more than 100 years ago in 1913, it caused an uproar and nearly incited a riot. It depicted Russian pagans ritualistically sacrificing a virgin, something audiences had never seen."
This year's performance is the brainchild of flutist Courtney Wise, who met Hogarth when they were students at the San Francisco Conservatory of Music. Wise reached out to Hogarth, who offered to conduct, and Robert Dekkers, artistic director and founder of the Post:Ballet dance company, to create choreography. Since many of the musicians and artists will be coming from afar, they'll only have two rehearsals at the end of August before leaving for Burning Man, which runs from Aug. 27 through Sept. 4.
Hogarth, a Burning Man neophyte, has always been curious about the event, but his schedule never afforded him the time to live in the desert for a week. But this year, the opportunity to conduct and make a project out of it was too enticing to pass up. The performance will come with a unique set of challenges, such as dust storms, visibility and amplification.
"We've got to worry about amplifying every instrument because a trumpet will project in the desert better than a flute, but everyone needs to be heard as if it's a concert hall. Our sound engineers will play a big role," Hogarth said. "Also, we're playing this at sunset so visibility is a concern. And if there's a dust storm while we're playing we'll just hunker down until it stops."
Hogarth hopes the performance creates a new audience for classical and orchestral music. "Burning Man is stereotyped as being more of a stage for electronic dance music, but I hope this music reaches a broader audience," he said. "We're putting together something that will easily engage all of the senses. It's going to be a visual spectacle, and there will be amplified sound pumping through speakers."
There's currently a trend in classical music toward holding shows in dance clubs where there's a DJ playing in between classical sets, and some composers are even incorporating electronic DJs into the actual orchestral composition, Hogarth said. "Stereotypically, the classical music scene is of an older generation, so bringing younger people into the concert hall is really important," he said. "Hopefully, this can be one of those branches, especially if people see what we can do on the playa, not just in classical orchestral music, but with a ballet that combines theatrics and dance with one of the greatest pieces written in the classical music repertoire."