SF State professor brings equitable math education to the foreground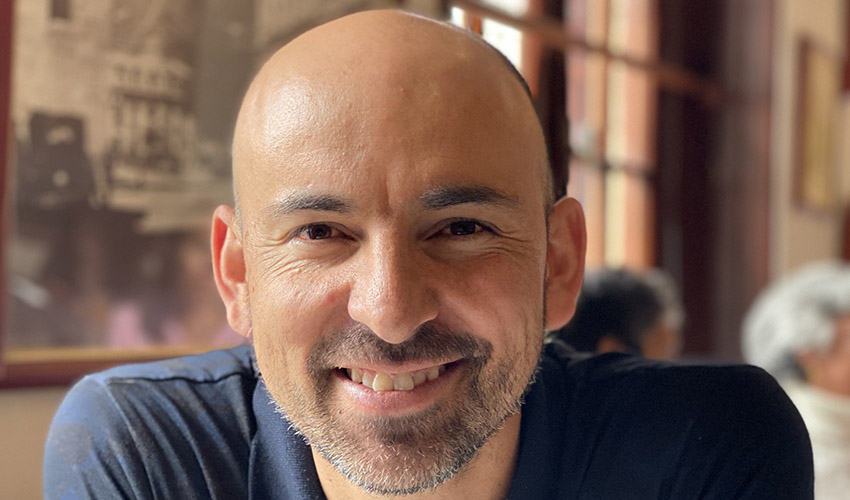 Federico Ardila-Mantilla's teaching is highlighted in the latest issue of The Atlantic
A new profile in The Atlantic has put San Francisco State University Professor of Mathematics Federico Ardila-Mantilla in the national spotlight for his efforts to provide equitable math education. The article is taken from a new book, "The End of Bias: A Beginning" by Jessica Nordell, which describes the prevalence of unconscious bias and how to mitigate it. The Atlantic excerpt explores how Ardila strives to create an inclusive environment in his classroom by avoiding demoralizing language, encouraging participation and making lessons relevant to students' lives.
In the midst of this buzz, Ardila just received more good news: He's been invited to speak at the 2022 International Congress of Mathematics (ICM). It's one of the highest honors in the mathematics field — and one that's left him emotional.
"I knew that I was good for a Latino mathematician, [but] I think that it has taken me many decades to understand — and this invitation is a validation — that like, no, you're actually just hella good! No qualifiers," he said. "I think society has told us [Latinos] that we are less, and it's something we just carry inside."
Throughout his career Ardila has seen educational systems select and amplify privileged individuals while leaving others behind. That's what he tries to combat in his own classes by taking a humanistic approach to math. From playing music during class to providing open-ended math problems, Ardila is trying to build a safe environment for his students that nurtures learning.
Ardila says he didn't receive much pedagogical training before arriving at San Francisco State. After joining the University faculty in 2005, he began interacting with mathematics educators in his own department and taking education workshops with faculty in several different departments. "Arriving at SF State, I found an environment that was much more thoughtful about how to teach, much more thoughtful about different styles of pedagogy," he said.
It is not lost on him that SF State is also one of the birthplaces of ethnic studies. This adds a facet to math and science education that is often neglected. "I think the ecosystem of SF State makes it very natural for me to talk about [race and education]," he explained, adding that he has friends at other universities who are afraid to have these conversations.
All this makes honors like the invitation to the ICM that much sweeter. Ardila works in the field of combinatorics, a newer area of mathematics that has only recently picked up traction as its applications to computer science and other disciplines have become more apparent. By focusing on the interplay between combinatorics and other areas of math, such as algebra and geometry, he and his colleagues recently solved a problem that mathematicians have been trying to crack for over 40 years. Being at SF State, Ardila is proud to prove he can be both a rigorous researcher and part of a university community focused on equitable teaching.
"I think, for example, mathematicians listen to me when I talk about math and society and education and race because of my research in pure mathematics," he said. "You know, that shouldn't be why they listen to me! But my research, my teaching and the positive change that I try to bring to these disciplines have always come together, so it's a great feeling to have these recognitions arrive together."