SF State Magazine named Robert Sibley Magazine of the Year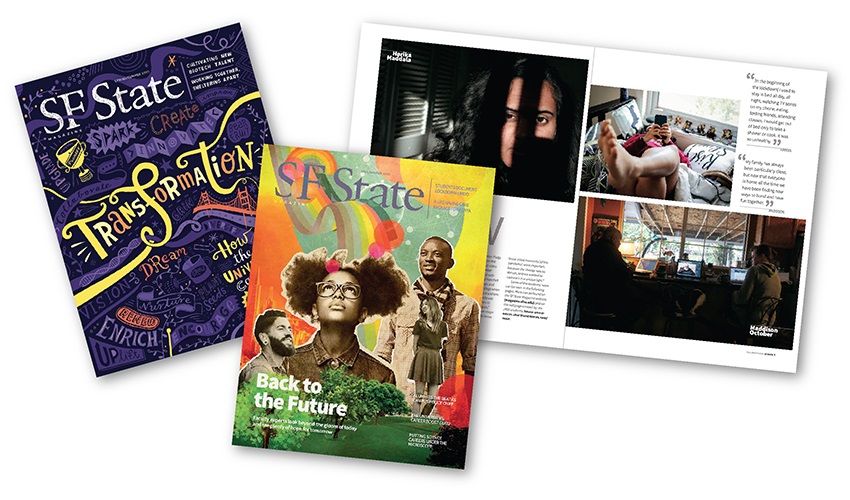 Given by the Council for Advancement and Support of Education, the Sibley is the highest honor in the field for university magazines
SF State Magazine has been named the 2021 Robert Sibley Magazine of the Year by the Council for Advancement and Support of Education (CASE). Each year, CASE — a global nonprofit dedicated to educational advancement — honors universities around the world for communications projects in a number of categories. The Sibley is the highest honor for university magazines. Past winners have included Cornell, Stanford, Harvard, Yale, Duke and Johns Hopkins.
"San Francisco State Magazine did an excellent job representing its community through the intimate reflections of its people. ... It has an authenticity, and shows the values of the school without lecturing," the Sibley judges wrote. "There is often great attention to photo and illustration choices, and nearly every square inch seems to have been developed with care. And finally, this: The connection to a sense of place makes this magazine a cut above."
The Sibley was awarded in honor of SF State Magazine's two 2020 issues. Those issues also received a CASE Circle of Excellence Gold award.
"This magazine was the full package: Eye-catching, original design, and great photography," the judges in that category wrote. "A satisfying mix of content. Strong headlines and leads reinforced by thought-provoking story telling. The team's effective use of resources, including a small budget, really stood out."
The award-winning Spring/Summer and Fall/Winter 2020 issues can both be found on the SF State Magazine website.