SF State launches Men of Color program to address academic inequities, unhealthy masculinity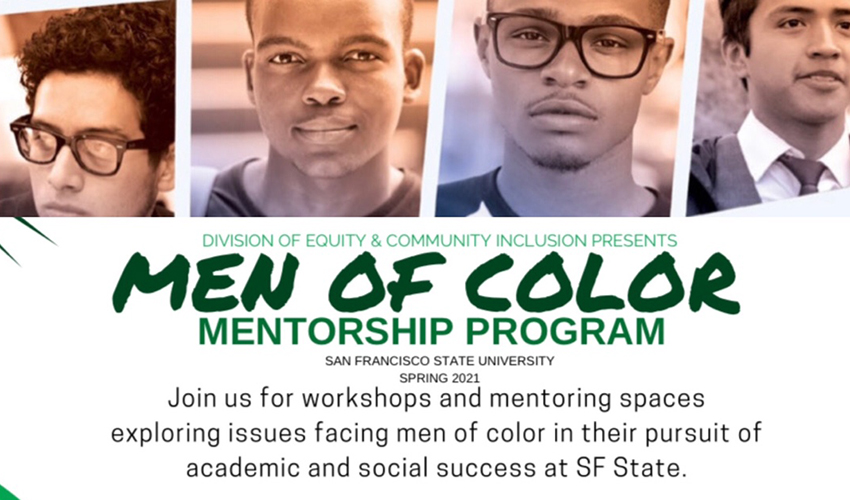 Program aims to improve graduation, retention rates for men of color and promote healthy masculinity
A new San Francisco State University program aims to address concerning college retention and graduation rates for male students of color. A collaboration between the Division of Equity & Community Inclusion and Health Promotion & Wellness (HPW), the new Men of Color (MoC) program focuses on the academic, social and personal development of San Francisco State students who are men of color.
"Currently, some of our students who are men of color need a little extra support to make it to the graduation finish line," said Assistant Vice President of the Division of Equity & Community Inclusion Frederick Smith, who helps oversee the program. "This program is an example of that support."
According to U.S. Department of Education data, college retention and graduation rates for men of color students are substantially lower than rates for white male students and women of color. In 2016, for example, the gap between college female and male enrollment was widest for Black students — 62% versus 38%, respectively.
MoC was developed to address these low retention and graduation rates for men of color while supporting the California State University (CSU) Graduation Initiative 2025, an ambitious effort to increase graduation rates at all CSU campuses. The program offers various academic support resources for male SF State students of color. It also provides non-academic resources that touch on mental health, healthy masculinity, financial literacy and more. An inaugural cohort for the program was recruited this semester.
SF State faculty and staff members can nominate students to be part of the program. Nominees can then accept their nomination, which gives them access to workshops, programming, networking opportunities and mentorship from faculty and staff who are men of color.
"Students don't have to be highly involved with extracurricular activities or have experience taking on leadership positions," Smith said. "In fact, men of color who are emerging leaders or are still growing their connection to the campus would be good for the program."
Denmark Diaz, an HPW men's health educator who organizes healthy masculinity workshops for MoC, says the program is also a way to disrupt expressions of masculinity that can be unhealthy for students. Why is it important to do this? Because unhealthy messages about masculinity are all around us, he says.
"It's in our interpersonal interactions. It's in our media and how men are portrayed. It's in our relationships with our family and friends," Diaz said. "So it's really hard to disrupt unless we take intentional time to really unpack it."
That's why MoC is designed to be a safe space for male students of color who want to not only embrace healthy masculinity but also foster a culture where men support other men. Diaz helps cultivate this space by coordinating "Step Outside the Box," a weekly series of workshops part of the broader MoC program. Through these workshops, he facilitates dialogue that covers a gamut of topics: basics of healthy masculinity, what masculinity may look like among different racial communities and intersecting identities, healthy communication, emotional expression and more.
Another important component to MoC is giving male students of color a sense of connection with the campus community. Roberto Renteria, an MoC student who is getting his Ed.D. in Educational Leadership, said the program was key to that, especially during the pandemic when students are learning remotely. He also said MoC was a great way to connect with people who have similar backgrounds.
"Coming from a first-generation background, knowing that there are others that are similar, that are coming from those experiences definitely is empowering," Renteria said. "You know you're not in it alone."
MoC is partly funded by the Coronavirus Aid, Relief, and Economic Security (CARES) Act, an economic stimulus bill passed during the COVID-19 pandemic. Questions about MoC can be emailed to Smith at fredericksmith@sfsu.edu or Diaz at denmarkd@sfsu.edu.