SF State kicks off 2021-2022 academic year with in-person Convocation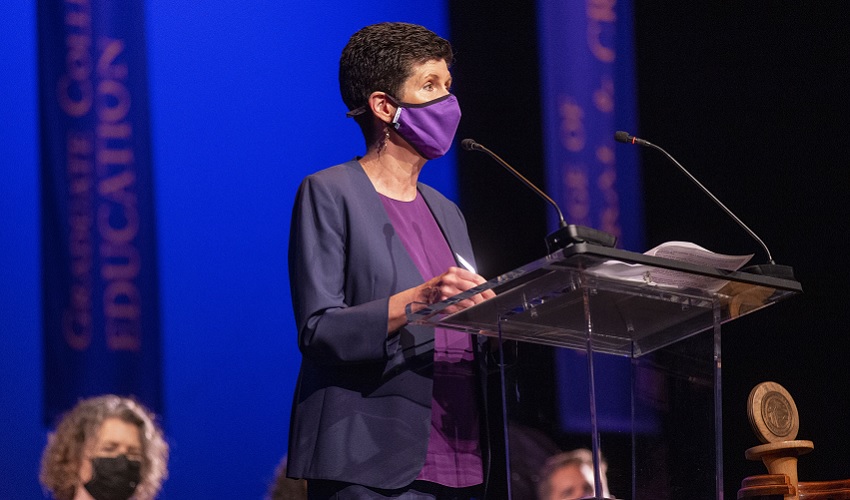 The annual ceremony welcoming back faculty and staff for the Fall semester was held in-person and livestreamed
On Wednesday, Aug. 18, San Francisco State University marked the beginning of the Fall 2021 semester with its traditional Opening Convocation ceremony for faculty and staff. Though last year's Convocation was entirely virtual due to the COVID-19 pandemic, this year's ceremony was held live, to a limited capacity audience, in the University's McKenna Theatre while also being livestreamed via the website of the San Francisco State Academic Senate. SF State President Lynn Mahoney, Provost and Vice President of Academic Affairs Jennifer Summit, Vice President of Student Affairs & Enrollment Management Jamillah Moore, Associate Vice President – Division of Equity & Community Inclusion Frederick Smith and other University leaders welcomed back faculty, staff and administrators, most of whom had been working remotely since the spring of 2020. The Fall semester will feature a mix of live and remote instruction, with plans for in-person classes for as many as 13,000 of the University's more than 25,000 students.
In her address, President Mahoney highlighted the success of the University's efforts to prepare for a safe return to campus for so many students, staff and faculty.
"We launched one of the most ambitious safety programs in the CSU: requiring proof of vaccination, not just attestation, and requiring that all residential students be tested upon arrival and then again five days later," she said. "The volume of work necessary to complete this would typically take months. I watched last week as dozens of staff members and administrators moved heaven and earth to do this in two weeks. Colleagues working together across units made contracts happen, identified staffing needs and engaged in intensive communications with students — including individually calling 5,000 in three days. I have never seen so many work so hard, so quickly and so effectively. Thanks to their efforts ... we have one of the highest vaccination rates in the CSU."
President Mahoney also pointed out how much the University has achieved in the last year despite the pandemic. Construction was recently completed on the first new academic building at SF State in 25 years — George & Judy Marcus Hall for the Liberal and Creative Arts — and the new Manzanita Square residence hall has opened. Work also recently began on a new science building, more than 80% of faculty members have participated in a professional development program through the University's Center for Equity and Excellence in Teaching and Learning (CEETL) and various initiatives, such as the new Bias Incident Education Team and Black Lives at SF State Advisory Group, have been launched to bolster equity on campus.
In her remarks, Vice President Moore saluted students for everything they've managed to achieve in the midst of the worldwide COVID crisis.
"Many of our students are, as I was, first-generation college students, and they embody the hopes and dreams of their ancestors," Moore said. "They will achieve their goals and dreams because of the education they receive at San Francisco State University — a college degree that can provide them with the skills that prepare them for a career and life and, for many of our students, changing the trajectory of their family income in a positive way forever. ... To our students, thank you for being members of the Gator family. Please know that we see you, we are here for you, and we will continue to support you. Everything we do is about our students, because without them there is no institution."
You can view the 2021-2022 Opening Convocation in its entirety on the SF State YouTube channel.