SF State honored for support of Latinx transfer students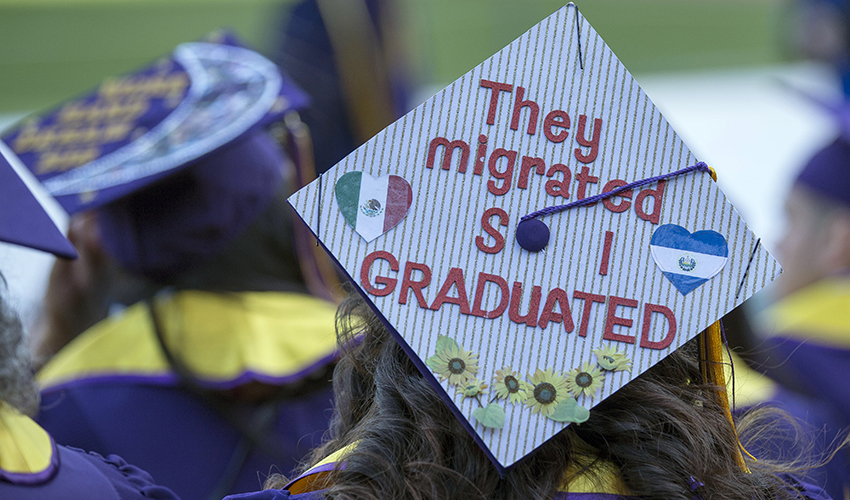 Campaign for College Opportunity names SF State an Equity Champion of Higher Education for Excellence in Transfer for Latinx Students
San Francisco State University was recognized this month for its successful support of Latinx transfer students, utilizing a California law that has streamlined admissions requirements. The Campaign for College Opportunity named San Francisco State as an Equity Champion for Excellence in Transfer for Latinx Students.
The Associate Degree for Transfer (ADT) has established a clear, user-friendly pathway for students to earn an associate degree with guaranteed admission and junior standing into the California State University system. Created with state legislation in 2010, ADT has helped more than 280,000 community college students transfer without accumulating excess units, saving them time and money.
Analyzing data from all community colleges and public universities in California, the Campaign for College Opportunity found that SF State awarded ADTs to 443 students in 2019 – 2020. As a result, Latinx transfer students at SF State performed at 3.12 percent higher than the statewide average for Latinx college students.
U.S. Census data indicate that Latinx people comprise the largest racial/ethnic group in California; 52 percent of Latinx residents are younger than 30. This fall, 36.7 percent of the SF State student body is Latinx.
"It is imperative that California substantially raise the college-going and completion rates of the Latinx community," Campaign for College Opportunity President Michele Siqueiros said. "The state's future is intrinsically tied to the success of its Latinx community."
"Thanks to these institutions' implementation of the Associate Degree for Transfer, thousands of students achieve their goal to cross the graduation stage every year," Siqueiros said. "This year's champions are shining examples of what happens when colleges and universities embrace policy that supports California students and work intentionally to close racial equity gaps."
Equity Champion honorees were announced at a Nov. 16 virtual event featuring remarks from students and administrators from community-college and Cal State campuses. SF State Political Science major Jasmine Prasad, who transferred from Folsom Lake College, spoke in her role as a vice president for the California Community Colleges' Student Senate.
The Campaign for College Opportunity is a California nonprofit bipartisan policy and research organization.