SF State experts say 'Summer of Love' legacy still widely felt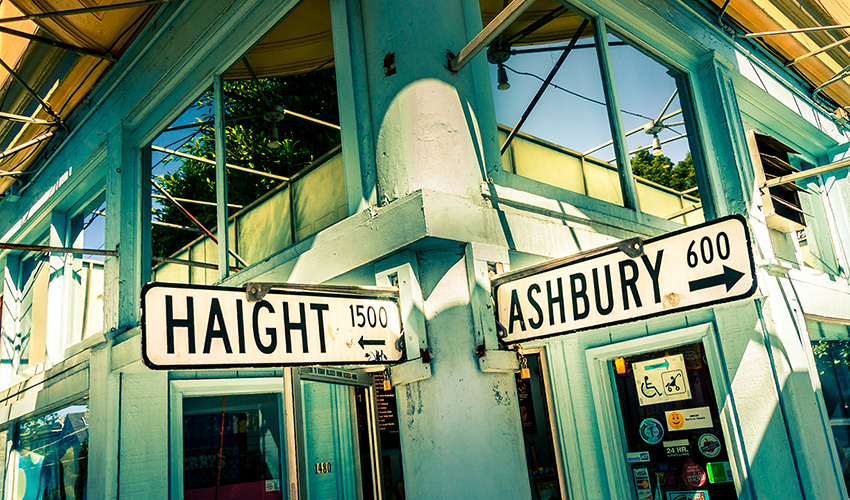 According to some, the Summer of Love was over before it began, but its imprint is indelible
Part 1 of six stories about the lasting legacy of the Summer of Love
It was 50 years ago that the phrase "Summer of Love" was used in a San Francisco Chronicle article to refer to the happenings in the Haight-Ashbury District that eventually drew nearly 100,000 young people eager to "turn on, tune in, drop out."
A citywide celebration commemorating the anniversary is underway with a number of talks, tours, art exhibits and a possible summer concert. As the city's university, SF State has a number of connections to the movement, including "Whatever It Is," the last legal "acid test" (held on campus in 1966), and a number of notable alums. Today, University experts say the movement's legacy has deeply influenced music, journalism, activism and sexuality.
Trailblazing alumni include psychedelic poster artist Wes Wilson, Charlatans drummer and singer Dan Hicks, Sam Andrew of Big Brother and the Holding Company band, actor and former member of the activist group the Diggers, Peter Coyote, light show pioneer and SF State Professor Emeritus Seymour Locks, Rolling Stone writer Ben Fong-Torres and longtime manager of the Grateful Dead Rock Scully.
SF State Humanities Lecturer Peter Richardson has written extensively on the time period, which many say was unraveling by 1967 under the weight of all the new arrivals. In his book "A Bomb in Every Issue" about the SF-based muckraking magazine Ramparts, Richardson wrote that many musicians and artists had misgivings about the massive migration of youth.
"The folks who lived in our youth ghetto in Haight-Ashbury in '65 and '66 were of an artistic bent, almost all of them. Everyone brought something to the party. By the time of the Be-In, people were coming just to be at the party, not bringing anything. I could see the whole thing tilting," said Grateful Dead vocalist and guitarist Bob Weir in Richardson's book.
SF State students could be found living in that same "youth ghetto" commingling with artists. The area was residential, but homeowners converted large single-family homes into rooming houses for students, Richardson said, because of the proximity to SF State. It was there that youth culture entered new frontiers — authority was tested, music risks taken and drugs were imbibed, all to create behaviors and cultural products that were counter to the mainstream and changed attitudes and tastes for decades to come. 
During the years leading up to the Summer of Love there was a growing shift in musical tastes for young people. According to SF State Professor of Music Dean Suzuki, this was the first time young adults began taking rock and roll seriously. Musicians approached music differently, too, creating quality full-length albums as opposed to singles.
And rock musicians were continuing to experiment with their instruments in prolific and new ways. This experimentation influenced musicians in a variety of rock genres, including progressive rock, metal and indie rock, for decades to come.
A major attitude born in the Summer of Love was challenging authority and convention, something which journalists began doing with added fervor around the time of the Summer of Love. Richardson's book "A Bomb in Every Issue" chronicles Ramparts magazine, which began as a Catholic quarterly in 1962 and by 1967 was breaking major stories on Vietnam, the CIA and the Black Panthers. The magazine eventually folded, but many Ramparts alumni went on to found Rolling Stone magazine and Mother Jones magazine — which still carry that muckraking and independent spirit.
Other writers known as the "new journalists," including Joan Didion, Norman Mailer and Tom Wolfe added their own subjectivity to reports and created a richer narrative.
By the time the Summer of Love swept through the city, SF State was already deep into the various counterculture protest movements that had begun to mark the decade. The free speech movement, the civil rights movement and the anti-war movement were all present on campus starting in the early 1960s, according to SF State Professor of Political Science Robert Smith. The Summer of Love was another of these movements — the drug use and free love were another way of expressing dissatisfaction with the predominant culture, he said.
"There was a lot of cross-fertilization. People were going back and forth from one movement to another," he said. "There was a confluence of different protest movements, and they eventually moved into one mass protest against the Vietnam War."
SF State's various protests very quickly became a model for other colleges and universities in California and eventually the rest of the country, Smith said.
The Summer of Love wasn't just about love — it was also about sexuality. According to Professor and Chair of the Department of Women and Gender Studies Julietta Hua, people were questioning what sexuality could be. "The Summer of Love shook up conventional notions around how one should express one's sexuality and in what spaces," Hua said. During this era San Francisco became known for sexual freedom and progressive sexual politics. The idea that the wife's role was to reproduce was questioned, and people fought for accessible birth control.
Social Service
Amid the various protest movements on SF State's campus in the 1960s, there was also the kind of activism that took the form of service.
SF State students went into city schools to tutor at-risk kids, hoping to persuade them to stay away from the scene in the Haight-Ashbury and Golden Gate Park. The Associated Students established a community-based tutorial program for low-income children in 1963, with hundreds volunteering at a dozen locations around the city. And the Experimental College's Community Services Institute developed work-study programs so students could earn academic credit for volunteer work.
Going Forward
In the next five weeks leading up to the first day of summer, SF State will publish a series of stories that delves deeper into these topics, and faculty experts will weigh in on what made the Summer of Love's legacy long-lasting.