SF State celebrates new grads at 116th Commencement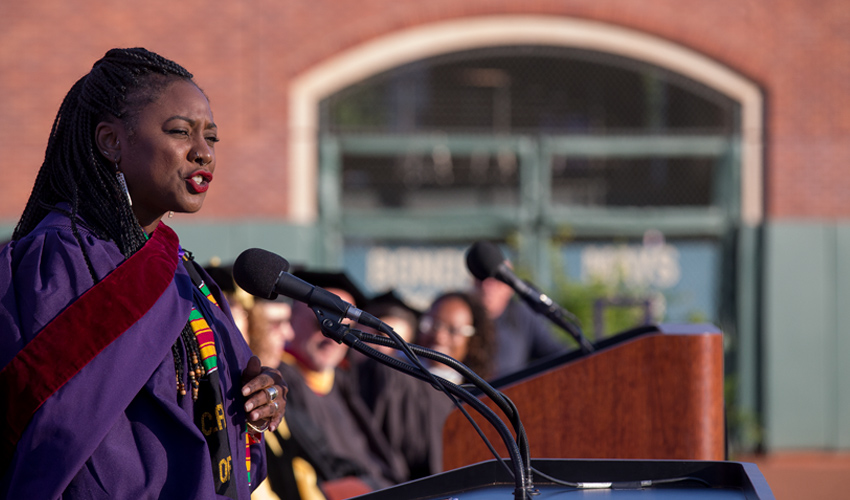 Speakers stress important contributions of immigrants, people of color
At San Francisco State University's 116th Commencement today, speakers encouraged the class of 2017 to fight for justice and resist the politics of fear. Alicia Garza, one of the founders of Black Lives Matter who spoke on behalf of SF State graduate students, declared her speech to be "an ode to black women," saying, "Thank any black woman you want for their resilience, determination, audacity, persistence, dedication." And Iranian-American businesswoman and philanthropist Neda Nobari (B.S., '84) called for grads to reject xenophobia.
"In a place like the San Francisco Bay Area, where one can easily see the real contributions of immigrant communities, it becomes impossible to imagine a world tapestry without such rich and colorful fibers," said Nobari, who was this year's featured Commencement speaker.
An SF State alumna, Nobari addressed more than 35,000 graduates and guests attending the ceremony at San Francisco's AT&T Park. Nobari emigrated from Iran to the United States in 1978 at the age of 15. She earned a degree in computer science from SF State and later began working on computerized inventory management for up-and-coming clothier bebe stores, Inc. She remained with the company for more than two decades as director and vice chair, helping to build it into a retail powerhouse. In 2006, she established the Neda Nobari Foundation, which supports organizations and initiatives associated with the arts, film and education in service of social justice and cultural awareness. Her $5 million gift last year allowed the University to establish the Center for Iranian Diaspora Studies, the first academic center of its kind in the United States.
"Power does not — and I will repeat this again — power does not have the right to lie and deny our democracy, and I have the greatest faith that this uncomfortable time in the history of this country will serve to define and sharpen our decency and compassion, and our love for America," Nobari said. "That is why you, the graduates of 2017, are so very valuable, so very important, right now, to show the world what we stand for, what we are made of and the democratic ideals that we hold true. You are the future and upon your great achievements a higher, more just and enlightened world will evolve."
In addition to the more than 8,800 undergraduate and graduate degrees conferred during the ceremony, several other honors were bestowed. The California State University (CSU) presented honorary degrees to legendary entertainer Johnny Mathis, one of the most popular recording artists of all time (and a record-breaking SF State athlete), and television comedy giant Peter Casey, (B.A., '75) an Emmy-awarding winning writer and producer on such classic sitcoms as "The Jeffersons," "Cheers," "Frasier" and "Wings." 
The class of 2017 was represented by two student speakers, one undergraduate and one graduate. Chosen to speak on behalf of graduate students was Garza, who completed her master's degree in ethnic studies this year. Garza paid tribute to her mother and the remarkable contributions of generations of African American women.
"Were it not for black women, this black woman standing right here in front of you would not have finished her degree while fighting for the rights of domestic workers and fighting for black lives all over the world, including my own," Garza said.
The undergraduate speaker was Talia Hart, a College of Science & Engineering graduate who earned her degree in biology.
"Everyone who sits before us today began as an embryo. Molded by our experiences at SF State, challenged along our way as we create our defined path, we relied on positive influences from our environment," said Hart. "Like embryonic cells acting as agents of change in the body, it is our responsibility as we leave Commencement to act as these agents to build a strong and united community."
Hart is heading to Harvard to pursue a Ph.D. in biology and hopes to spread her love of science to her new community in Boston.
SF State President Les Wong described the class of 2017 as "one of the most diverse, and certainly one of the most accomplished, in the history of this great University." He also praised this year's graduates for the way they've upheld "the academic excellence, powerful sense of community and purpose, hands-on learning, and commitment to social justice that are a part of the San Francisco State experience."
"Every day as president of this great University I am continually impressed by what our students, staff and faculty achieve," Wong said.