SF State alums win prestigious Pulitzer Prize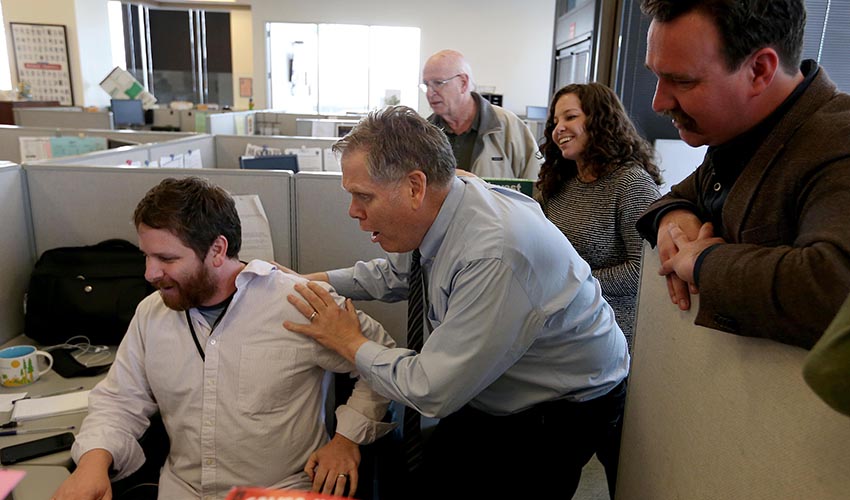 SF State alums were part of the East Bay Times team that won a Pulitzer for Oakland fire coverage
The East Bay Times won a Pulitzer Prize in the category of breaking news for its coverage of what is known as the Ghost Ship warehouse fire in Oakland last December that claimed the lives of 36 people, including San Francisco State University student Michela Gregory and two alumnae (Donna Kellogg and Jennifer Mendiola). The prize-winning team included 10 SF State alums as contributors.
The award-winning coverage was the result of collaboration between dozens of employees including reporters, editors, web producers, videographers, copy editors and designers, according to the news group's editors. Along with the recognition comes a $15,000 prize, which they said they plan to donate to a fund that benefits fire victims and their families. They also received $10,000 for winning the 2016 Scripps Howard Award, which they also gave to the same fund. The East Bay Times received the award because of its comprehensive coverage of the tragic fire and for its follow-up reporting that exposed the city's failure to take actions that might have prevented the fire, according to the Pulitzer committee. It was the first to break the story and its coverage of the tragedy continues.
Alumni who were part of the fire coverage team include Assistant Managing Editor Rebecca Salner ('82); Reporter Eric Kurhi ('97), Reporter Mark Hedin ('90), Reporter Patrick May ('81), Website Producer Daniel Jimenez ('06), Deputy Metro Editor Cecily Burt ('91), Reporter David DeBolt ('09), Photographer Anda Chu ('99), Copy Editor Christine Torres ('03) and Metro Editor Craig Lazzeretti ('94).
Lazzeretti said he generally doesn't let his hopes get too high, but the team had executed so well on the day of the fire and the days that followed that the award didn't surprise him. "Once the dust settled in those first weeks, I started to think about what we had done and how well we had covered the story, and I thought the Pulitzer was a real possibility."
As much as the win was exciting, it was tinged with sadness. "We won this award for covering something that should never have happened," Chase said. "It's a wonderful journalistic nod, but it was tempered with the fact that this was an award for a story on a tragedy that took 36 lives. It's not something to celebrate."
Lazzeretti said he'll never lose sight of the fact that they won an award in large part because of a tragedy that affected so many people and cost lives. "The greatest reward would be to know that our coverage will lead to changes that will prevent this type of tragedy from happening again, in terms of what we've found out about the living conditions and how they were allowed to persist and the warnings that were ignored and went unaddressed," he said.
Throughout the coverage of the Ghost Ship fire, Lazzeretti describes his role as air traffic controller, helping to direct and guide reporters to different moving pieces of the story. He credits his education at SF State with giving him a solid foundation on which to build his career and take on the challenges of the Ghost Ship story.
"There was such a strong focus on hands-on journalism. In my first reporting class, you're given a city to cover and you're covering a city like any journalist from any newspaper in terms of writing about what the city council is doing, what the schools are doing," he said. "I came out of that program understanding the nuts and bolts of journalism. And then from there it was a continual growth process throughout all the years of my career."
Burt came from the banking world before attending SF State. She was considering communications and then took a news writing class taught by former Wall Street Journal reporter Erna Smith. She took another reporting class from former San Francisco Examiner Editor Raul Ramirez and fell in love with the field. "Working with these professional journalists, and the way that they treated us and the expectations they set for us, they tried to make it as professional as possible and set very high standards for the type of reporting we did," Burt said. "It set us up pretty well for going out there in the real world."
SF State Associate Professor and Chair of the Department of Journalism Cristina Azocar said SF State journalism students hit the ground running when they graduate because they're taught to be journalists before they even graduate. "When this many of our graduates contribute to a story that impacts people's lives, we know we are preparing them for it," she said. "We are so proud of the work they did and humbled by their contribution of the prize money back to a community that suffered so much."
All of the SF State graduates who have joined the media company have been well prepared for the changing demands of journalism, Burt said. And it clearly shows in their coverage of the fire and its aftermath, something they continue to investigate.