SF Build focuses on new faculty in push for inclusive classrooms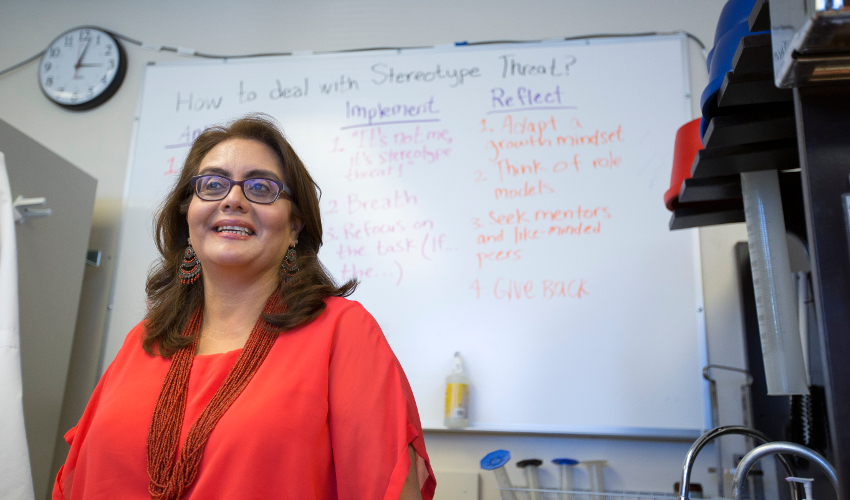 Workshops train faculty members to recognize and combat "stereotype threat"
Balancing science and personal stories, representatives of SF Build are working to spread techniques for creating more inclusive classrooms through a series of faculty training workshops.
SF Build is an NIH-funded initiative to transform research and teaching at SF State and increase diversity in the biomedical workforce. The program, and these workshops in particular, focus on the phenomenon of stereotype threat — a fear of confirming the stereotypes people have about you.
In a December 2017 workshop delivered to new faculty members, Professor of Biology and Principal Investigator of SF Build Leticia Márquez-Magaña explained ways that new faculty members can avoid triggering stereotype threat in their classroom, drawing from her own experiences as a Latina scientist.
Over the past two years, the team has collected data about the workshops' effectiveness and fine-tuned their delivery. Personal anecdotes help the participants open up but don't convince everyone. So Márquez-Magaña also explains the large body of research on the triggers of stereotype threat and how these effects can even be seen in peoples' bodies. "You can monitor stereotype threat from an experimental psychologist's point of view," she said. "You can measure stress hormones, you can see peoples' eyes darting back and forth."
Another fall 2017 workshop, conducted during orientation for new faculty members, focused on the syllabus — typically a stiff, formal document. During the workshop, Assistant Professor of Chemistry Alegra Eroy-Reveles and her co-presenter, Professor of Health Education Michele Eliason, offered a different vision for the syllabus as a signal to students that the classroom will be welcoming for everyone.
Adding language that recognizes the diverse strengths students bring into the classroom signals that they, too, belong in the class. "What really resonated with me is that a syllabus isn't just a laundry list of policies," said Assistant Professor of Management Verónica Rabelo, who participated in the workshop. "It forms a feedback loop between the professor and students."
Márquez-Magaña hopes to expand the program by recording anecdotes from different presenters so they can have concrete examples of how the triggers of stereotype threat can affect students' performance. In the meantime, they'll have some ambassadors in the form of new faculty. Rabelo says she's already recommended the workshop to her colleagues. And Assistant Professor of Gerontology Emiko Takagi, another participant, says she thinks other faculty could benefit, too. "I hope it'll be shared more widely," Takagi said.
To learn more, read the full story here.