Seed planted in SF State MBA program grows into mini-Filipino food empire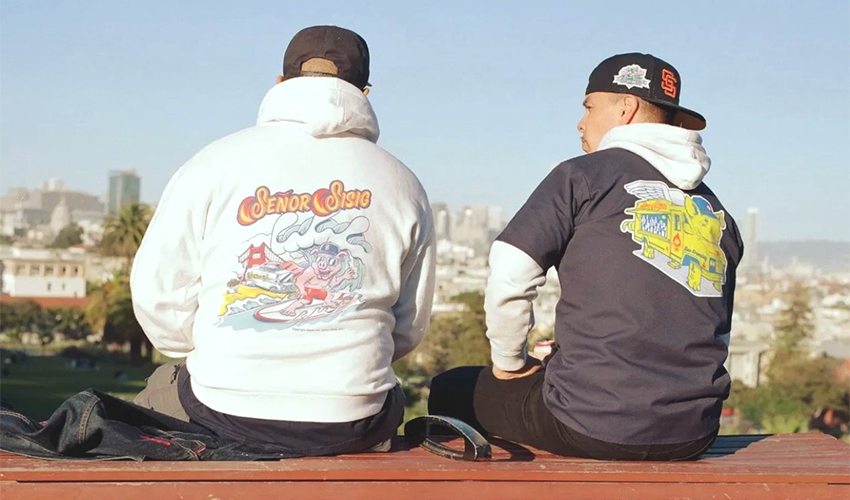 CEO of beloved Bay Area restaurant Señor Sisig expands to third location
Evan Kidera's life could be a movie. Take a foodie film like 2014's food truck dramedy "Chef," add a helping of family and friendship and a dash of scrappiness, and you have his story. Kidera is the business brain behind the Filipino-fusion food truck turned brick-and-mortar restaurant Señor Sisig, which he founded with his high school friend Gil Payumo in 2010. At the time, Kidera (B.A., '04; MBA, '14) was earning his MBA at San Francisco State University and chef Payumo, who developed the restaurant's signature menu, was a sous-chef at a hotel. Now, the duo is set to open their third restaurant in San Francisco's Ferry Building this summer.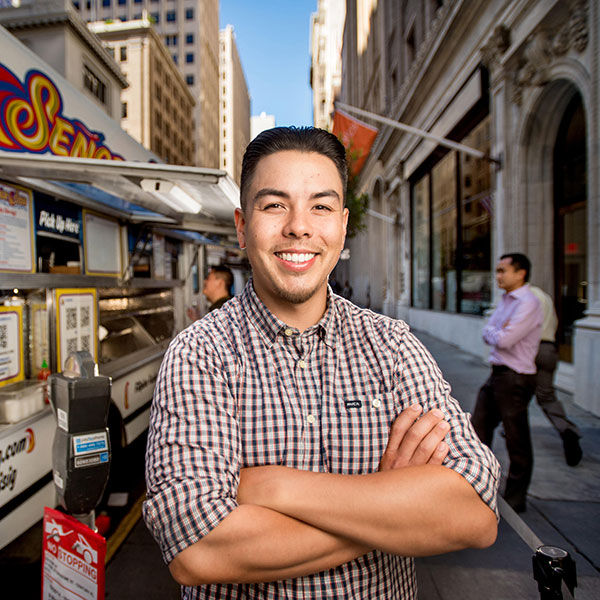 Evan Kidera (photo by Noah Berger)
Kidera's slice of the Señor Sisig story was quietly marinating for years. He grew up around food: His father, a Japanese emigrant, worked as a sushi chef in San Francisco for years before opening his own restaurant in 1995. Kidera remembers helping his dad close up at We Be Sushi on Valencia Street when he was 5 years old. Nearly two decades later, Kidera's life came full circle — he opened the first permanent Señor Sisig location­­ a block away from where his dad worked.
The Valencia Street restaurant is a sort of tribute to his dad, who passed away when Kidera was 13. "I have a lot of connections to the Mission through my dad's work," he said. "There's a lot of history and emotion that comes with the city and obviously the locations and what I'm doing at this point to kind of carry on what my dad did."
Though food and restaurants were a big part of his childhood, they weren't something he thought about doing professionally himself. "I wanted to play baseball — be the next Barry Bonds," he said. One thing he did think about all the time was money. He remembers his dad teaching him to make sushi, but all Kidera cared about was how much the fish cost and the profit they'd make. "I liked the hustle of it," he said. "I like seeing growth and building something."
A business degree was the obvious next step for the future food truck mogul, but he didn't get there without a struggle. After his dad passed away his grades tanked, he says. San Francisco State took a chance on him even though he didn't have the right transcripts. Looking back, he says, getting accepted into SF State when other schools would have turned him away was one of the biggest blessings in his life.
All through college he told himself he'd consider any type of business, but not food. "I just wanted to be my own man. I didn't want to follow everything my dad did," he said. Post-graduation, Kidera found himself in a job that lacked mobility. He was frustrated by his job search because he wasn't getting jobs he felt he deserved. So he took initiative and applied to SF State's MBA program, which he was accepted into and started in the fall of 2008.
Around that same time, Kidera took a life-changing trip to Los Angeles. While there, he ate at the legendary Kogi, the Korean taco truck run by chef Roy Choi. Kidera was awestruck by the experience. "Usually, you see long lines of people waiting for food at a truck after the club lets out at like 1 a.m.," he said. "But I'd never seen in broad daylight just lines of people waiting for food."
That was his lightbulb moment: A food truck could be profitable, and he wouldn't have to be a chef. At first, he thought about serving ramen, but after tapping his friend Gil Payumo as a partner they landed on something new and different. Payumo grew up eating sisig, a Filipino dish of chopped and seasoned pig parts and chicken liver. He took it one step further with sisig tacos, and Mexican-Filipino fusion was born.
They launched their food truck in the middle of Kidera's MBA program — which kept Kidera busy but provided a lot of ideas and inspiration. "Everything they're talking about [in class] I'm applying it in real-time," he said. "The synergy between the two was great, and I attribute that experience to a lot of our success."
The pair bought their first truck off Craigslist in 2010. Nearly two years year later, they added another. Eight years in they had small fleet of six trucks. Riding the food truck wave early paid off, says Kidera. "Within the food truck scene, we were able to carve out a niche for ourselves," he said. "We came in early, but also had experience of not just food, but marketing and branding. We were young, hip and people gravitated toward it."
The move to brick and mortar was part of his plan early on. It just took until 2018 for Kidera to find the right location. Now they have a second restaurant in downtown Oakland and the Ferry Building restaurant — and much more — on the way.
"At our core and at our roots we will always be a food truck. That's who we are," he said. "We're not going to abandon that. But we're also focused on the growth and other directions, and that includes wholesale products at some point and bringing this brand outside of the Bay Area."
The success of their business carries an importance that's greater than any profit: They've made Filipino food visible. "Filipino food was not on the map 15 years ago," Kidera said. "It's getting close to a tipping point to where it can become something big, but I don't even think it's there yet. For us, I think what keeps us motivated is that we still have a lot of work to do, not just for Señor Sisig in our business and our family but for Filipino food in general."
Learn more about SF State's Lam Family College of Business programs.