SF State science coding programs boost biotech diversity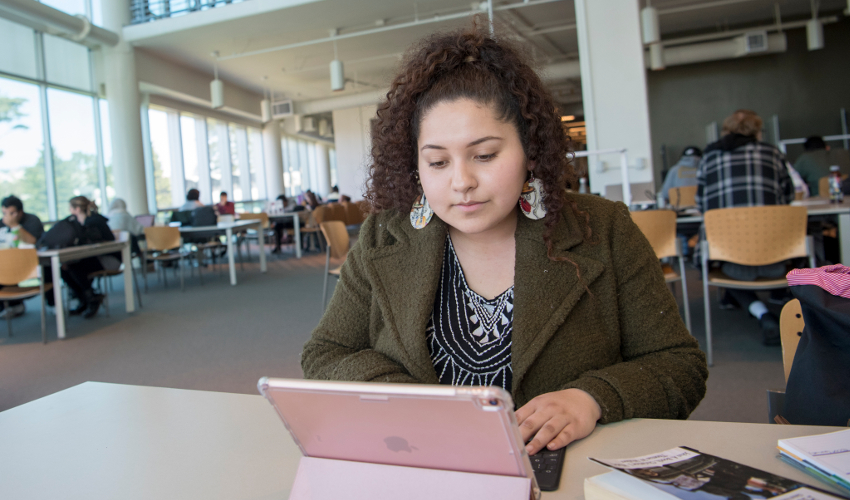 Grants impact SF State's computer science diversity efforts with new certification programs and scholarships
Despite the San Francisco Bay Area being one of the most diverse regions in the country, the technology industries that call it home still lack diversity. Faculty members in the Promoting Inclusivity and Computing (PINC) program at San Francisco State University aim to change this. Their efforts have recently received recognition from both academia and the biotech industry, including two recent grants from the Genentech Foundation and Genentech, Inc. totaling over $1.2 million.
Associate Professor of Computer Science Anagha Kulkarni, one of the leaders of PINC, says faculty members and their collaborators at Genentech share a motivation to make tech more diverse. "It's really highly skewed right now," she explained. "It's very male driven — gender diversity is very low, and ethnic and racial diversity are also very low."
PINC provides opportunities for non-Computer Science majors to learn coding skills in a supportive environment. In the program's three years of existence, more than three-quarters of the program's graduates have been women, and more than half of the students have come from underrepresented minority groups.
One of the two grants, for $621,000 provided by Genentech, Inc., will support the development of a new Data Science and Artificial Intelligence certificate program for undergraduates. Researchers at Genentech are also developing curricula alongside San Francisco State faculty members to ensure that students are prepared for success in the biotech industry.
"As we met over the course of a semester, we all agreed that we need to create a curriculum that is not just designed by us academics but also informed by what practitioners want in the industry," Kulkarni said. SF State faculty will bring their own expertise in training students, providing undergraduates with graduate-level skillsets, professional development and mentorship.
The second grant, $580,750 provided by The Genentech Foundation, will fund scholarships for 10 undergraduates in the PINC minor program each year. One barrier many students face is the need to financially support themselves throughout their undergraduate career, which makes it difficult to take advantage of research opportunities. The funding will allow students in the minor, who are learning a new and complex skillset in order to enter a highly competitive field, the opportunity to focus on their coursework and research without having to take on other jobs. At the same time, they'll gain access to a network of researchers and mentors from other universities and companies around the Bay Area.
Tech diversity efforts at SF State haven't just caught the notice of local industry — they've turned heads in academia, too. A team of faculty members recently published an article in the journal PLOS Computational Biology describing an innovative summer program that teaches students to apply coding to their science disciplines.
"It's unique in the sense that students are given an opportunity not only to learn coding skills but also in the context of their discipline with a real research project," said Assistant Professor of Chemistry and Biochemistry Nicole Adelstein, a faculty organizer and advisor for the PINC summer program. Students in this nine-week program learn coding skills while applying them towards topics of their interest and supporting one another in cohorts throughout the summer.
And at the helm of that program are faculty members who are committed to making the computer science and biotech fields more diverse — and whose backgrounds are similar to the students they teach. "Many of the SF State faculty involved in organizing the program, I think, are mostly self-taught programmers," Adelstein explained. "We're very motivated to give these students opportunities to explore coding within their own field, in part because we all wish we had started earlier."